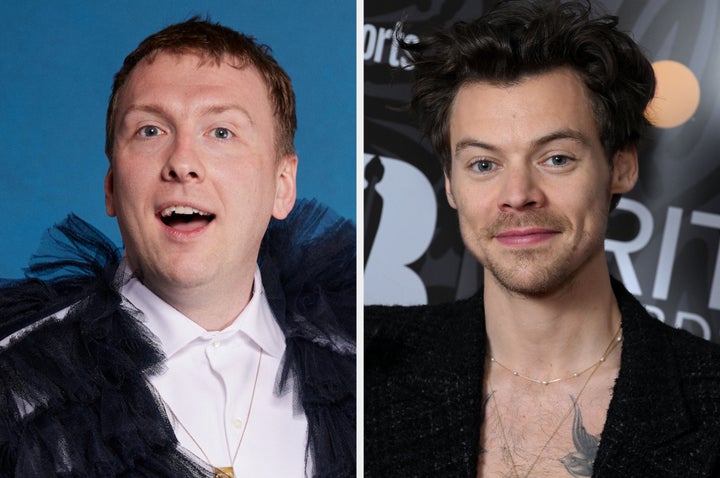 Harry Styles is now the proud owner of a Joe Lycett original after making an offer to buy the comic's latest artwork.
Last week, after it was revealed that Harry had sat in a portrait session for esteemed artist David Hockney, Joe decided to paint his take on the piece.
Over the weekend, the comedian shared a picture of his work on Instagram, jokingly claiming that Harry had come to his holiday home specifically to pose for it, and his management were unhappy with the outcome because it looked more like "Jeremy Beadle's face on a fucking egg".
In a lengthy caption, Joe wrote: "A few months ago I was contacted by management for Harry Styles asking whether I would consider doing his portrait. I didn't really know of his celebrity at the time so I said yes but I wish I hadn't cause the whole thing has been a disaster.
"He came to my holiday home in Padstow and sat for two days but I only spent about 20 minutes on the picture in the end cause I had an issue with my Russell Hobbs fridge/freezer and so I had to defrost it and I realised there was some diced goat going off so I made massaman curry.
"Anyway I thought I'd done a good job of the pic but his management were quite cross and one of them said 'it's Harry Styles not Jeremy Beadle's face on a fucking egg' and Harry just awkwardly kept saying it was an honour to meet me whilst not eating his curry."
Joe continued: "They didn't take the painting so I spoke to the National Portrait Gallery on the phone and they said they don't take unsolicited submissions and it was hard to make a judgement on a call so I went in in person and the girl on the desk was really nice but said she wasn't sure I was what they were looking for and she also said she didn't want any goat massaman curry because she's a vegetarian."
Joe's post soon caught the attention of actual Harry Styles, who slid into his DMs to try and get his hands on the stand-up's masterpiece.
"I think it's incredible important that I purchase this portrait from you. If you'd ever consider parting with this masterpiece I'd like to hang it in my home immediately," Harry messaged.
"I'll give it to you for £8," Joe replied, adding: "There's no curry left sadly."
Harry made a counter offer of £6, to which Joe said: "£6.50 final offer. Or £6 and a KitKat Chunky Peanut Butter."
"They're not 50p but I'll say deal," Harry agreed.
Captioning a series of screengrabs of their exchange, Joe wrote: "Long story short I just organised a £6 BACS transfer with Harry Styles."
Joe has become known for his paintings in recent times, famously immortalising former prime minister Liz Truss after the jokingly self-proclaimed "right-wing comedian and passionate Liz Truss supporter" found another way to poke fun at her disastrous stint in No.10.