Nicky Morgan has been skewered on Have I Got News For You, after she pulled out of appearing at short notice amid her 'Trousergate' row with Theresa May.
By apparent coincidence, Morgan had become embroiled in a row with the prime minister. She criticised the May for wearing £995 leather trousers in a Sunday Times photoshoot.
In the fallout, Morgan was excluded from a meeting at Downing Street while her own wardrobe hit the headlines and she was criticised for owning a similarly expensive Mulberry handbag.
Annoyed at the short notice of Morgan's cancellation, HIGNFY's producers Hat Trick put a £1,000 handbag in her place.
Hat Trick said: "It was decided in the light of her spat with Downing St over expensive leather goods to replace her with a handbag."
Introducing the guests on the show, Lineker said: "Because of a falling out with Downing Street over Theresa May's £1,000 leather trousers, [Morgan's] decided not to come.
"So in her place, please welcome, Nicky Morgan's £1,000 handbag."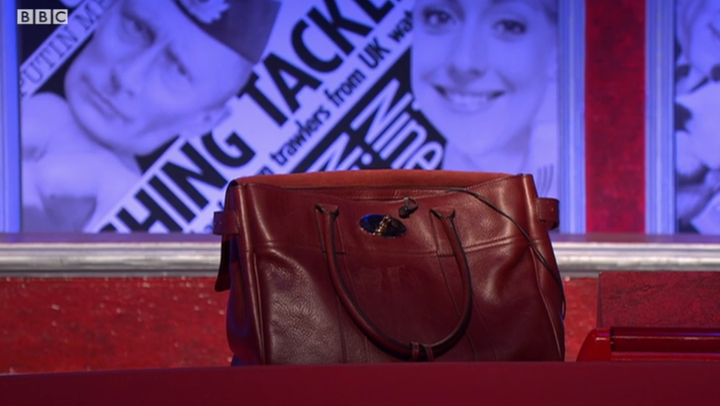 The audience and Merton applauded the bag, which, Merton noted, had a microphone for any verbal contribution it might make.
Comedian Jon Richardson, Ian Hislop's guest, asked if it was really worth £1,000 and Merton said: "Not at the moment, it's doing very little for its money. I'm hoping it will justify its appearance fee by the end of the programme."
The first 11 minutes of the half-hour shot were dedicated to discussing the row.
Lineker started with "the biggest stories of the week" - Trousergate.
As images of the expensive trousers and Morgan were played, Hislop said it was "brown trousers time, particularly for her".
Hislop noted there were "three men and a handbag" discussing the politics of the media's focus on women's clothing.
"Bit sexist, isn't it handbag?" Lineker asked the handbag.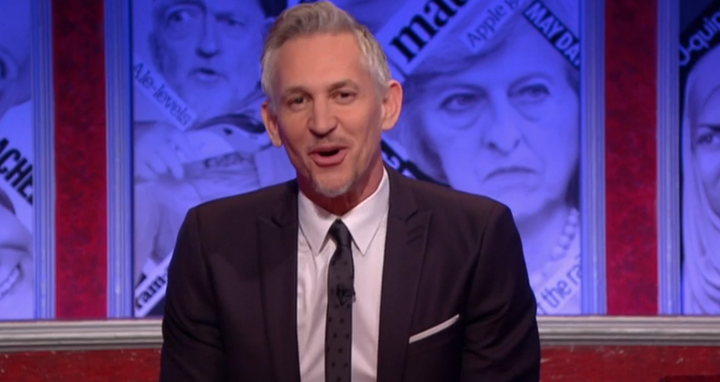 Morgan last week angered Downing Street by questioning May's choice of trousers, saying: "My barometer is always, 'How am I going to explain this in Loughborough market?'."
On HIGNFY, Richardson called this "a troubling mantra".
Later, Merton pretended to answer a phone he found in the bag, saying: "She's not here. We're recording now... Gary Lineker... Yeah I know... You can smell it on his breath."
Lineker said that, as Boris Johnson's name is abbreviated to BoJo, Morgan is known as 'Ni-Mo' in Westminster.
"Well, we certainly couldn't find her when she was meant to be on the show," Lineker said.
Morgan herself tweeted that she'd have given the programme the original bag, saying "it would have better lines than me".
In the past, HIGNFY has also replaced late-cancelling guests. The Labour MP Roy Hattersley withdrew from a 1993 appearance at short notice and was replaced by a tub of lard.
Despite only having a handbag as a teammate, Merton won five points, drawing with Hislop and Richardson.