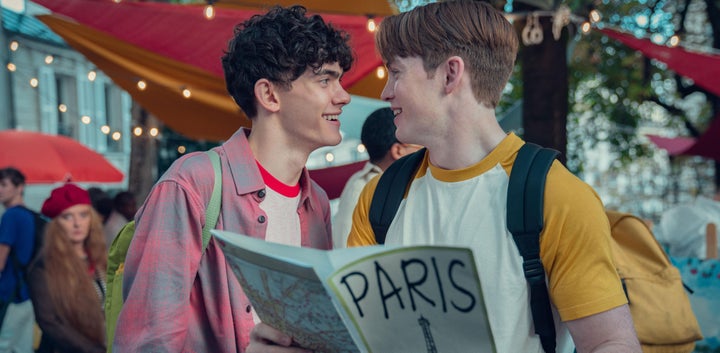 With just a couple of short months to go until the much-anticipated return of one of 2022's biggest shows, Netflix has teased what's in store in the second season of Heartstopper.
The much-loved teen drama became a sleeper hit following its debut on the streaming service last year, winning rave reviews and making overnight stars of its leading actors Kit Connor and Joe Locke.
On Wednesday evening, Netflix shared the first photos of the cast on the set of season two, offering a first look at what viewers can look forward to in the new batch of episodes.
In one photo, Kit and Joe are seen looking loved-up as Nick and Charlie while apparently on a school trip to Paris, while another sees Tara and Darcy (played by Corinna Brown and Kizzy Edgell) together on a rooftop.
Oh, and for all you Tao and Elle shippers, there's also a new snap of the pair on what looks to be their first date.
Film lover Tao (William Gao) and Elle (Yasmin Finney) can be seen in an extra photo looking pretty cosy at the cinema together, after sparks quite literally flew between the two friends in the season one finale.
The second season of Heartstopper will begin streaming in the summer, but if you're planning to watch on someone else's account, you might want to rethink that plan.