Passengers flying out of London airports have been warned of impending travel chaos thanks to thick fog.
A number of flights have already been delayed, with some even cancelled, thanks to the weather.
It said: "Following heavy fog this weekend across England and Europe, there continues to be delays and cancellations to scheduled flights.
"If your flight is cancelled, we kindly ask that you do not come to the airport. We recommend that you use your airline's website to rebook your flight instead.
"The safety of our passengers is our priority and we are sorry for the disruption to your journey."
The Met Office issued severe weather warnings, with yellow "be aware" warnings in place over south and south-east England.
Rush hour commuters were also warned about potentially hazardous driving conditions and delays as a fresh band of thick fog blankets the UK.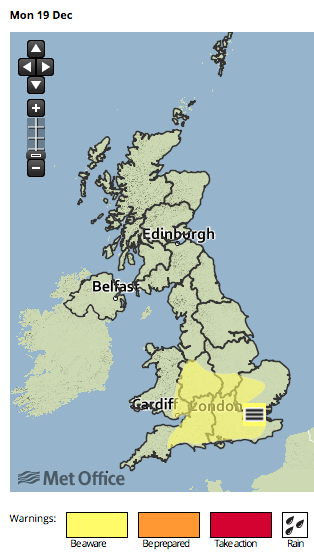 Greg Dewhurst, a Met Office meteorologist, said the new severe weather warning they have issued covers southern parts of England and Wales.
According to the Press Association, "For the morning there could be some tricky driving conditions, the fog will be in and out - you could be fine driving along and the next minute come across this thick fog," he said.
"It is worth drivers being aware first thing in the morning," he said, adding that "some dense patches are definitely possible".
And as the next batch of fog rolled across the South West, southern Wales, the Midlands and parts of the South East, Dewhurst said visibility in Bournemouth was around 200 metres and 400 metres in Exeter.
The Met Office warning advised people to "be aware of potential delays and hazardous driving conditions".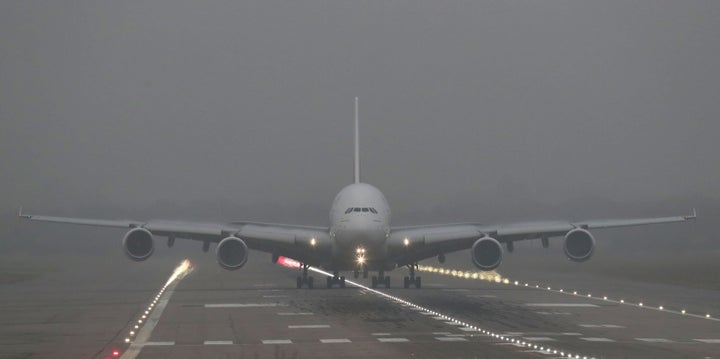 Dewhurst said that in terms of temperatures on Monday morning "it could be on the cold side" and a "little bit frosty in one or two places".
"But that is more likely in countryside, towns and cities will be holding up around four or five degrees - which is about average," he added.
"It will be quite a dull start to the day elsewhere as well - with generally cloudy conditions and some light patchy rain."
There is more potential for festive travel delays over the coming days as British Airways cabin crew in the Unite union are due to strike on Christmas Day and Boxing Day in a row over pay.
Unite members employed by Swissport as baggage handlers and other ground staff at 18 airports are set to walk out on Friday and Saturday over pay, although talks will be held on Tuesday at the conciliation service Acas.
Members of the Rail, Maritime and Transport union at Southern Railway will also strike on Monday and Tuesday in a long-running dispute over the role of conductors.
Coupled with a continuing ban on overtime by drivers in Aslef, the action will cause fresh chaos for Southern's 300,000 passengers.
Popular in the Community