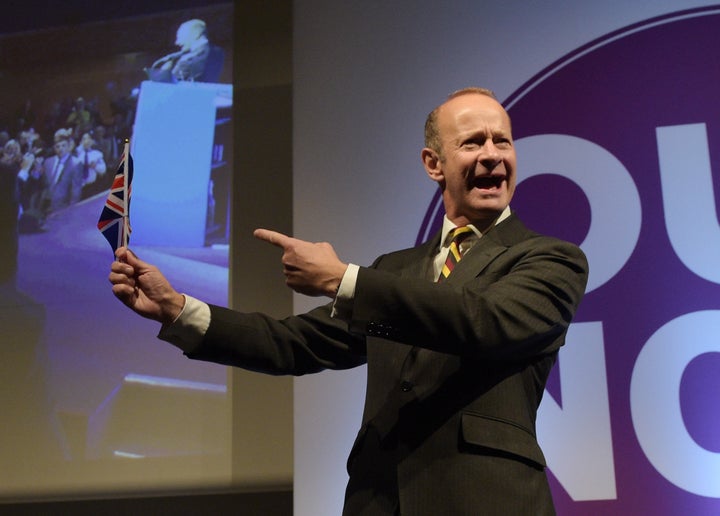 Henry Bolton could survive being ousted as Ukip leader because the party cannot afford to hold a contest to replace him.
HuffPost UK has learned Ukip's finances are in such a state that it would struggle to stump up the cash for what would be its fourth leadership contest in 15 months.
A well-placed source said a fresh leadership election to replace the under-fire Bolton could cost between £30,000 and £60,000, and it might need to axe staff in order to finance the contest.
According to the Electoral Commission, Ukip received just £25,140 in cash donations in the final three months of 2017 and membership rates have falling for months.
Ukip chairman Paul Oakden denied financial considerations would prevent a contest, adding that such an election would be funded by leadership candidates.
"Bluntly speaking, and I don't think it's any great secret, that's what deposits are for," he said.
But a Ukip source told HuffPost UK the coffers are sparse, and spending money on sending ballots and election literature to almost 25,000 members was an expense the party could ill afford.
Bolton flagged up the party's perilous financial state in a newsletter to members in November, telling them: "On taking office I looked in the money bucket and found it entirely empty. In fact it was worse than empty; it had a big hole in the bottom. There is no money – in fact for a year we have been running on an entirely unsustainable monthly deficit."
The Ukip leader also revealed that "for the past 9 months, with one exception, we have lost between 800 and 1,000 members every month"
In the party's most recent leadership election, candidates were required to put down a deposit of £5,000 – which would be returned only if a contender received 20% of the vote.
Only two of the six candidates breached that threshold.
If the same rules are used for a new contest, a small field featuring just two or three candidates could see them all getting their deposits back, leaving the party to foot the entire bill.
Bolton told HuffPost UK after the meal he would fight on as leader despite the calls for him to quit.
"I've made that very clear, I'm not resigning," he said.
Related