High street opticians are giving the public insufficient eye tests, with poor services leaving some with incorrect and potentially dangerous prescriptions, according to Which?.
The consumer testers visited independent opticians and chains such as Boots Opticians, Optical Express and Specsavers for an eye test, and found two out of five opticians are not up to scratch.
They found that some opticians could be putting their patients' eye health at risk by missing out important tests, issuing inaccurate prescriptions or failing to warn about common eye health problems.
Of the 30 appointments, 13 were rated by the panel as either "poor" or "very poor". Independent opticians were the only brands to avoid being given a "poor" rating.
Only one appointment out of the 30 was rated as "excellent", which was also a visit to an independent optician.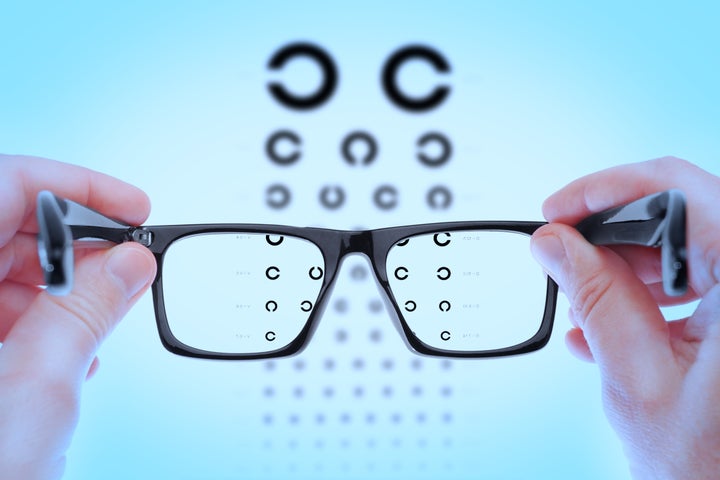 The researchers visited each optician for a number of eye tests based on their market share.
The appointments were assessed by a panel of expert opticians to see if the optician took an adequate patient medical history, to see how accurate the prescription was and to judge the quality of the diagnostic tests performed.
Prior to each visit, the researchers (all aged over 40) were given a thorough eye examination by two expert opticians.
While the majority of the appointments resulted in prescriptions which would have corrected eyesight problems, not every visit had such a positive outcome.
The panel rated a visit to Asda as "very poor", after leaving with a "nonsensical" prescription. According to Which? experts, it could not be used to make a pair of glasses.
A "very poor" visit to Vision Express also resulted in potentially unsafe glasses which failed to correct double vision.
Another researcher reportedly visited Optical Express and was offered a prescription that would have affected their distance vision, meaning it would have been dangerous for them to drive. The experts described this particular examination as "shocking".
The investigation also highlighted that some outlets are failing to do the right testing or to warn patients about eye problems which could lead to more serious eye conditions such as glaucoma (damage to the optic nerve, usually due to high pressures inside the eye) or age-related macular degeneration (a painless eye condition which causes a loss of central vision, usually in both eyes).
One of the researchers had age-related fatty deposits called drusen indicating a higher risk of developing age-related macular degeneration. Four out of the five optometrists the researcher visited failed to even mention the drusen, despite it being described by the Which? expert panel as "clearly visible".
Another researcher had a family member who lost their sight in one eye to glaucoma. National clinical guidelines recommend anyone over 40 who has a family history of the condition should usually have an annual eye examination. An optician at Vision Express recommended a further appointment in two years - a timeframe the panel deemed too long for the researcher.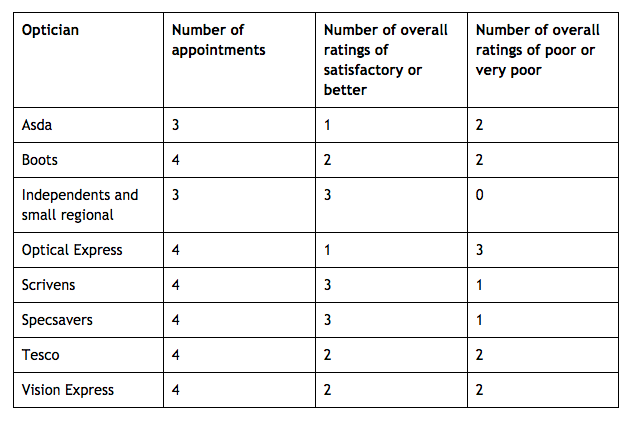 The researchers did observe some examples of great practice, including one visit to an independent optician rated as "excellent" because of the the comprehensive eye test, clear advice and an accurate prescription.
Richard Headland, Which? magazine editor, said: "We rely on opticians to provide us with care and advice we can trust.
"Our research, while only a snapshot, shows some shocking findings including too many instances of inaccurate prescriptions, inconsistent advice and failure to provide the correct eye tests.
In response to the report, an Asda spokesperson said they do not believe the Which? review reflects the standards maintained across Asda opticians.
"We welcome all customer feedback so that we continuously improve our service," they said.
Boots added: "At Boots Opticians, care for our customers is at the heart of what we do. We take this feedback seriously."
While Optical Express said: "We constantly strive to deliver world-class patient care and this is reflected in our high patient satisfaction rates. We are surprised to hear the feedback by Which? The four examples don't reflect the high-quality service that we deliver in our clinics every day. We're keen to address any service or performance issues that these four examples may highlight."
Scrivens said it welcomes the findings and will take any lessons to be learnt on board, adding that it will "make sure they feature in our continuous professional development and training".
Meanwhile Specsavers said: "We are committed to providing professional and value-for-money eye care and welcomes all feedback as part of our ongoing efforts to offer the best service to customers."
And Tesco said: "It's extremely important to us that customers can get the best possible opticians service at Tesco, and we will look into these findings."
Finally, a Vision Express spokesperson said the company takes "eye health very seriously".
"We deeply regret if our usual high standards have fallen short in these specific cases," they added.
"We'll be taking steps to understand why this has happened, so we can ensure every customer who walks through the doors of a Vision Express store receives the very best in eye health care."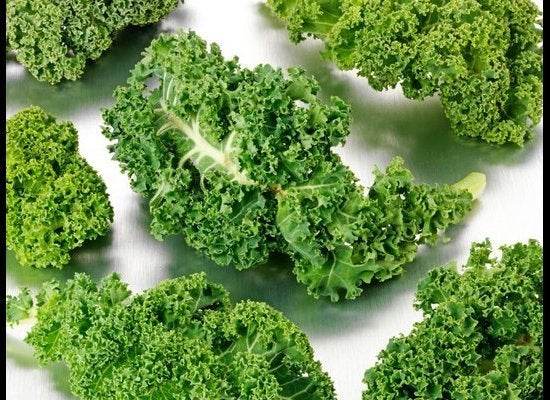 Top Foods For Eyesight