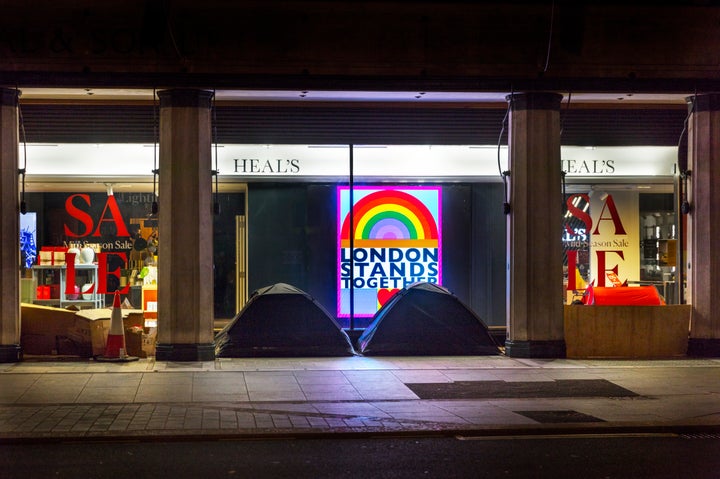 Every winter night, Malcolm* lit a fire at the mouth of the cave in Cornwall he had called home for two years.
It kept out the draft, but the cold and damp were harder to fend off. In March, as the tail end of winter battered the cave, he felt his asthma getting worse. He suspected a chest infection.
But there was a new threat on the horizon: Covid-19. He was scared. He busked for a living; now streets were deserted. The local day centre, where he normally showered, had closed. He washed himself in the sea instead.
In a car park in London, Walid* was also in a desperate situation. He only had access to a toilet and hot water tap to stay clean. He and the small group of homeless people he stayed close to were sure they would catch the virus.
For both Walid and Malcolm help eventually came under the government's Everyone In policy, which saw nearly 15,000 people given emergency accommodation, often in hotels, in a bid to prevent potentially devastating outbreaks within the homeless population.
According to NHS England, the policy was instrumental in keeping the infection rate low. And, as lives were turned around away from the chaos of the streets, it became seen, even within government, as a once in a lifetime opportunity to make good on the Conservatives' pledge to end homelessness within the lifetime of this parliament.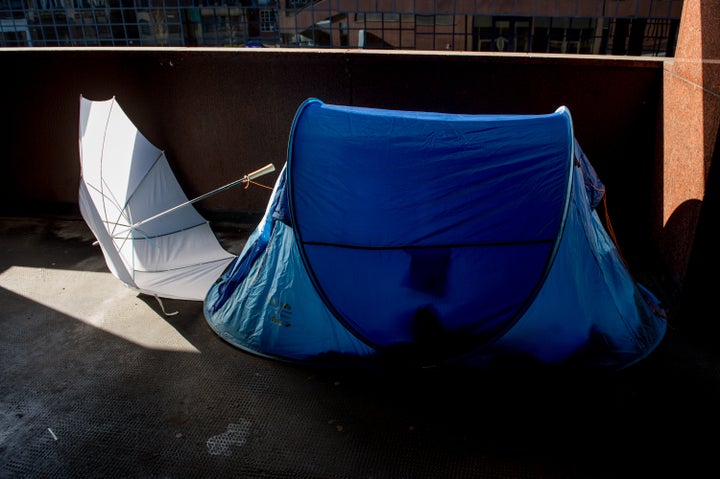 After the Bureau and the Manchester Evening News reported that England had no long term funding for those housed under Everyone In, the government announced additional funding of £105 million to carry on the work.
Malcolm had not heard about Everyone In when he turned up at Plymouth Council's offices. He felt seriously ill and had begun to imagine the worst.
"Dying alone, basically, is a scary thought," he said. "No one would ever know, and I would worry about leaving good people behind."
He had expected to be turned away. Instead, an ambulance was called, and work to get him housed began.
The council referred him to a charity called BCHA, which operates across the South West, and at last count had housed 232 people since the pandemic started. Malcolm was quickly given a place in a shared house of five people. The process has been overwhelming.
"First thing I did was close the door of my bedroom and cry," he said.
"Dying alone, basically, is a scary thought. No one would ever know, and I would worry about leaving good people behind"
It was more complicated for Walid. It was more than two months after Walid first told charities involved in Everyone In that he was living on the streets that he was eventually given a flat where he could self-isolate.
During that time he called about 20 different phone numbers for homelessness outreach services, but had no success in securing emergency accommodation.
On one occasion, while he was fasting for Ramadan, he waited for hours outside a train station in central London to be seen by outreach workers, only for no one to turn up. Eventually, in early May, Westminster Council found a temporary flat for him.
Malcolm has been told there is no time limit on his stay in the shared home. Walid has no such security. The difference comes down to immigration status; Malcolm is British-born, but Walid, despite having a British daughter, was born outside the EU and has been designated as having "no recourse to public funds" (NRPF).
This is an immigration status affecting an estimated 1.4 million people in the UK, which denies migrants from outside Europe access to free healthcare, social housing and welfare benefits (some restrictions also apply to European migrants).
Having no recourse to public funds does not mean a person is in the country illegally; migrants working and paying taxes in the UK are only eligible for public funds once they have lived in the country for five years and are granted a settlement status called Indefinite Leave to Remain – a visa that requires documentation, passing a "Life in the UK" test, proficiency in English and a fee of £2,300.
By stripping away the social safety net that otherwise exists for those who suffer sudden economic hardship in the UK, NRPF status can directly lead to homelessness for many.
"There will be lots of people in that situation across the country who've been thrown a lifeline by the Everyone In policy, and who are going to have it removed without significant policy change"
Councils have already started evictions. A charity worker told the Bureau that in Nottingham, five people with no recourse to public funds were evicted from a hotel after the local council told the charity in charge of supporting them to cut the numbers staying there.
Police were called to force the group to leave, and intervened again when four of the men moved into a tent across the road.
Gemma Pillay, of the Nottingham Refugee Forum, said that the men told her they felt they were treated "worse than animals".
She added that the "forced destitution" NRPF inflicts made refugees' lives too chaotic to successfully apply for leave to remain – a "good outcome", she claimed, for the Home Office.
Nottingham City Council's housing chief Cllr Linda Woodings said the group had "displayed anti-social behaviour" leaving the authority with "no alternative" but to evict them from the hotel.
She added that they had been offered alternative places to stay but had "regrettably shown no intention of accepting these offers or undertaking the necessary actions to receive other assistance".
"Simply staying indefinitely in a hotel is unviable and unrealistic and does not address the underlying issues facing them," she added.
Mel Steel, director of the Brighton migrant charity Voices In Exile, said she had seen a surge in enquiries from people worried they were destined for the streets once their emergency accommodation ends.
Walid moved to the UK in 2003 and built a life here, having his daughter and earning accolades like employee of the month at his job.
But he could not afford the solicitors' fees for acquiring Indefinite Leave to Remain, and his right to work in the UK lapsed in 2016. He left his job when he heard that the Home Office had fined the company for employing people like him.
Soon, he was homeless. With Indefinite Leave to Remain, he could have been entitled to public funds and a council may have been able to support him. Without it, officials' hands were tied.
Everyone In changed that. As the threat of the pandemic loomed, rules that governed access to housing services, such as NRPF and "priority need" were abandoned, and people like Walid were finally helped off the streets.
However, while the government has announced new funding to continue the work of Everyone In, councils in England have been told to decide on an individual basis whether to accommodate people with NRPF, without using government public funds.
But the homeless community appears to be made up of more Walids than Malcolms.
In May, an analysis of those staying in two of London's temporary homeless hotels found that between 63% and 79% of those staying there had no rights to UK benefits. That leaves a lot of people going back to the street unless other solutions are found.
The Labour party has demanded that the NRPF rules be relaxed "for the duration of the pandemic".
Holly Lynch, the shadow immigration minister, added: "During this pandemic this policy risks driving people into destitution, which is not only terrible for the families concerned, but creates a serious public health risk."
"There will be lots of people in that situation across the country who've been thrown a lifeline by the Everyone In policy, and who are going to have it removed without significant policy change," said Jessie Seal, policy and campaigns coordinator at the NACCOM Network.
Despite repeated calls to remove NRPF restrictions and allow councils to use government money to house rough sleepers, ministers have explicitly said that its legal position on those with no recourse to public funds has not changed and suggested voluntary repatriation as a solution.
"'Voluntary repatriation' is nothing more than a bullying tactic which coerces people into 'returning' to places they no longer consider home, rids the government of its obligations to vulnerable people and is a dog-whistle to the 'go home' politics of the past," Minnie Rahman of the Joint Council for the Welfare of Immigrants, said.
Lawyers warned that voluntary repatriation could be deployed against vulnerable people unable to get the help they need. "[They] do not receive proper legal advice," Samina Iqbal and Sarah Pinder, of Goldsmiths Chambers, said.
The government's decision falls in line with the so-called hostile environment policy introduced in 2012 , which targeted rough sleepers for deportation, including by asking homeless charities to share details of homeless migrants.
Two of the charities involved, St Mungo's and Thames Reach, held contracts for supporting those housed in hotels under Everyone In. Both St Mungos and Thames Reach told the Bureau that they no longer share information with the Home Office. A spokesman for St Mungos said the charity backed calls to provide funding and housing for those with no recourse to public funds.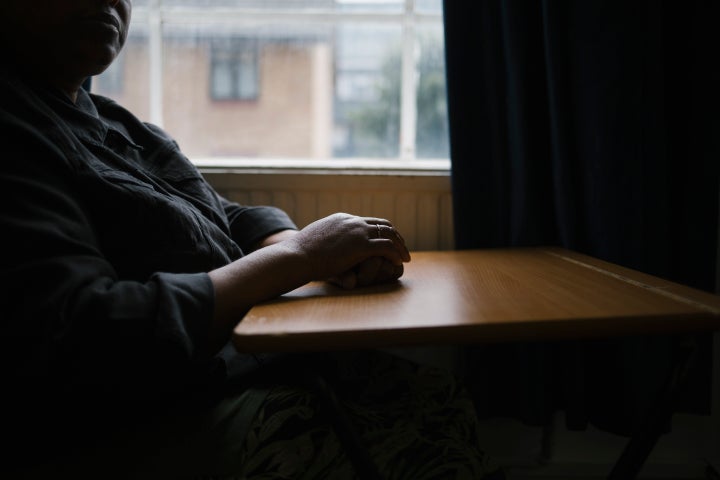 The lack of official funding for those marked NRPF leaves people like Chioma* with few places to turn.
She came to the UK from Nigeria, a Commonwealth nation, in 2011. She worked as a carer in a hospital. Three years ago, the Home Office wrote to the hospital and told bosses her leave to remain had expired.
"It was humiliating," she recalled. "I was escorted out like somebody who had committed a crime."
Chioma could not make sense of it. She had an open application for indefinite leave to remain. Her husband had just arrived. The couple has slept rough since then, occasionally bedding down at their church. He has prostate cancer, while not being able to shower regularly has given her a rash.
At the start of Everyone In, Chioma's claim for accommodation was batted away. At one point, having given all their information to a council's NRPF team, she was told that the woman who was dealing with their case was "on leave". It was only the intervention of a charity worker that got them housed.
Assessments have since revealed that her husband's health means the couple are in fact entitled to some funds. The council has also agreed they can stay until the Home Office makes a decision on her case. It's a glimmer of light at the end of a very dark tunnel.
But for many other homeless people born outside the UK, the government's unchanged position on NRPF and the budget shortfalls facing many councils make for a bleak outlook.
It could mean a return to controversial tactics on the part of councils to deny help, such as digging through social media for "proof" to reject a claim.
Project 17, which works with destitute migrant families, gave the example of a client from Ghana sleeping on busses with her son.
Her council "discovered" she was married, apparently contradicting her claim for assistance, based on a Facebook post. The only problem? The photo was of a different woman.
The council conceded its mistake, but by then the family had already suffered unnecessary, prolonged hardship. With NRPF restrictions back in place, these attitudes may prove difficult to shift.
"NRPF restrictions need to be lifted across the board, for everyone, regardless of their immigration status," Seal said. "Without this, there will continue to be significant differences in local provision and people will return to street homelessness.
"Everyone should be able to access a safe home and without it, people will continue to be at risk of dying on our streets."
A spokesperson for the Ministry of Housing, Communities and Local Government said: "Our rough sleeping task force has one overriding objective – to ensure as many people as possible who have been brought in off the streets in this pandemic do not return to sleeping rough."
That commitment, they said, also included Europeans and it was up to councils to decide if they wanted to use any of the newly announced £105m in funding to support people from other countries who have been deemed NRPF "based on individual cases and individual assessments".
Secure in his shared house, Malcolm now wakes up to the sounds of housemates instead of the sea. With some help, he's cut down on his drinking, and he's enjoying ordinary life.
"It's nice to have a conversation with someone, instead of a bird or a fox," he said.
Despite no similar assurance of continued housing, Walid is similarly upbeat.
A charity has given him some phone credit and found him a nearby place to get food. He has managed to buy two summer dresses for his daughter in a sale. But he still does not know how long he can stay where he is.
"I worry of course, because I don't know what's going on," he said. The same is true of everyone in his temporary housing block: "We're always asking each other."
Still, he wants to say how grateful he is for being taken off the streets.
"I'm very happy that I've got that treatment, as a human being, like a British person."
*Names have been changed