For kids, Halloween is all about getting dressed up – which leaves parents either heading to the nearest supermarket to buy a (sometimes pretty expensive) costume, or warily eyeing up the content of cupboards and wardrobes at home, and trying to make one themselves.
But while making a DIY Halloween costume might seem daunting, it doesn't have to take hours. The standard witch (cape made out of a bin bag), cat (whiskers drawn on with eyeliner), or ghost (a white sheet over the head with holes) are traditional parent-made costumes for a reason: it's almost impossible to muck them up, and your kids will still have fun.
But what if you want to be a little more adventurous? Putting aside an evening or afternoon to work on a costume with your child can be a fun creative experience, and they get to wear their own handiwork. We chatted to parents who have made their own to give you a bit of inspiration.
Frankenstein's Monster
Maggie Woodley, who blogs at Red Ted Art, has nailed the Frankenstein's Monster outfit. Dress your child in all black, and give them one of these masks. The Frankenstein mask below – made of a paper plate – is fun to wear and easy to make, says Maggie: "You'll need a lick of paint, some staples, and you already have yourself an amazing costume." Read detailed instructions how to do it here.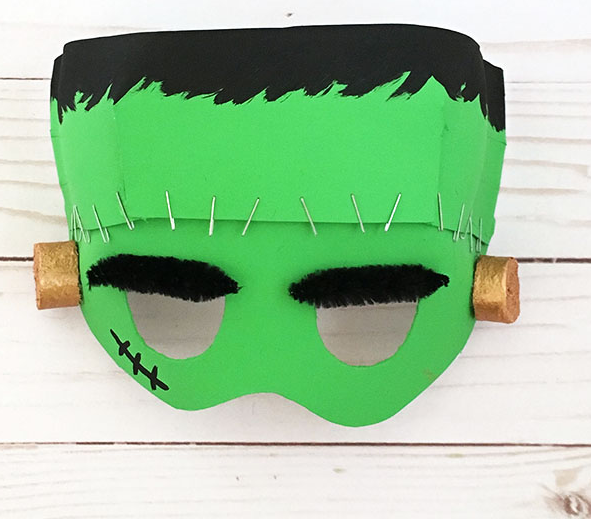 And if your child likes a costume with a bit more substance/ a complete disguise? This second take on Frankenstein involves nothing more complicated than cutting some holes for eyes and mouth from a brown paper bag. Encourage your child to help you paint or colour in the front, giving Frankenstein stitches and wrinkles where you want them. Read how to do it here.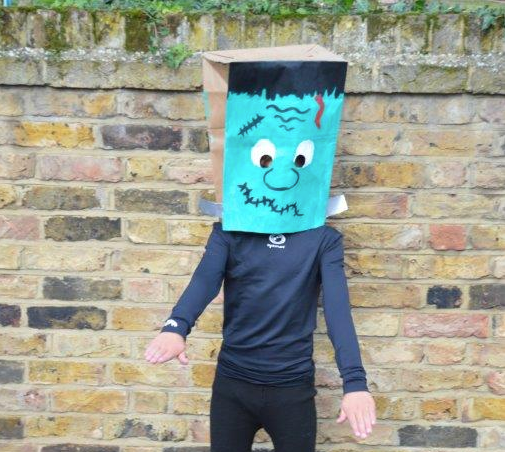 Skeleton
Mum Jen Walshaw made a skeleton costume from things she had at home for her son. Once he was dressed in black under-layers, she added "bones" with the help of white tape (you might try this tape if you don't already have some at home). And, if you're looking for a free printable skeleton mask to provide the final touches – the other alternative would be makeup, but you might value your eyeshadows and powder – you can find one here.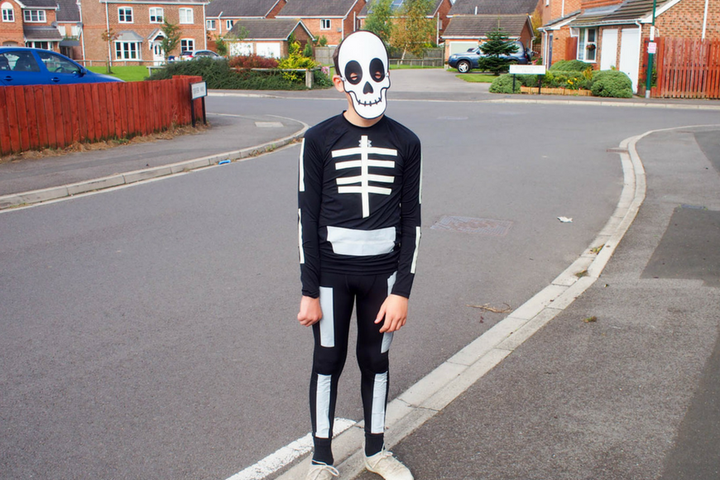 Chucky
Dad Terry Eaton got his daughter Tiger-Lily to recreate Chucky the Doll a couple of years ago. "Fortunately, it was quite easy to do as we had dungarees already, found a stripy top and drew on some facial scars and the transformation from sweet little girl to murderous terror doll was complete," he says. She still looks pretty cute to us.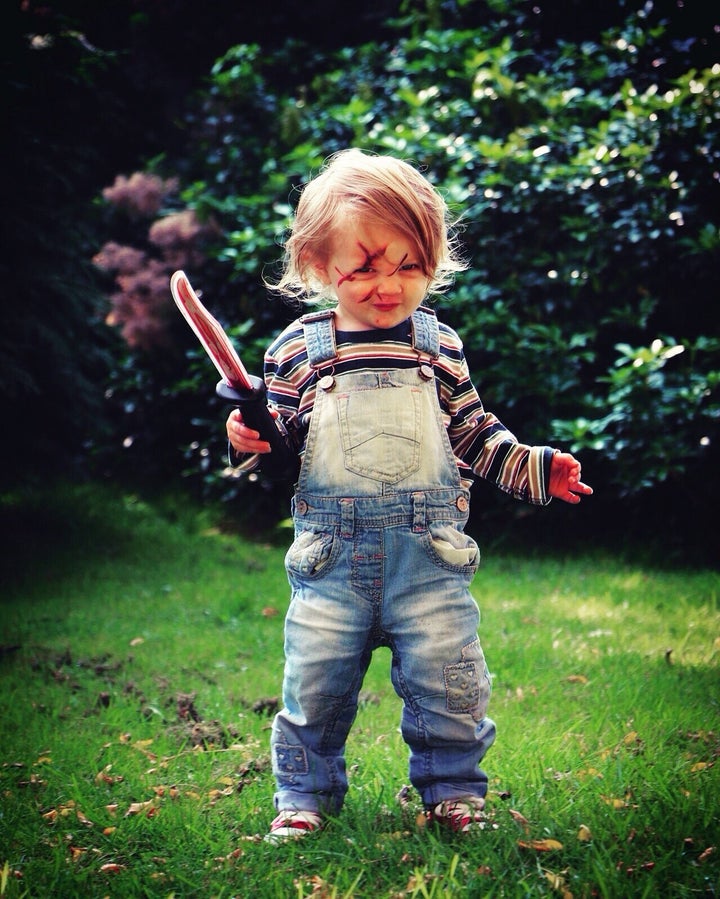 Fridge Monster
Craft blogger Susan Mann says her kids love cardboard boxes, so making costumes out of them adds to the delight. In this incredible outfit, you open the freezer compartment to find her son's head staring back at you from next to the ice-creams!
"Making things from a simple cardboard box is easier than you think and the possibilities are endless," she says. "All you need is some boxes, scissors or craft knife, tape (like duck tape), and some imagination. They are simple and quick. Give it a go, honestly, anyone can be creative."
For the monster creation, you'll need two large boxes, white paint, empty packets of food - and lots of tape! Find other cardboard costumes and how to do it on her blog here.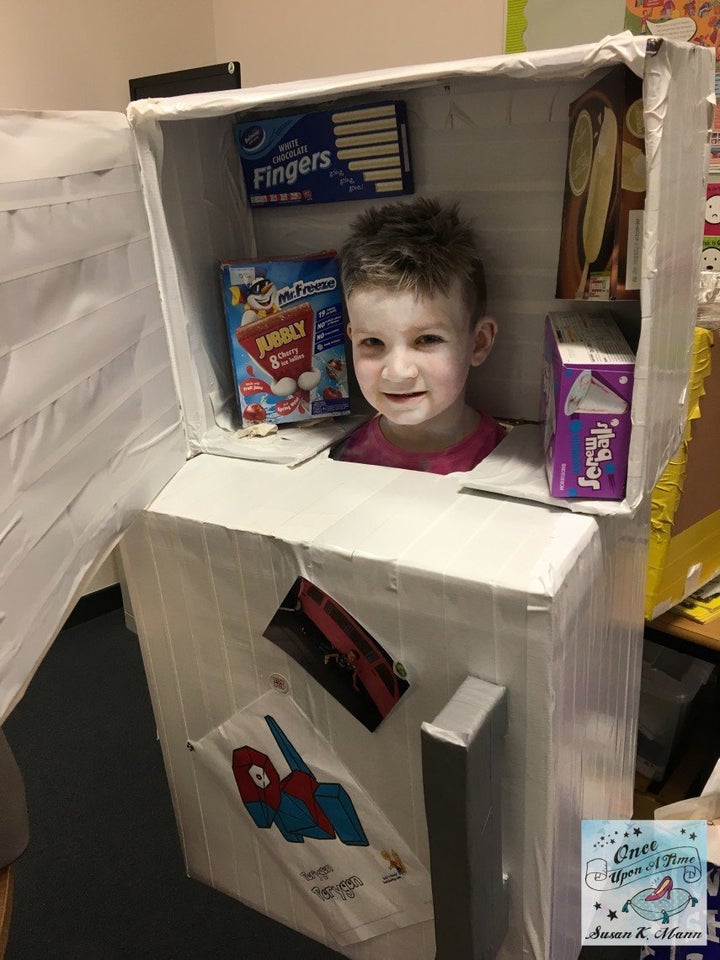 Baby Scissor Hands
Mum Cierra Dhilon helped transform her son into a baby Scissorhands. He wore a white shirt and black trousers, and then she made his "hands" by attaching "knives" to an old pair of gloves . "His little gloves were the hardest part of this whole costume," she says. "I used cardboard, aluminium foil, a little gold paint, a lot of glue and a pair of old black gloves." He looks amazing.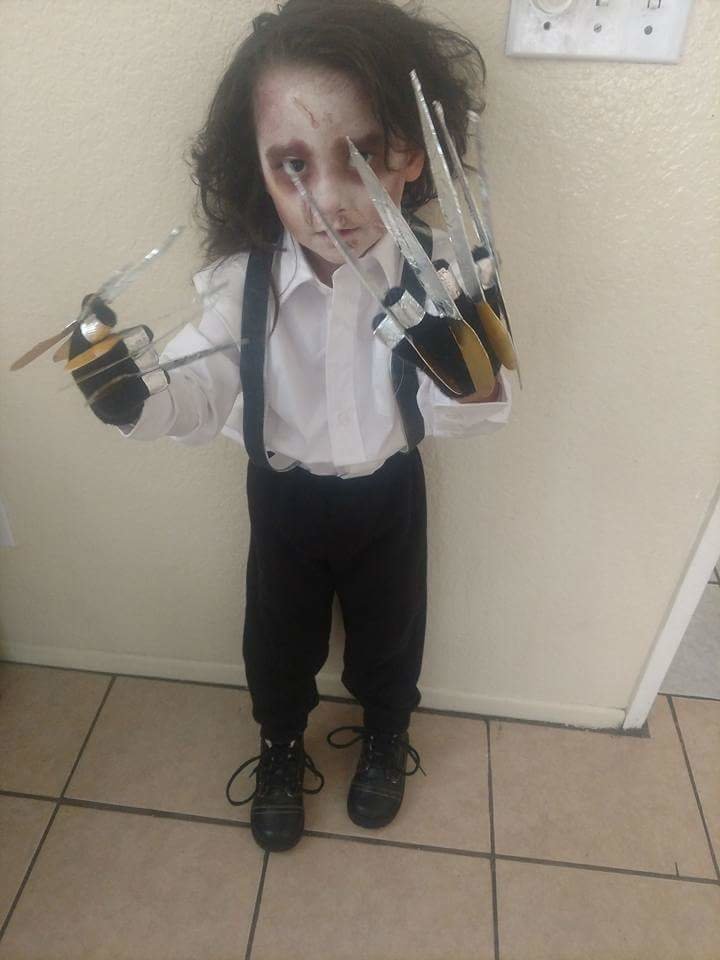 Wednesday Addams and Batman
Homemade costumes don't have to be complicated. "These are the most basic costumes I've made," says mum Sophie Kathir about the Wednesday Addams and Batman costumes for her two kids. "For my daughter, it was literally her school shirt and skirt and a black tank top with some black lipstick. My son as batman was just regular tracksuit with a Batman t-shirt he has and the cape was just a long black cloth I had lying around!"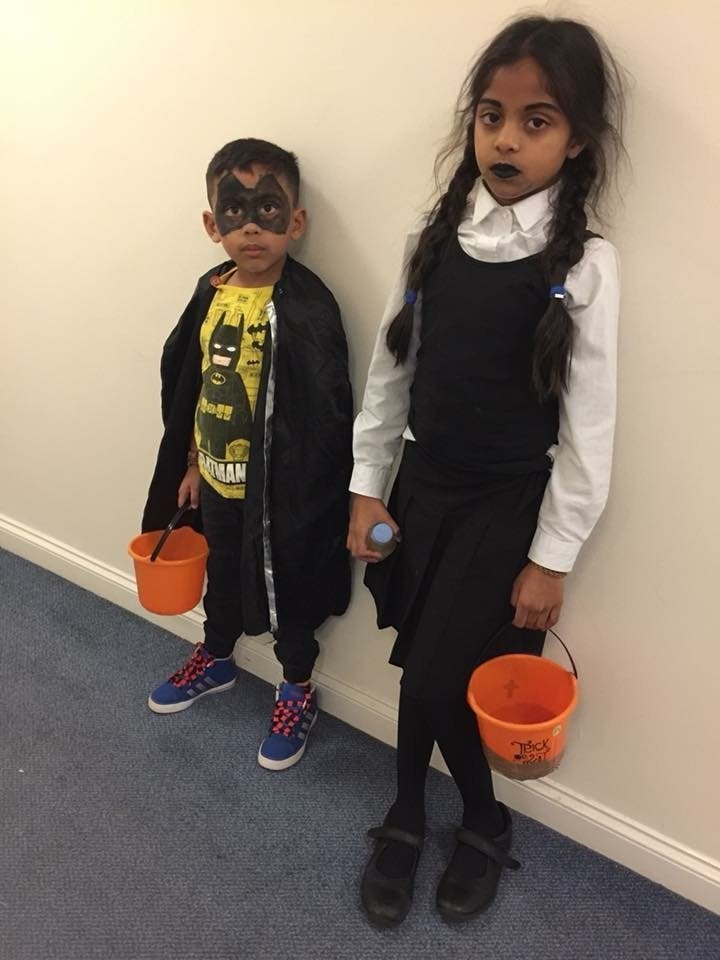 And if none of those take your fancy, Pinterest of course has a selection of outfit ideas – some of which admittedly look easier than others – from a spider costume perfect for crawling babies (just add a couple of pairs of black tights, stuff and stitch to a black babaygrow) to Martha Stewart's old-school paper witch's hat.