Almost three quarters (72%) of British football fans say they have heard homophobic abuse, according to new research that suggests such views are still prevalent in sport.
The study by Stonewall also found one in five sports fans aged 18-24 would be embarrassed if their favourite player came out and that young people were more likely to see homophobic "banter" as harmless.
Stonewall's research into homophobic, biphobic and transphobic attitudes and experiences among sports fans found that young people were twice as likely to say they would be embarrassed if their favourite player came out as gay (22%) compared to the 12% average for all age groups.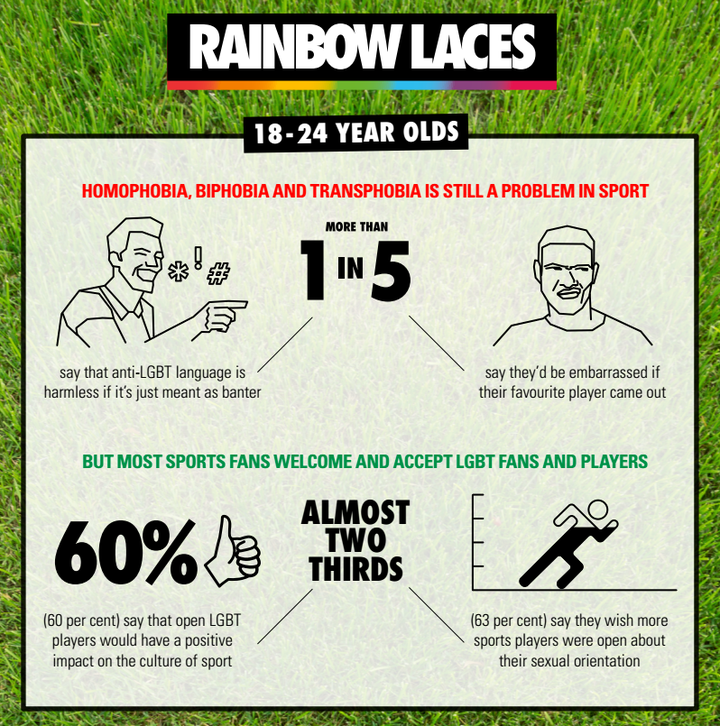 The younger age group were also twice as likely to agree that anti-LGBT language is harmless if it's just intended as "banter".
Stonewall's Chief Executive Ruth Hunt said there was a "persistent minority" of sports fans who think homophobic abuse is acceptable.
"These vocal few may be under the illusion that anti-LGBT language is harmless but it makes lesbian, gay, bi and trans fans and players feel unsafe, unwelcome and unable to be themselves," she said.
No current Premier League football players are openly gay. Justin Fashanu, who played for clubs including Nottingham Forest in the 1980s and 1990s, revealed he was gay during his career. He later took his own life after being accused of sexual assault, reportedly fearing he would not get a fair trial because of his sexuality.
Last year the UK press reported that two unnamed Premier League footballers, including one member of the England team, were about to come out.
Some betting sites offered odds on which footballers it would be, which Stonewall called "cashing in" and "trivialising" the issue.
There were also some "encouraging trends" in Stonewall's research, the group said. Most (88%) fans said they would be either 'proud' or 'neutral' if their favourite player came out as gay, and most people (59%) thought that offensive language towards LGBT people in sport is a problem.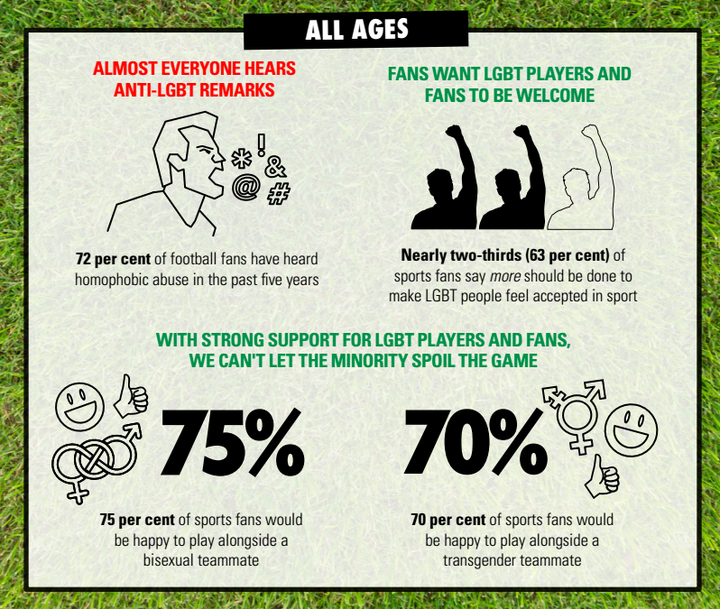 Nearly two-thirds (63%) of those quizzed said more should be done to make LGBT people feel accepted in sport.
Almost two thirds of 18-24 year olds (60%) say that LGBT players coming out would have a positive impact on the culture of sport, and 63% of that group said they wished more sports players were open about their sexual orientation.
To address the problems, Stonewall has created a training programme for sports coaches who work with young people, as well as a 'sports toolkit' for community sport groups to build awareness of LGBT issues.
Schools and clubs have also signed up to join in with a 'week of action' as part of Stonewall's Rainbow Laces campaign, which aims to show that everyone is welcome in sport.
"We need high profile sports clubs and personalities to stand up as allies and help make sport everyone's game by showing that homophobic abuse has no place," said Hunt.