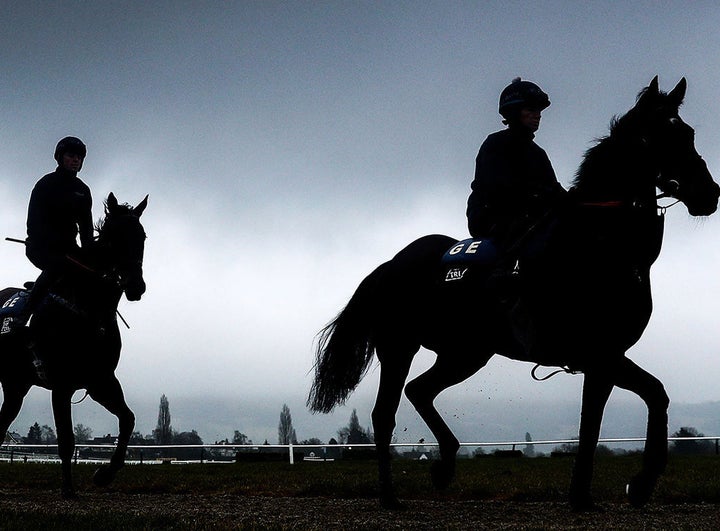 The cancellation of horse racing fixtures following the discovery of equine flu has been branded "contradictory" by animal rights campaigners.
The British Horseracing Authority (BHA), which regulates the sport, confirmed on Thursday that all UK events would be called off until Wednesday 13 February at the earliest after influenza was discovered in an unnamed racing yard.
But campaigners told HuffPost UK the decision showed "some contradiction… when it comes to equine welfare issues".
"Whilst equine flu is rarely life threatening, but sees racing cancelled, the industry chooses to race-on after horses are killed on specific racecourses," a spokesperson for the Animal Aid organisation said.
They added: "When the news broke there was an official statement from the BHA on the influenza concerns, yet, no mention of two horses who were killed racing on Wednesday.
"One victim, a horse called Herecomestheboom, broke a hind leg at Ludlow, where the flu outbreak was picked-up; the other victim, Beehaar, who was just three years old, died at Kempton Racecourse."
Horse racing has drawn criticism for the level of horse deaths in the sport. A BHA report found that 167 horses died during races in 2017, with over a thousand fatalities in five years since 2012.
The BHA maintains the number of horse deaths remains low as a proportion of animals involved.
An earlier decision to suspend meets on Thursday affected races at Chelmsford and Doncaster.
The discovery of equine flu by the Animal Health Trust confirmed three positive tests from vaccinated horses in an active racing yard.
Equine influenza is a highly infectious disease of horses, mules and donkeys. Symptoms in non–immune animals include high fever, coughing and nasal discharge.
It is not yet known how long the current shutdown of racing may have to last, however there are echoes of the foot-and-mouth crises of 1967 and 2001.
On each occasion, the racing calendar was affected for two months – and in 2001, the Cheltenham Festival, held in March, was abandoned.