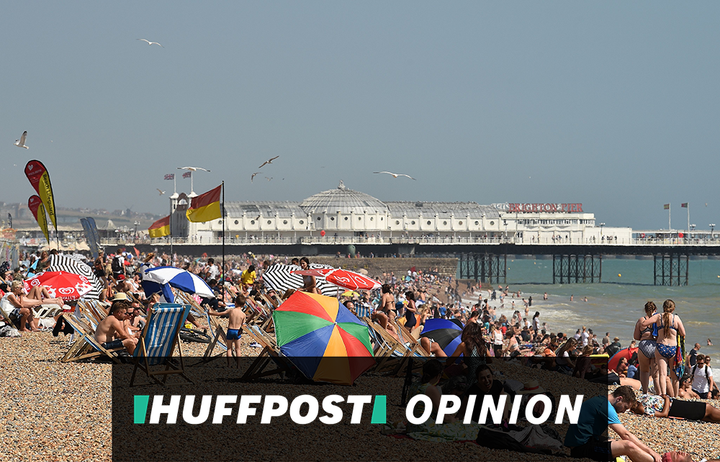 Temperatures are on the rise and I fear for the future of my 21-month-old son, and what the planet will look like for his generation if no action is taken. Today is set to be one of the UK's hottest days on record and it's only going to get hotter. I am devastated at what we are doing to our planet and I am petrified of what the future has in store. Highs of 38C are expected to be reached in what journalists are calling the "deadly African plume". The climate crisis is upon us and we can quite literally feel it. With the IPCC report predicting that we have less than 11 years to act, it is clear that we can no longer continue to ignore this crisis.
These trends are becoming increasingly common, with the weather getting warmer and warmer, year on year. As children across the country start their school holidays, many of whom have played a leading role in the Youth Climate Strikes, we need governments to wake up and listen to what they are telling us. If they don't then the degrees on the thermometer will continue to rise as little action is taken to decarbonise the country by 2030. We will see an end to seasons as we know them, and heatwaves will become the new normal.
The implications of these extreme conditions don't end with the environment, they signify major public health issues too. Public Health England, the RSPCA, The Met Police, the British Heart Foundation and the NHS have all expressed their concern for people's health and safety because of the soaring heat.
These intense heatwaves put us all in danger. Labourers, and people who work outdoors will have no choice but to continue to work throughout the higher temperatures, putting them at risk of heatstroke. Asthma sufferers, those with heart and lung conditions, are all going to be affected by these drastic temperature changes. The elderly, too, are disproportionately affected by the heat, their lives put at risk due to these severe conditions; during the 2003 heatwave in France, over 10,000 lives were lost. We cannot continue like this, we cannot continue to allow people to die, nor put their lives at risk, because of greedy corporations and austerity driven governments who fail to put climate change on the political agenda.
We must promote policies that specifically address the social justice implications directly linked to climate change. We must address economic inequalities, for instance the fact that pollution has a greater impact upon inner city, working class communities of colour. Luckily, this policy already exists: it's called the Green New Deal. A Green New Deal that would see a huge investment in renewable energies and energy efficiency measures. A Green New Deal that would see solar panels being installed on the roofs of every home up and down the country, off-shore wind farms powering whole cities, and proper home insulation so that neither heat nor money is lost through people's walls. Policies like these have the power to transform our society by providing secure, local jobs, taking people out of fuel poverty, all while contributing to tackle the climate crisis.
But the UK cannot do this alone, we need a Green New Deal that works for all of Europe. Everyone needs to be on board now if we are going to see concrete change in the future. The choices that we make today, will not only impact our neighbours in Europe but also warmer, poorer countries in the Global South. Natural disasters are on the rise; just look to Malawi, with Cyclone Idai causing enormous damage earlier this year. We must hold ourselves accountable for the implications of our actions on a local and global scale. Historically, social justice issues have been addressed with one-issue, short-sighted policies, which have simply failed to resolve the deeply entrenched inequalities that exists in our society and across the world.
If we are committed to living in a country where people are able to live healthy, safe, and dignified lives, then tackling the climate crisis must be our number one priority. We need to ensure that our planet does not increase in temperature by more than 1.5 degrees. The time for action is now: this is our chance to make a positive, lasting difference for people and for the planet. The Green New Deal is our opportunity to think big, and act fast, so that my child and his generation can grow up in a world that they can be proud of.
Alexandra Phillips is Green MEP for South East England.