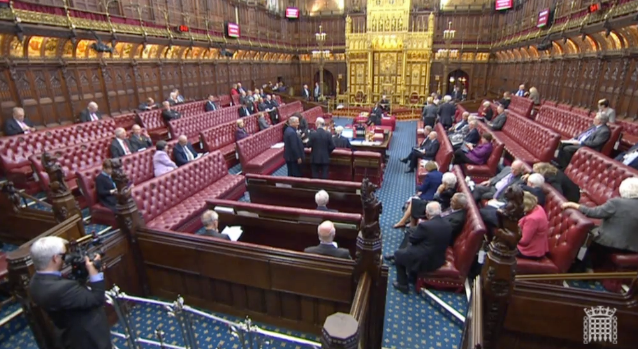 The Government is facing pressure to climb down on plans to charge better-off social housing tenants to "pay to stay" after three straight defeats in the House of Lords.
MPs will next week be handed back a Housing and Planning Bill that has been dramatically altered after majority votes for the opposition brought the number of defeats the legislation has suffered to six.
"Pay to stay", if implemented, would see tenants charged market rates once they earn over £30,000. Critics say this would result in sharp increases in rent that would force working families out of council homes.
Today, peers voted by 240 to 176 in support of a Labour-led amendment to give local councils the discretion over whether to implement the charge, rather than making it mandatory.
They then voted 281-179 to back an amendment to lower the "taper rate" from 20p to 10p in every pound, so lower-paid families would not be hit as hard.
The hat-trick of defeats was completed when the Lords voted 266 to 175 to increase the "pay to stay" threshold by £10,000.
Opponents argue it is unfair to suggest a couple each earning £15,000 were high earners and Lord Best, a crossbench peer, said the proposed policy was "vindictive".
"The Government plans debated today are not just an assault on the security which is the hallmark of affordable housing – they're an attack on aspiration too."
But the Government looks set to dig in.
Baroness Williams of Trafford, speaking for the Government after the first defeat, said ministers would not accept "wrecking amendments".
In more embarrassment for the Conservatives, the Government rowed back without a voted so "pay to stay" regulations will have to be approved by Parliament, and recipients of housing benefit or universal credit will be excluded.
The unelected House of Lords has been a repeated thorn in the side of the Conservative government, inflicting upon it a series of defeats because of the Labour-Lib Dem "anti-Tory" majority in the upper house, including forcing a U-turn over tax credits cuts. But even some Conservative peers have been uncomfortable with the housing reforms.
The Government has now lost six votes on the Housing Bill, and has made a series of concessions. However, MPs could ditch the amendments voted on in the Lords when the Bill returns to the Commons next Monday.
Today, the Government also gave way on its plan to end lifelong tenancies - a right first introduced by Margaret Thatcher.
The Government said it will allow new fixed-term tenancies of up to 10 years rather than five, and offered special concessions for families who have children of school age. However, the proposal is still likely to face resistance from Labour.
Labour's John Healey, Shadow Secretary of State for Housing, said: "After a third day of defeats in the House of Lords, it's clear that the government are losing the argument on their extreme Housing Bill right across the board.
"The Government plans debated today are not just an assault on the security which is the hallmark of affordable housing – they're an attack on aspiration too.
"It comes to something when Labour is having to defend rights put into law by Margaret Thatcher. It shows just how extreme the government's housing plans are.
"We can't fix the country's housing crisis without good homes of all types, Labour will continue to argue for a more balanced plan to fix the housing crisis. The Government should listen to the arguments made by Peers on all sides of the House of Lords and drop their damaging housing plans."
Liberal Democrat housing spokesperson Cathy Bakewell said: "Pay to stay is another example of a Tory housing policy that will kick more people out of their homes.
"This is just one part of a disastrous bill which risks tearing apart our communities instead of improving social cohesion in our towns and cities.
"For all the Tory talk of One Nation Britain, these housing reforms will pull our country apart."
Popular in the Community