Mediterranean diets could lower a person's risk of depression, a landmark study has found. But that sadly doesn't mean eating lots of pizza. On the contrary, researchers found junk food could raise the risk.
Lead author of the study Dr Camille Lassale, of University College London (UCL), said: "There is compelling evidence to show that there is a relationship between the quality of your diet and your mental health. This relationship goes beyond the effect of diet on your body size or other aspects of health that can in turn affect your mood."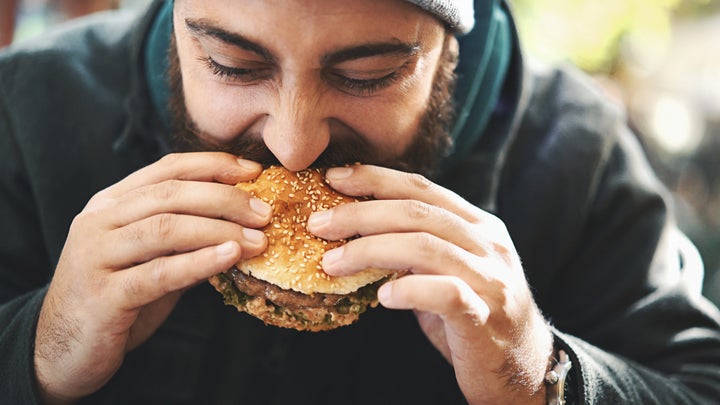 A review of studies involving 32,908 adults from France, Australia, Spain, the US and the UK found people who followed a traditional Mediterranean diet had a 33% lower risk of developing depression than people who ate processed food.
"We aggregated results from a large number of studies and there is a clear pattern that following a healthier, plant-rich, anti-inflammatory diet can help in the prevention of depression," said Dr Lassale.
On the other hand, people with diets high in saturated fat, sugar and processed food were at greater risk of poor mental health than those who ate plant-rich diets.
What does a Mediterranean diet consist of?
The diet is rich in fruits, vegetables, nuts, plant-based food and fish.
According to the EU Food Council, people following a Mediterranean diet will tend to have olive oil in their diet, a moderate intake of poultry, and low intakes of dairy products like yoghurt and cheese.
This lines up with Public Health England's Eatwell Guide, which recommends eating at least five portions of fruit and vegetables a day, and two portions of fish per week (one of which should be oily). It also advises people to eat less red and processed meat, and choose lower fat and lower sugar dairy options.
There is the issue of cost to consider, however. A recent report revealed there are roughly 3.7 million children in the UK who come from families that can't afford a healthy diet which meets the government's nutrition guidelines.
What's the advice?
The authors said avoiding junk food and favouring foods rich in plant fibre, vitamins, minerals and polyphenols – such as fruits, vegetables, legumes, fish, olive oil and nuts – may reduce the risk of depressive disorders.
"A pro-inflammatory diet can induce systemic inflammation, and this can directly increase the risk for depression," Dr Lassale explained.
"There is also emerging evidence that shows that the relationship between the gut and brain plays a key role in mental health and that this axis is modulated by gastrointestinal bacteria, which can be modified by our diet."
Co-author Tasnime Akbaraly added: "By showing that an adherence to healthy dietary patterns is associated with a reduced risk of depressive disorders, we contribute to the growing body of evidence regarding the importance of our daily diets to our mental and brain health."
Akbaraly said the findings support the need for doctors to provide routine dietary advice to people.
"This is of importance at a patient's level, but also at public health level," she said, "especially in a context where poor diet is now recognised to be the leading cause of early death across middle and high-income countries and at the same time mental disorders as the leading cause of disability."
"There's a strong connection between what we eat and how we feel, with blood sugar levels affecting our mood and energy"
Stephen Buckley, head of information at mental health charity Mind, told HuffPost UK: "It's widely accepted that there's a strong connection between what we eat and how we feel, with blood sugar levels affecting our mood and energy. This research links diets high in fruits, vegetables, nuts and fish to lessened symptoms of depression, while other studies have previously suggested low levels of certain vitamins, minerals and essential fatty acids can negatively affect our mental health."
He advises trying to eat plenty of protein rich foods, keeping regular meal times and cutting down on mood-altering products such as sugar, caffeine and alcohol. He added that regular physical activity is equally important.
"If you are experiencing depression or anxiety, it might be hard to focus on your health, or you may resort to unhelpful coping strategies, such as drugs or alcohol," he continued.
"If this is the case, you might benefit from other forms of treatment such as medication or talking therapies. If you're worried about your mental health, speak to your GP or a trusted friend. Alternatively, call Mind's confidential Infoline on 0300 123 3393 or visit mind.org.uk."
Useful websites and helplines:
Mind, open Monday to Friday, 9am-6pm on 0300 123 3393
Samaritans offers a listening service which is open 24 hours a day, on 116 123 (UK and ROI - this number is FREE to call and will not appear on your phone bill.)
The Mix is a free support service for people under 25. Call 0808 808 4994 or email: help@themix.org.uk