In Spenny vs Penny we compare the products we love with those following in their (sometimes pricey) footsteps. I tried two pore-blurring creams – but which one came out on top?
Primers are a tricky product to perfect. When they work, you enjoy a flawless face all day, with your carefully-applied powders, creams and colours staying put. But when they don't, it can be a nightmare – causing patchy foundation and overly oily t-zones.
The beauty product aims to create an extra layer between your skin and your makeup – helping it last longer, smoothing the skin's surface, and evening out the skin tone. So which ones are worth buying?
I'm indecisive when it comes to primer in my own makeup routine – some days I wear it, some days I don't. But as someone with oily skin (and therefore frustratingly visible pores), anything that claims to minimise their appearance I'm willing to try.
I chose to compare two primers that promise to blur pores: a beauty cult classic from Benefit and e.l.f's new putty primer. Here's how it went.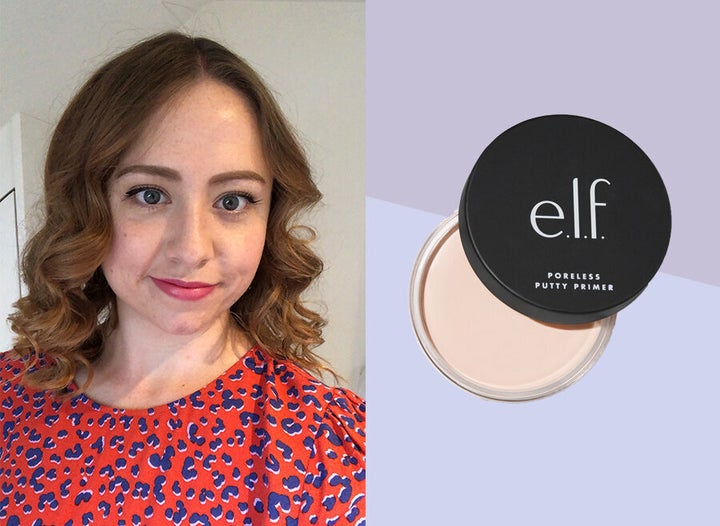 This pot of primer is fragrance-free, compact and – as it's essentially solid until warmed up between your hands – it's great for travel, too.
The texture is quite thick, but it absorbs quickly. That said, the first time I use it, I apply far too much and it leaves my face feeling greasy. My foundation doesn't apply evenly, so I spend the whole day feeling self-conscious.
On the second day, I read the production description in more detail and it says allow it to set onto the skin for 30 seconds before applying foundation. This makes a big difference – my foundation goes on smoothly and doesn't pill, but I'd recommend thoroughly blending it in to ensure a seamless finish (I just used my fingers).
Throughout the day, my makeup lasts reasonably well – but to be honest, there wasn't a huge difference to when I apply it without using a primer. My nose is where my pores are most visible and this product doesn't make it worse, but it doesn't make much of an impact either. Come lunchtime, I still have to blot away shine with a pressed powder compact.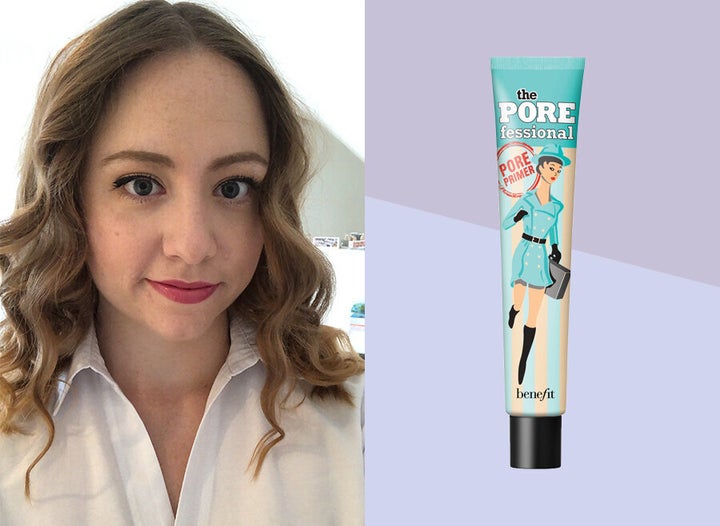 I remember using this for the first time when it launched in 2010. I was obsessed with the velvety texture – so trying it again was like a trip down memory lane.
The silicone-based balm is silky smooth with a peachy tint and a little goes a long way. I use a pea-sized amount for my whole face and it absorbs quickly like the e.l.f version – but this time there's a noticeable difference with how visible the pores on my nose are. It definitely lives up to its pore-blurring promise, more so than the cheaper version.
When I check in at lunchtime, a little touch-up is needed – and my usually-patchy nose is quickly covered as if I have just applied it.
Between the two, I'd recommend Benefit's primer because, while more expensive, it does the job better. I'm not sure putty is the most effective texture for underneath makeup, particularly on oilier skins. Perhaps it's best left to the painters.
We all work hard to earn our money – so it shouldn't feel like hard work to spend it well. At HuffPost Finds we'll help you find the best stuff that deserves your cash, from the ultimate lipstick to a durable iron to replace the one that broke (RIP). All our choices are completely independent but we may earn a small commission if you click a link and make a purchase.