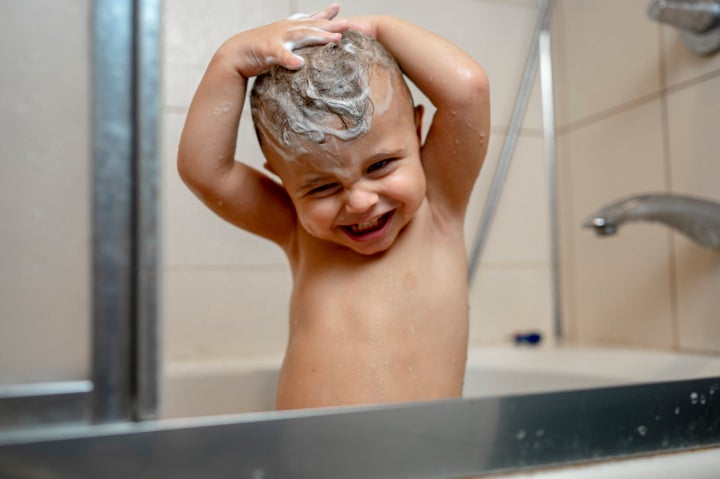 When it comes to bathing little ones, nobody can seem to agree on how often we should be doing it. Lots of parents swear by a nightly bath to help keep kids squeaky clean and settle them before bed.
Others don't want to be dealing with the stress of that – especially those with toddlers who spend 15 minutes coaxing them into the bath, to then spend a further 15 minutes coaxing them out afterwards.
It seems there's no right or wrong answer here. But for those who are relying on a single wash each week – because water bills and the environment and time – rest assured, it's not doing them any harm.
Professor Sally Bloomfield, from the London School of Hygiene and Tropical Medicine, previously told BBC Radio 5 Live that washing too much can strip the body of its self-regulating microbiome, which helps control oil levels on the skin.
"In my opinion we don't need to bath and shower every day. In fact, we don't need to bath and shower at all," she said, according to the Mirror.
"There are microbes on our body that produce nasty odours but they're not harmful to us. And the reason we bath and shower is that we want to get rid of those odours and we want to feel comfortable."
But kids don't tend to develop body odour until puberty starts and their hormones change.
They do however caveat it's not always necessary and suggest kids of this age need a bath at least once or twice a week.
There are of course instances where you'll need to bathe your child more times in the week, for example if they've been splashing about in mud or if they're wearing sun cream in summer or mosquito spray, or they've been swimming in a pool or the sea.
For children with eczema, Allergy UK recommends a daily bath or shower as cleansing (using a complete emollient therapy regime) can help put moisture back into the skin as well as removing bacteria, allergens and irritants that build up during the day. The charity has shared some advice on how to bathe a child with eczema – including not using normal soaps and bubble baths.
Of course, implementing a regular bath-time isn't always about cleanliness. Research from Johnson's Baby and Aveeno Baby found 86% of families say bath time is an important part of their little one's routine, with structure (47%) and sleep (72%) being cited as the main reasons for this.
The same survey found 61% of parents feel guilty if their child misses a bath – and more than half (54%) of those surveyed said they regularly sacrifice their own bath or shower in order for their little one to have one. To help parents continue bath time in the cost of crisis, the brands are now offering a portion of sales from selected products in Sainsburys to the Fuel Bank Foundation.
But if your little one doesn't get to have a bath every day – or even every few days – it certainly won't hurt.
If children are pretty clean – and, with older kids, aren't particularly smelly – then bathing two or three times a week is totally normal, suggested Dr Claire McCarthy, a primary care paediatrician at Boston Children's Hospital.
"In fact, for many kids, even just once or twice a week is fine. You can always do a quick wipe with a wet washcloth to the face, groin area, and any dirty spots," she wrote in a guide for Harvard Health.
As for babies, the NHS suggests parents don't need to bathe them every day either. The health service does caveat though that if they really enjoy it, there's also no reason why you shouldn't.