If you woke up in a sombre mood, you're certainly not alone. England's crushing defeat during the Euro 2020 final has sent a wave of disappointment across the nation.
After a tough year-and-a-half, the country was swept up in football fever, with regular fans and newbies alike sharing one hopeful dream. The fact the game started so well – with Luke Shaw scoring in the first two minutes – but ended in penalties (againalmost makes it harder to bear.
"When we watch team sport, our physiology mirrors the people we are watching and so our disappointment was actually the same disappointment as that of the England team," she says.
"It's hard to sustain the biology behind all the suspense and nail-biting moments over such a prolonged period of full time, extra time and penalties. We are always going to have a post-match slump and may feel a bit jittery as a result and disappointment makes it feel all the worse."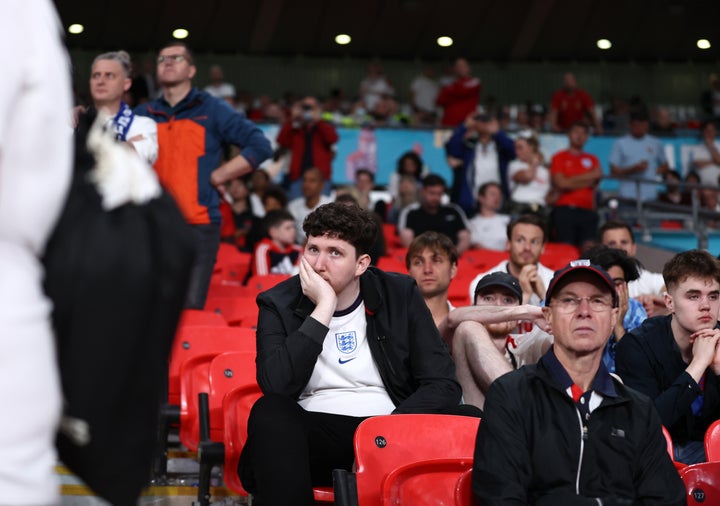 Dr Trent's advice for dealing with these emotions is to "stay kind to yourself [and] stay kind to the team" – advice that could not be more pertinent, considering the racist abuse that's been hurled at some of England's penalty takers. "It's okay to have big feelings," she says. "Just keep them kind."
If you're feeling hurt today, just imagine the emotions the England squad must be facing. Captain Harry Kane described losing on penalties as the "worst feeling in the world," telling the BBC: "I couldn't have given more. The boys couldn't have given more [...] It's going to hurt for a while. It'll probably hurt for the rest of our careers, but that's football."
Dr Shungu Hilda M'gadzah, who's director and lead consultant at Inclusion Psychologists Limited, says thinking about others – in this case, the players – can help quell your own disappointment.
"Let's focus our attention on them and helping them recover and this will also help us recover and move on until next time," she says. "We will regroup and have another opportunity to bring it home."
It's good to talk about feelings of disappointment and loss, she adds, especially if you shared the lead up to the game and the match itself with children, who may be less equipped to process raw emotions.
"It's also important that people find a way of lifting their spirits and not dwell on what could've been," she says. "We need to focus on what we achieved in getting so far."
While it's normal to feel sad after a sports loss, if your disappointment feels unmanageable and impacts you severely for more than a few hours, it could be a sign of something else going on, says Helen Llewellyn, director at Infinity Wellbeing. In this instance, you should talk to a therapist of counsellor.
But most of us will find our spirits lifted by avoiding negativity and focussing on the positives. Instead of reading negative reactions or getting sucked into divisive match analysis on social media, try to consume positive content about how far the England team came, and how their achievements united the country after a tough 18 months. And remember, any lessons learned at the Euros will only make the team stronger during next year's World Cup.
"As we have all come to appreciate in the past 18 months, we have to take the positives away from every situation, regardless how challenging," says Andy Chambers, founder of Born Human mental health consultancy.
"We have the choice to acknowledge and build on our achievements and focus on the incredible feeling it is to overcome tough milestones in life.
"Our football team have set a great example of how great things can be achieved with the right attitude and commitment. 'Rome wasn't built in a day' is too much of a delicate analogy, but you get my point."