You may have dreamed of growing up and having a huge bedroom (and house), but chances are your adult reality has turned out slightly smaller.
Whether you're squeezed into a house share, living with parents or have bought a modest-sized place of your own, what can you do to make that teeny tiny space seem, well, a bit more impressive?
We asked interior designers for their top tips on making a small space look bigger.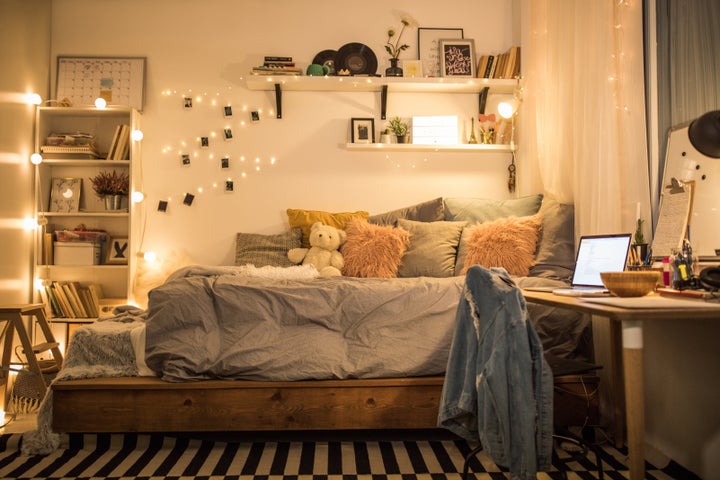 1. Use Colour To Your Advantage
There are a few colour tricks you can use to make your space feel bigger, according to Sonia Pash, co-founder of Temza Interior Design Studio. "The general rule is to go for a lighter colour, but I would advise against brilliant white," she says. "Instead go for a softer off-white which will make your bedroom feel cosier."
Interior designer Maurizio Pellizzoni agrees and adds neutral colours are best to maintain a bright, airy space. "Stay away from bold statement colours or busy wallpaper," he says. "These can look great in a big space, but will do the opposite in a small room."
2. Choose Furniture Wisely
When it comes to furniture, be honest with yourself about what you can fit in your room, says Pash. So don't try to squeeze a super king-size bed into the room when you can settle for a double.
Pellizzoni advises choosing a bed with a small frame. "When dealing with space, every inch counts, so if you have a small bedroom, it's important to choose a small bed frame," he says. "A divan bed base with a wall mounted headboard can be a great solution for this."
Pash advises choosing furniture with exposed legs to make your room feel bigger and airier. "Being able to see more floor space gives the illusion of a larger room," she explains. "If it's too compact to squeeze in bedside tables or a dressing table, fit a small shelf instead of a bedside table or use a longer shelf as a dressing table." This oak floating bedside table (Etsy, £110) is a great option, or check out our selection of floating shelves.
A sage piece of advice from Pellizzoni is to only use furniture and accessories you absolutely need. "If it's a really boxed in room, use low height furniture so it doesn't override the space," he adds.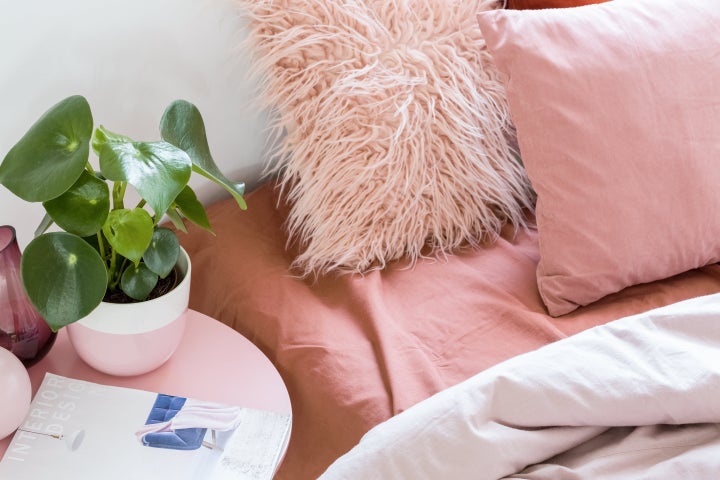 3. Consider The Acoustics
Usually the emphasis is on aesthetic when considering how to make a space bigger, says Greta Citrons, interior designer for Goddard Littlefair. But consider how sound works within the space too.
She recommends having a hard finish, natural wood floor which works to create a slight acoustic-amplifying effect. In contrast, carpets that absorb sound will make a space feel smaller.
If you want to make the room look a little more homely, Citrons advises adding small rugs.
4. Lighting
Install small in-built ceiling lights, advises Citrons, rather than hanging pendants or shades which can make the ceiling appear lower. You could also try adding warm white LED light strips behind the bed headboard and under nightstands if they're in the room. "Keep the loose lamps for tables and maybe even a floor lamp if there's space," she adds. This contemporary white lamp with orange base (Etsy, £21.49) would brighten a small room in no time.
5. Avoid Making Walls Too Busy
Although we all love the look of a gallery wall, Pash recommends against overcrowding a small space with decorations. "Instead put one or two good sized artworks and a couple of large decoration items, such as a lamp or vase. Avoiding too much clutter gives your bedroom space to 'breathe'."
6. Store Wisely
With tiny rooms, storage can be in short supply. Pash advises using multi-functional space-saving solutions, for example using a window seat which doubles up as storage, or putting shelving in alcoves in the walls (for example, either side of a fireplace). "You could also build storage around the bed," she says.
Opting for a bed with built-in storage is another good way to minimise clutter. The use of storage boxes can be decorative but functional at the same time, adds Pellizzoni. This set of three wooden storage boxes (Matalan, £8) are a great option.
7. Ditch The Curtains
"Full length curtains definitely take up some of the needed space in the bedroom and break up the flow of the wall," he continues. "The best option for smaller bedrooms is to use blinds or shutters as they sit flush with the window, letting light in without appearing obstructive to the space."
8. Invest In A Mirror
Mirrors reflect light and create the feeling of space. Instead of hanging mirrors in practical places, strategically place them where they will reflect windows and light – naturally or from your lighting, advises Pellizzoni. "Choose mirrored panels on furniture, which have a similar effect."
Invest in this large, brushed brass, rectangular mirror (Made.com, £199) or if you're on more of a budget this round, black leather strap mirror (H&M, £49.99) would also work well.
We all work hard to earn our money – so it shouldn't feel like hard work to spend it well. At HuffPost Finds we'll help you find the best stuff that deserves your cash, from the ultimate lipstick to a durable iron to replace the one that broke (RIP). All our choices are completely independent but we may earn a small commission if you click a link and make a purchase.