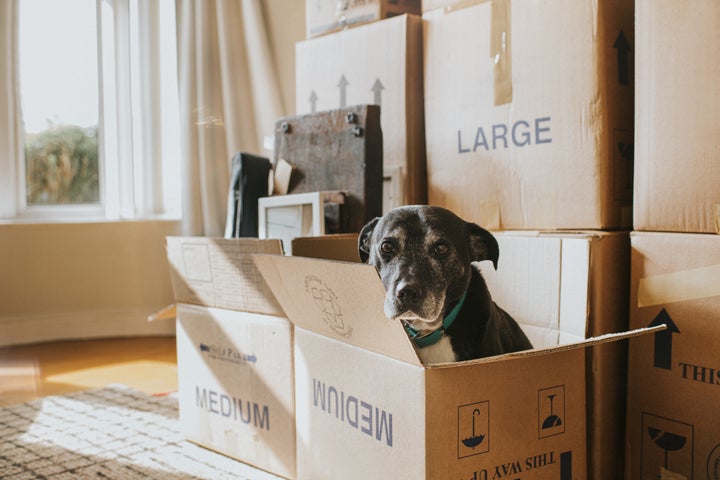 Packing for a move is stressful, there's no doubt about it. At some point in the process – possibly on multiple occasions – you'll ask yourself how you came to accumulate so much stuff.
We don't learn how to pack at school, so most of the time we go along with what makes sense: pack your books in one box, your TV stuff in another and your towels separately, too. But that's not always the best route to take.
So, we asked professional packers – yes, there are people who will actually come and do this stuff for you – for their top tips when it comes to squirrelling everything away for a house move. Here's what they said.
1. Don't put all your heaviest items in one big box
Most people tend to lump together similar items when packing, and although this makes sense in some instances like with clothing and toiletries, it isn't always the best idea, says Maureen Bennett of F&M Bennett Removals.
"If you put all of your books or heavy kitchenware in one big box, for example, you'll find the box either can't support the weight or you'll struggle to carry it," she explains. Aim to put heavier items in smaller boxes, and lighter items – such as soft furnishings – into bigger boxes so carrying them is easier, she suggests.
2. Mix light with heavy
Distributing your heavier items across a few boxes will spread out the weight. Fill the rest of the box with lighter items like pillows, towels and blankets.
"Pack heavy things on the bottom and then lighter things on top," suggests Wayne Winfield, from McCarthy's Removals in Leeds. "Boxes should be packed to the top, with padding between the items and the lid." This helps stop the boxes from getting squished when they're stacked.
3. Invest in good tape
The last thing you want is crappy tape that peels off the boxes when you lift them up – not only because it's a right faff to tape it all back together, but because it could end up with your belongings getting damaged.
Kate Hart, removals and relocation manager at Fantastic Services, recommends opting for a strong, wide tape. Double-walled cardboard boxes are also a lot less flimsy than your average boxes, she says.
4. Bag up your toiletries first
There's nothing worse than getting to your new home, opening your box of toiletries and swiftly realising all your favourite creams and bubble baths have leaked. Hart recommends putting any spill-able items in separate plastic bags before packing them. This can apply to cleaning products, too.
5. Ask about a wardrobe box
Lots of removals firms let you hire wardrobe boxes, which are exactly what they sound like – a taller box with a rail in it that you can hang your clothes from. It's particularly useful for keeping more expensive, formal clothes uncreased.
6. Paper is your best friend
We think of bubble wrap as being the ultimate packing essential, but sheets of paper can work just as well. "Now's the time to re-use those old newspapers and magazines," says Hart. "Wrap individual items in paper before packing them together. This is highly recommended for items like dishes and glasses."
Winfield urges people not to scrimp on bubble wrap or paper when it comes to more delicate items. "Scrunched up paper can be used between layers, to fill gaps for added protection and to prevent items knocking together during transit," he says. For example, if you're packing glass bottles, pop them upright in a box and put scrunched paper between them to stop them rattling together.
7. Don't lay plates and glasses flat
While it makes sense to lay plates flat in a box, Winfield says the best way to pack them – and glasses – is stood on end, like you would store old vinyl records. "This is where the strength is," he explains. "Plates laid flat will be easily damaged once pressure is placed on the box."
8. Label everything
There's nothing worse than getting to your new home, only to find you've no idea where the kettle is. Rookie mistake. "Don't underestimate how important labelling is," says Winfield. "Make sure it's clear what's inside each box and where it needs to go. It will help the removal company and help you." He recommends labelling the top of the box so it can be seen as it's lifted.
"Make sure your bedding and a set of night clothes are easily found," he adds. "Sometimes it's late before you get the keys to your new place and you're going to want to be able to get beds made quickly."
9. Keep a bag of essentials to one side
The last tip of all is an important one: keep a bag of essentials in your car so you have easy access to the stuff you really need. Include things like medicines, a change of clothes, kettle/tea/coffee, toilet roll, toiletries, a couple of towels, pet and baby food, a torch and a screwdriver – basically anything that might be handy to have easily available.