It's estimated more than 3.5 million people in the UK now identify as vegan - and it's a trend that's going nowhere in a hurry. This Veganuary was the most successful yet with 168,500 people from 165 countries switching to a vegan diet for a month (and they're just the ones we know about). It's obviously great news for the planet - but what other benefits can people looking to switch to the diet expect?
To find out, we spoke to six people about how a vegan diet has impacted their lives, diets and bank balances: are they eating healthier now or is it all a myth? And could becoming vegan help them afford that house deposit? (Probably not, but most agree their weekly food shop is cheaper than it used to be.)
Their stories prove that veganism is far more than a passing trend: it can offer a route to better health and a way to save money.
'I used to spend £25 on my weekly shop, now it costs less than £10.'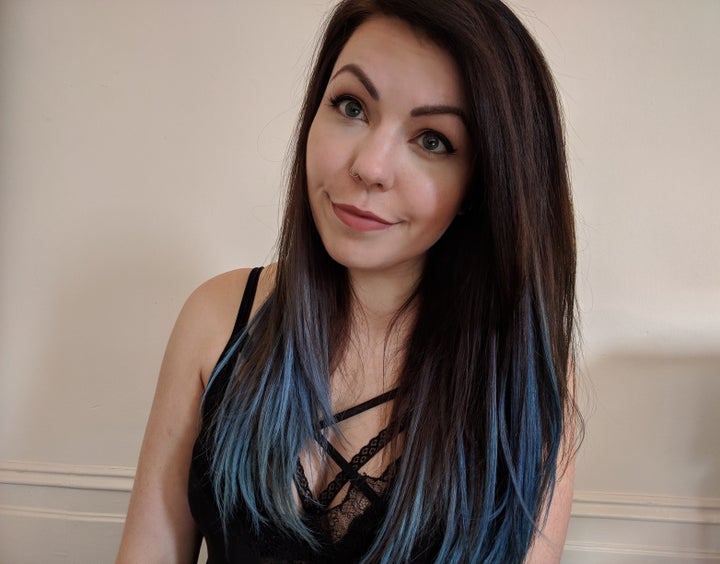 Executive assistant Jessica Keogh, 28, from London, became vegan three years ago after living as a vegetarian for a number of years. She says she eats far healthier now, as she has usually eaten her five-a-day before lunch. "I probably have between 15-20 portions of vegetables a day," she explains. "I don't eat much refined sugar or processed carbs."
Her breakfast is often avocado-based, lunch is a warm salad or a sandwich from the high street (Pret, Starbucks, Subway, Caffe Nero and most supermarkets offer vegan lunch options) and dinner can be anything from vegetable curry to pulled jackfruit burgers.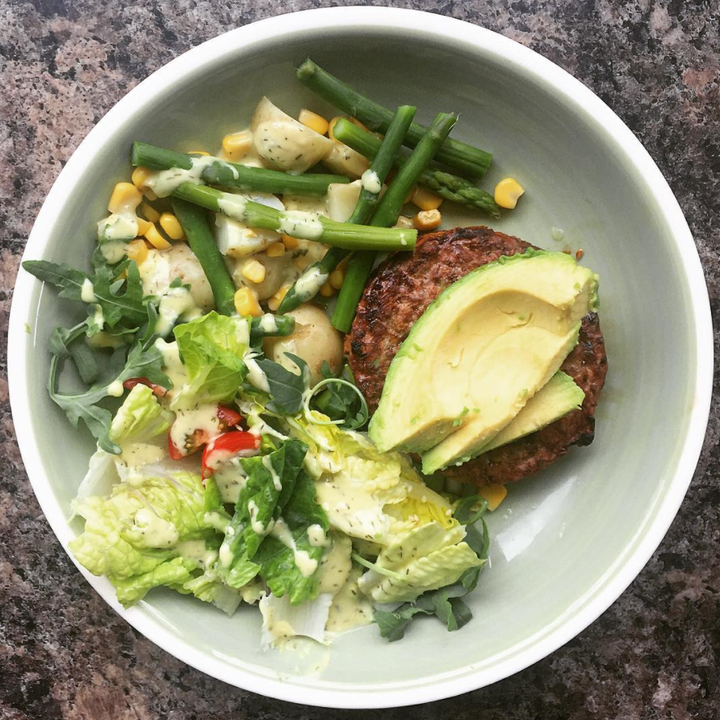 Jessica says her weekly shop amounts to between £7-10 a week when she makes her lunches from home, which is more than half the cost of the £25 she used to spend. "I think there's a misconception of vegan food being very expensive, but if you look in a supermarket, the cheapest items are all vegan," she explains. "Fruit, vegetables and grains are the most basic items and you can make some great meals with them."
'The key to being vegan and saving money is cooking from scratch.'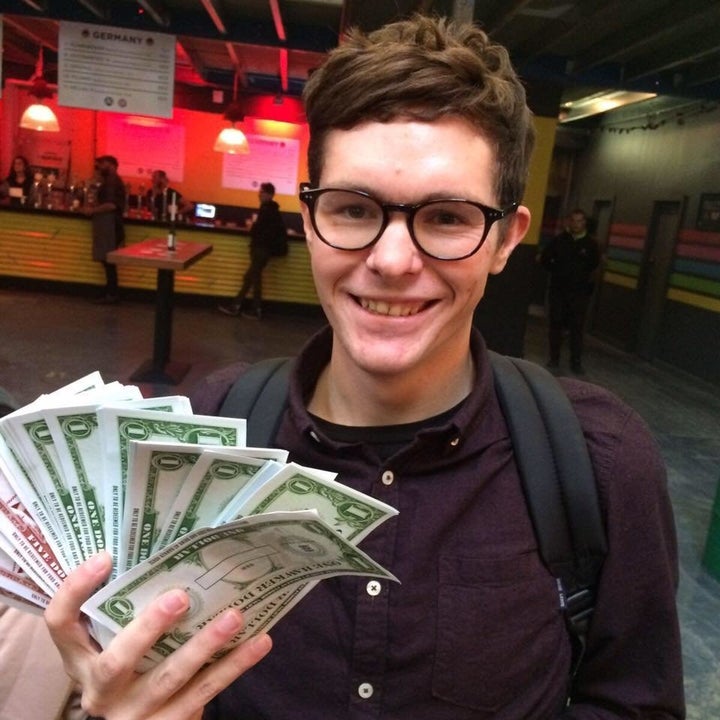 Content marketing director Shaun Hill, 30, from London, became vegan on 1 January this year, which was the start of Veganuary. He had been vegetarian on and off for around six years but decided he wanted to make a change that would improve his health and have a positive impact on the welfare of animals and the environment.
"It has changed my diet massively," he says. "I am eating a lot more fruit and veg. I am also snacking on 'better' foods such as nuts and fruit. I think it's a lot healthier and my stomach is thanking me for it."
His diet throughout the week is varied and often reliant on him batch-cooking meals the weekend before - something which he swears by. He eats anything from vegan doner wraps (made from soy) to vegetable chili, cauliflower dhal, Moroccan chickpea and tomato soup, nut cutlets with corn on the cob, Mexican fajitas, sage and butternut squash risotto and even a full English breakfast (with vegan alternatives).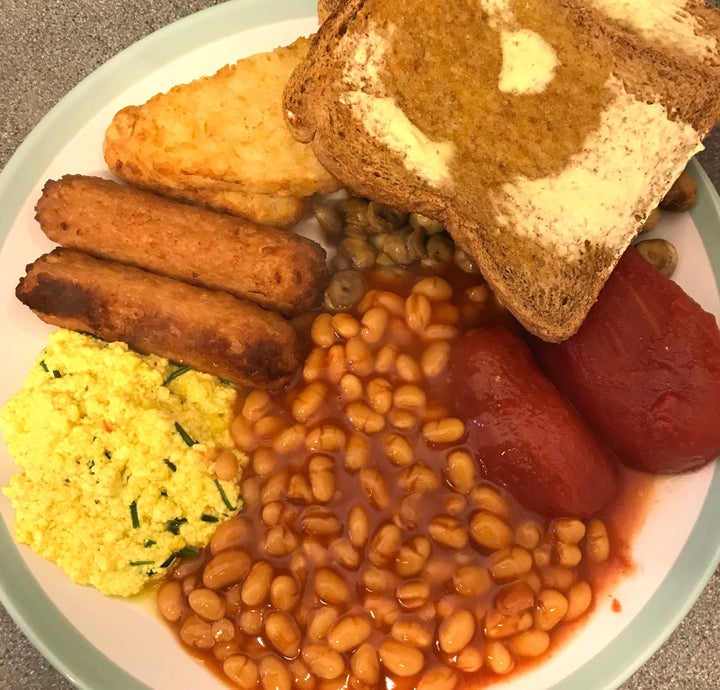 Shaun says he spends about £5 a day on food, which considering he used to spend a fiver on a pack of chicken breasts is a huge saving. "I think the key to being vegan and saving money is cooking from scratch," he explains. "You can find yourself spending a lot of money in Pret, Whole Foods, etc. if you aren't prepared."
He advises people to do a big food shop once a month, buying lots of tinned lentils, frozen vegetables and spices. "You'll notice it goes a really long way," he says, before adding that a lot of supermarket own brand foods are "accidentally vegan" and a lot cheaper.
Shaun says the toughest part of being vegan is accessing cheap convenience food which he can then have at home. "I play football on a Tuesday night and a recent game finished at 8.30pm, so by the time I got home it was 9.30pm." He quickly realised that where ready meals would've once been easy to whip up, having a vegan option on hand was more difficult. "Tesco have launched a new range (Wicked Kitchen) but it's very expensive, £4 for a ready meal," he says. "This is where batch cooking is your friend! If you batch cook on a weekend, or cook more than you need during the week, you can then freeze leftovers and eat them when you get in."
'It's possible to build a healthy, fit, functional physique on a plant-based diet.'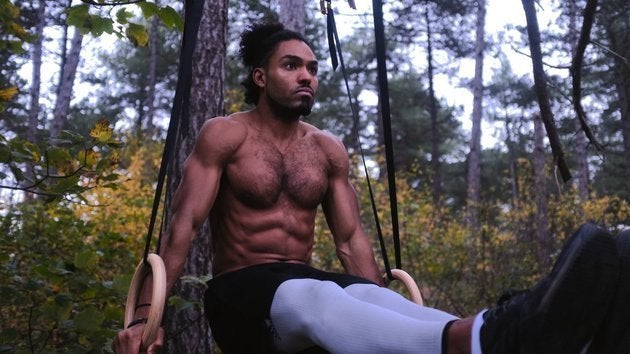 Mark Lenihan, 35, is a personal trainer at London's 1Rebel fitness studio. He became vegan three years ago, although at the time he was worried his new diet would affect how he performed physically - hat wasn't the case. "Since going vegan I have made a few improvements in my athletic performance," he says. "I'm stronger, more muscular and my muscles recover quicker."
The PT says he generally eats two big meals a day. His first will be between 12-3pm and the second between 8-10pm. "I've been adhering to intermittent fasting for the past five years," he adds. "I'm not strict with it but it generally works for me."
He eats a lot of fruit like kiwis, mango and pears daily, as well as smoothies containing bananas, berries, cacao, vegan protein and avocado. Being a person trainer he needs plenty of protein, which he gets from beans, lentils, quinoa and green leafy vegetables.
Prior to going vegan, Mark admits he would spend about £50-70 a week on food shopping, but now it's more like £30-50. "A vegan diet can be as expensive or as cheap as you make it," he says. "Fancy fake meat products can be expensive but foods like vegetables, lentils, rice and beans are some of the cheapest foods on earth."
He says becoming vegan is more about gaining greater knowledge and understanding of different foods and how they affect the way you feel, rather than switching to a new diet. "Before you knew how to brush your teeth it was difficult, but once you learnt how to and repeated the process over and over again it became an easy habit you formed.
"It's a habit to make wise food choices and habits can be learnt so it's simple once you know how."
'I'm more nutritionally aware now.'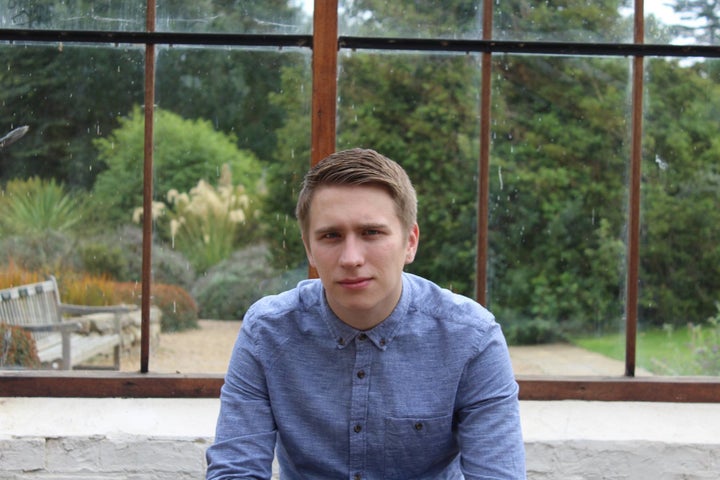 Tod Bradbury, 24, from Kent, became vegan 10 years ago after living as a vegetarian for a number of years. The campaign manager for Animal Aid says he's now more "nutritionally aware", especially when it comes to certain food groups and sourcing specific nutrients. "I think it is safe to say that I do eat healthier," he explains. "Saying that, I still have a big sweet tooth so I do indulge on occasions."

The 24-year-old tends to eat beans, chickpeas and lentils - as they are "cheap and effective sources of protein". In a typical week he eats mixed-bean chili, tofu salad, stir-fry or vegan curries, which are "simple to make". For the latter, he uses a 'chicken alternative' or adds vegetables and chickpeas to bulk it out.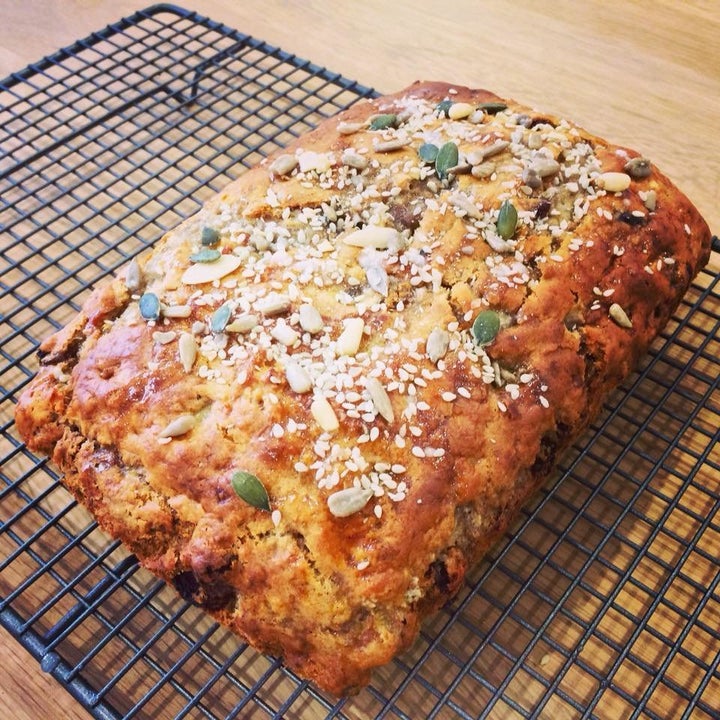 Tod says being vegan can be cheap or it can be expensive, depending on how you shop. A weekly shop for the campaign manager and his partner costs about £40-50 - and that includes a large vegetable box from a local organic farm. "If you like to eat out daily, you can certainly end up spending quite a bit of money, or if you decide to opt for more expensive vegan products such as vegan Ben and Jerry's [ice cream]," he says. "But if you opt for cheaper protein sources like beans, pulses, legumes, whole grains, and fruits and vegetables, you will end up saving money. It's all about balance: if money is a concern to you then plant-based eating will undoubtedly be much better for your bank balance."
Since becoming vegan, he has witnessed it grow from inaccessible ("there were very few convenience food options that didn't consist of ready-salted crisps and a few brands of biscuits") to pretty accessible. "You can go into any chain store and get some sort of vegan option – be that a supermarket, a coffee chain or somewhere like Boots and get a decent vegan meal for the same price as a non-vegan option," he adds. Restaurant chains such as Toby Carvery, JD Wetherspoon, Harvester, Zizzi, Pizza Express, Carluccio's, Bella Italia, ASK Italian, Pizza Hut, Nando's and Wagamama all offer vegan dishes. (Find out more here.)
'Becoming vegan gave me a new lease of life.'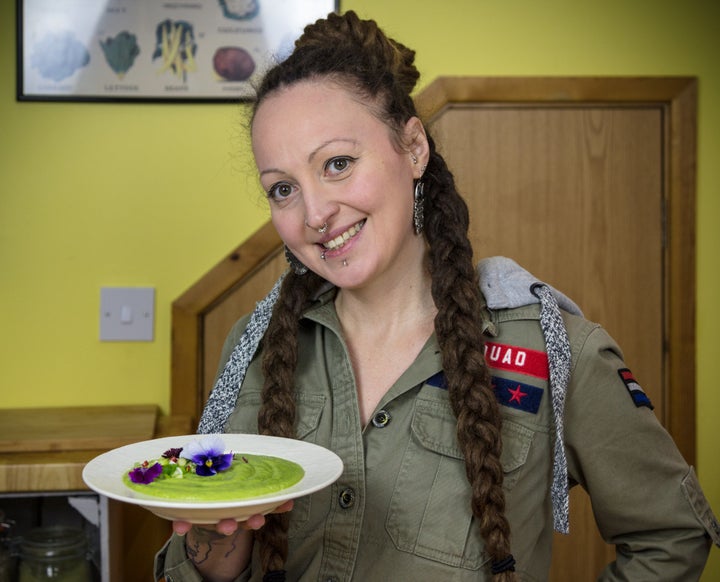 Dominica Roszko, 36, from Norwich, became vegan in 2012 after a combination of workload, poor diet and extreme caffeine intake resulted in her eczema spreading from head to toe - she also experienced anxiety and depression. Roszko says the switch gave her a new lease of life and she saw her eczema cleared up within weeks. "I was so ill, weak and felt so depressed," she recalls, but now she feels "happy, energised and fulfilled".
Inspired by her uplift in health, Roszko kickstarted a major career change and ditched her marketing business to become a vegan nutritionist, chef and founder of vegerasta.com.
Her diet now consists of a lot of fresh fruit and vegetables ("that's my preference, as they give me lots of energy"). On a typical day she'll have fresh fruit or coconut yoghurt/porridge with berries and seeds for breakfast, a large salad with fresh vegetables for lunch and either homemade soup, vegan lasagne or bean burgers with another portion of salad for her evening meal.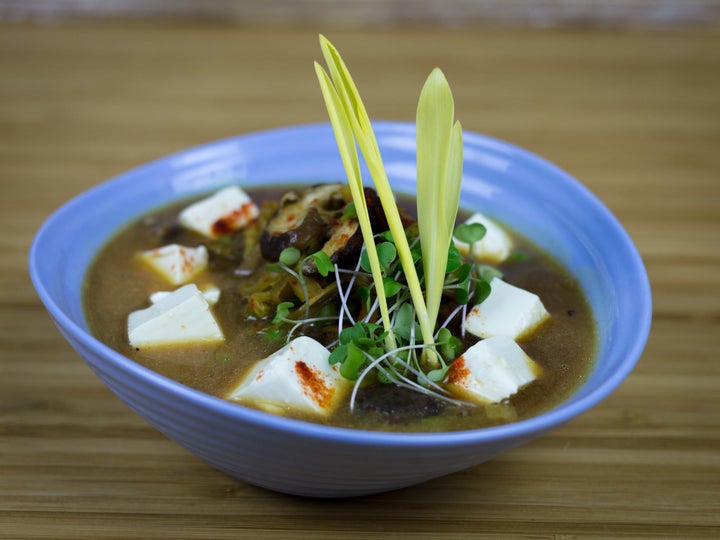 "I usually spend around £50 per week for fresh fruits and veggies, for two people," she explains. "I buy nuts, legumes, beans and seeds in bulk as well to save more money and cut down on plastic waste."
Dominica says the best thing about being vegan is that she feels "happier, healthier and full of energy". She also says that she doesn't have any problems with weight gain anymore, which she did as a child. "However it is worth mentioning that I eat mainly unprocessed vegan food with some occasional treats, like seitan (wheat gluten) burgers or other meat replacements."