There's something about lockdown that has everyone reaching for the hair dye.
Amanda Holden's done it – the actress transformed her eight-year-old daughter Hollie's hair from dark blonde to rose gold, and shared the video on instragram. And Victoria Beckham shaved 17-year-old son Romeo's head herself, before dyeing 15-year old Cruz's tips bright pink.
Holly Willoughby posted a video explainer of how she dyes her own hair blonde at home, while Loose Women star Andrea McLean showed off her salon skills after doing a dye job on her entire family – husband Nick Feeney, and her teenagers, Finlay, 18, and Amy, 13.
Like Holden, I used a semi-permanent dye on my eight-year-old's hair – with shocking results. Shocking, because she now looks exactly like me. By which I mean, the 'me' who dyed her hair jet-black for the best part of 20 years, before going platinum. As for 'me' in lockdown? Well, I'm currently bright blue. Yep.
I did it because she wanted to do something fun, new and exciting to her naturally dark-blonde bob. A friend gave us an unwanted box of indigo, wash-out dye – and my little girl couldn't be happier with the results (this also follows a home haircut I gave her at the start of lockdown, four weeks ago, where I lopped off four inches).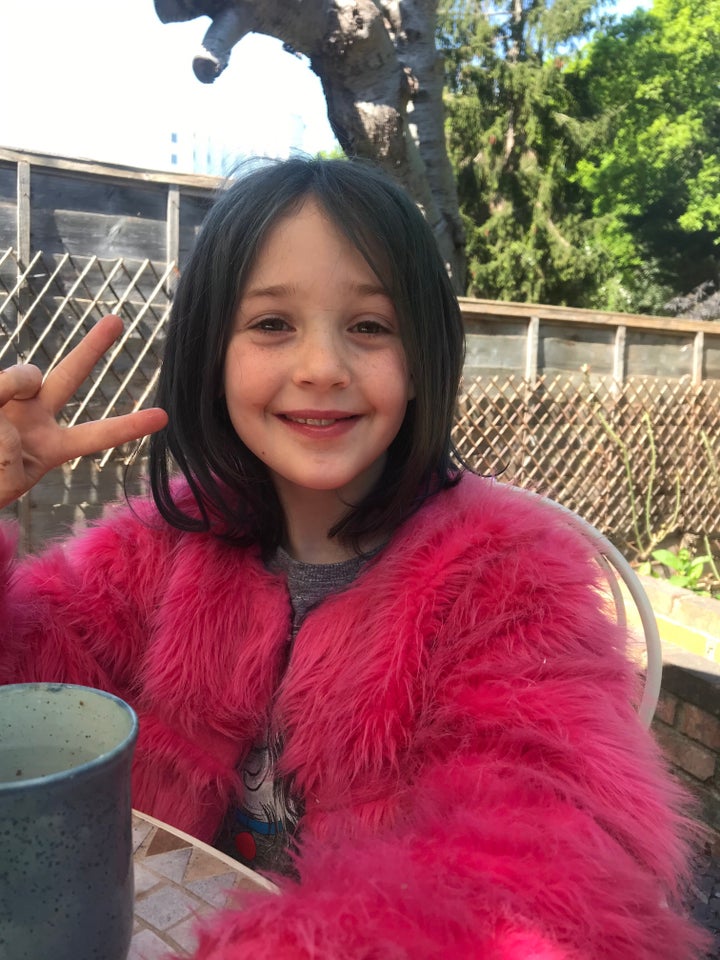 Dying kids' hair can be controversial, with celebs such as Pink and Jessica Simpson criticised for sharing images of their children with coloured hair.
Last year, Simpson was mum-shamed when she posted photos of daughter Maxwell, then seven, with purple streaks; with some commenters saying, "Isn't she too young to have her hair dyed?" – and, "So young it's a shame."
There are valid concerns around the use of dyes containing the chemical Para-phenylenediamine (PPD) in under 16s. Dr Rahul Chodhari, spokesperson for the Royal College of Paediatrics and Child Health (RCPCH), previously told HuffPost UK that this can cause skin reactions, worsen asthma and, on rare occasions, result in systemic illness.
However, I cannot see the harm in letting your kids experiment a little, especially now that schools are closed (and with them school rulebooks). Just choose a safe and semi-permanent hair dye, and go wild with the colour.
After all, we're living through a time where the measures of what we can and can't do are stricter and more regimented than ever. Surely now is the time to give each other a bit of a break and stop with the parent-shaming?
Doing 'out of the ordinary' things such as (safely) dyeing your hair all the colours of the rainbow doesn't harm anyone – and might just raise a smile. And with our kids feeling lonelier than ever during lockdown, smiles are what we need.