Dan Majesky took to Facebook on Friday 20 May to share a poignant, and at times funny, essay about what he and his wife Leah experienced while undergoing fertility tests and treatment.
"Do you have a minute? I've got kind of a long story," he begins.
Majesky and his wife initially took a casual approach to starting a family. They stopped using birth control with the idea that "it would be great" if she got pregnant.
"And then we didn't get pregnant," he wrote.
But at first he wasn't too worried.
"We're in our 30s. Things are probably a little bit dusty, and a little bit rusty," he reasoned.
So the couple tried all manner of apps, ovulation kits and old wives tales to increase their chances of conceiving.
When nothing worked, they sought medical advice and were told that Majesky's wife's "egg supply was dwindling".
Majesky wrote: "There is nothing you can tell a woman that will make her feel more young, beautiful and vibrant than, 'You have a dwindling egg supply, and it is time to pick up the pace.'
"You should try it. Maybe at a bar."
They began intrauterine insemination (IUI), a treatment that involves inserting sperm directly into a woman's womb.
"When they told us about it, I tried to really hear what the doctor was saying, but all I could hear echoing around the room, off of the oyster-y pearlescent floors and the alien-vagina wallpaper, was 'dwindling,'" wrote Majesky.
Majesky's wife was given hormone treatment to facilitate egg production, which affected her moods.
"Her job was to feel like her brain and soul were on fire," wrote Majesky.
"My job was to try and not say anything dumb, because she also needed to be calm. I tried to avoid triggering phrases like "Hey," or "Good morning," or "I love you," but I kept fucking up, and opening my mouth."
Majesky also documented his experience of having to hand over sperm deposits to medical professionals.
"They are professional. But, still, everyone is a little bit tittery, a little bit anxious," he wrote.
"We all know that this is all very silly, and that I just touched my penis, and you are someone's grandmother, and that even though you have a pin in the shape of a little sperm fella to help break the tension, we all – if we really had the choice – would probably prefer to burst into flames than discuss any part of this."
Majesky acknowledges the pain he experienced following these appointments, having to wait to find out if the IUI had been successful.
"You see your friends getting pregnant, and you get a little sad," he explained. "But you get mad at yourself because you want to feel happy for other people, and that's not fair to them.
"And you see people scream at their kids, and beat them in Kroger, and you just want to die because you would give anything to have a child throwing a tantrum in the cereal aisle."
He revealed the surge of hope, followed by crashing disappointment, when they suffered a miscarriage with a baby that would have been due the week after he wrote this post.
"I've felt time stop before. Car accidents, falling off a fence, a mountain bike jump gone wrong. I have not felt the vertigo of infinity like when we were told our baby was dead."
Majesky's wife had a D&C, (dilation and curettage), to remove the foetus from her womb, and it was only when she was wheeled into the operating theatre that Majesky let himself "break down".
But then the moment Majesky was beginning to think would never arrive, arrived. A faint line on a pregnancy test.
The line was so faint that at first the couple thought it was negative, but three scans later the Majeskys are finally letting the news sink in that they are expecting a baby girl in November.
"I've even heard the heartbeat, like a hummingbird, and it's beautiful," wrote Majesky.
Within four days of being uploaded Majesky's post had been shared more than 2,500 times.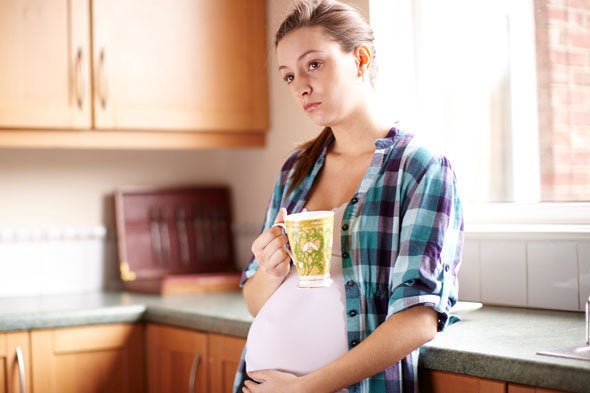 Pregnancy worries and words of comfort