There's an easy way to tell if someone has watched Instant Hotel, the Aussie hit that arrived on Netflix last year.
Just put on your best Sydney accent and ask them: "Would you like a margarita?"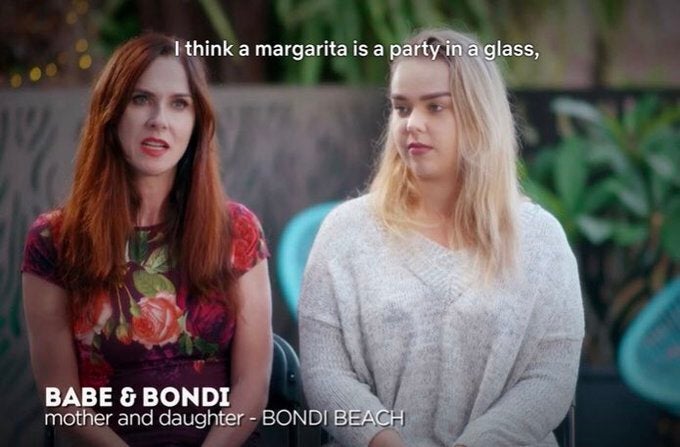 With their cocktail-inspired apartment, penchant for a bevvy and no holds-barred reviews, Babe Scott and her daughter Bondi became the stand-out stars of the series.
So naturally, we hunted down Babe, a badass baker and decor diva (they're her words not ours, but we totally agree), to find out more about the show – and what life has been like since.
Here are 15 things we learned...
The application process was surprisingly simple
Babe and Bondi were contacted after producers saw reviews of her rental online. "It was a pretty simple process, we didn't have to jump through too many hoops," she explains. "Basically, you know, we did a Skype interview and questionnaire to prove we weren't serial killers and basically that's it, we were pretty much booked for the show.
"But having said that I was literally halfway through the renovation of Adventures In Margaritaville [their cocktail-inspired apartment] so it was like, 'woah!' and I had to really put my foot on the accelerator."
The Adventures In Margaritaville Mural isn't actually her
You know the one – it features a beautiful redhead and covers an entire wall in the flat. Quite frankly, you can't miss it.
"What's funny about that, and I hadn't realised until when I was watching the show," Babe starts, before interrupting herself to say she's "only watched it once". "When I was watching, I had no idea Leroy said that was a painting of me.
"Honestly, with Bondi's make-up skills and Khloe Kardashian's surgeon and the entire special effects team from Star Wars, I could never look like that. She was a 20-year-old pin-up." [HuffPost UK would like to note that Kardashian has always denied having plastic surgery.]
"Anyway but that was sort of funny," Babe says. "I'm a mad, mad art lover and that's what was interesting about the show. I've had many, many emails from people asking where I got the barbie prints and all of the art."
Of course, she really did crash the car
Babe and Bondi made the most memorable entrance of the series when they headed straight into a ditch outside the first Instant Hotel in Humpty Doo.
"I nearly tanked the car," she laughs (Babe laughs a lot, unsurprisingly). "I was like hello! And people ask if it was real and I'm like, 'Of course it was real'.
"I didn't see that big ditch but I never should never have been behind the wheel… What's that great quote about, 'If you can't drink and drive' what's the point in driving?'.
"We turned up, we made a bit of an entrance, but we had no idea what to expect."
Their 24 hour stays are even more packed than they look
"All of it was a bit of a magical mystery tour because the producers don't give much away," Babe explained, adding that the guests didn't actually get to choose their activities either.
"They [the producers] choose it all," she says. "We were like guinea pigs really but that was the fun of it. I love going to places and I think that was my favourite part of the show. We saw places in Australia that I probably would never have seen."
In between it all, they have to film hours of interviews: "Every day the producers would go over, it felt like, every detail and every moment of that show."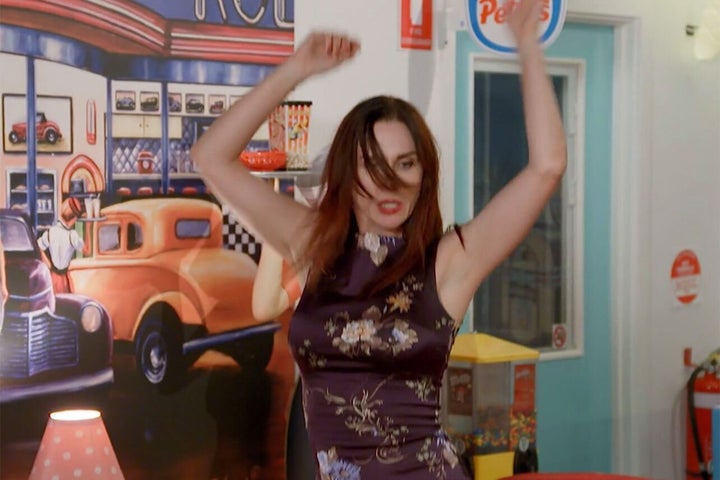 And it's all filmed in one huge block of time
"It was shot fairly fast, you pretty much go from place to another," Babe says. "I think we might have got a day or two off [in between Instant Hotels] and then we flew off somewhere else but it was fairly quick."
"Even with the finale, we flew back from Leroy's place and then we were sleepless. We felt like we'd gone through the zombie apocalypse.
"And then we actually had to fix [the apartment] up in maybe five days or something to get it ready for the grand finale. We had very little time to make some changes. It was a pretty tight schedule."
Babe was determined not to take the scores too seriously
"I took everything with a grain of salt and a dash of lime and a shot of tequila," she says. "It's just a show, you know what I mean?
"I think maybe some of the others took it a bit seriously but it is what it is."
Which brings us nicely to…
Margarita-Gate Unpacked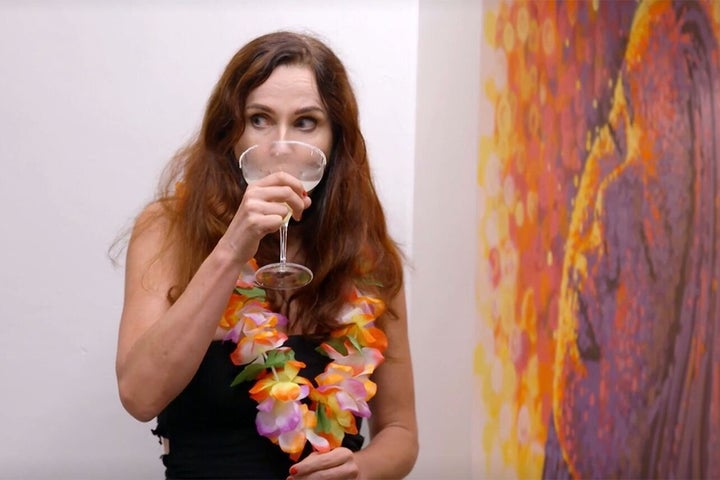 One of the series' highlights came when Babe and Bondi revealed how they'd be scoring the gang as guests, with a straight-faced Babe explaining she was downgrading them because Mark had refused to try a margarita.
"How funny was that right?" she laughs. "That was such controversy but at the end of the day it was a storm in a cocktail glass.
"Maybe, maybe, I took it a bit too far but at the same time, it was the first rule in the guidebook. It is what it is and I thought that was really funny."
There was one cringe-worthy moment that didn't make it to air
It came in the very first episode, shortly after the gang were enjoying a drink (or six) near Adam and Kathy's pool.
"You probably saw more of it than me," Babe says. "We'd been kicking plane tyres and drinking cocktails until 3am.
"I was so drunk at that point that the producers had to convince me that I couldn't do backflips in the pool."
She's not losing sleep over the oven incident
Babe's plans to have a top chef cook for the guests in the grand finale went terribly, terribly, wrong but she's taken it in her stride.
"Whatever was cooked in there was like it was cooked in Chernobyl," she says. "Nobody can explain that.
"Something happened in the oven and it was very unfortunate but it happens. I had to deal with it the best way I could."
But Babe still sounds shocked when talking about Brent and Leroy's house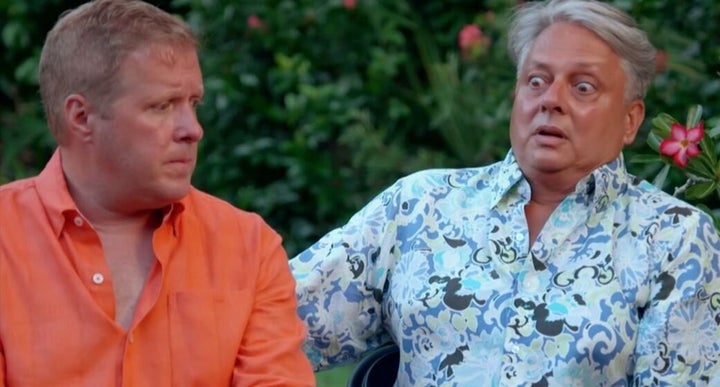 "When I got there I was expecting them to be the design version of Siegfried and Roy," she says. "Maybe playing a Baby Grand and patting their pet panther and it would be the definition of opulence. "And when you get there you go 'Woah'. God bless them. It was interesting.
"We were building to this crescendo and I really did have expectations that their place would be amazing."
A last-minute schedule alteration changed the course of TV history
"I think what was interesting was that they had a cyclone in Queensland [where Brent and Leroy live]," Babe says. "Originally, their place was going to be the second to last and we were going to be the last. It's so interesting and fate intervened.
"I think it would have been different. I wouldn't have let go of the fuselage on that review if he hadn't been here and been so mean! The producers said say it like it is, and I did. And it was funny and I don't regret it."
There was some big, unaired drama in the series finale
Babe explains: "I can't give away too much, but in the there's a lot of footage of me scuttering away and the reason for that is that so much of the last episode got cut to shreds because there was so much that couldn't go to air.
"And all I will say is that Leroy and Shay got on like a pair of prats in sacks and there was so much drama.
"I felt like I'd been through the zombie apocalypse after that episode, but they cut a lot of it because it was distracting from the grand, grand finale. It was a lot. A lot.
"It was what it was, but you can imagine when Leroy and Shay went head to head. It was… I don't even know how to describe it but yeah. It was full on." Eeeeek.
We haven't seen the real Bondi
Bondi, the youngest of the bunch, was often portrayed as a little bit lazy but Babe insists this isn't really the case.
"Bondi was like a vampire with a paper round in the morning, but was her life, she was working in hospitality," she says. "They never showed Bondi doing the washing up!
"They portrayed her in a certain light, but she did a lot of helpful stuff."
She's loving life as the undisputed Margarita Queen
"On Instagram, I'm now the go to person for margaritas," Babe says. "People send me videos of them drinking margaritas and pictures – anything to do with margaritas, I'm the go to person. It's so funny and I love it, I love it. It's a party in glass. It's all good, there's nothing not to like."
Adventures In Margaritaville will be closing its doors
Unsurprisingly, the mother-daughter duo have been inundated with bookings since the show and next year, Babe intends to enjoy some time there herself.
"We can't take any more bookings," she says. "At the end of last summer, it was so busy.
We're booked up to 2020 and after that, I'm moving back in. I went on the show for a laugh really. I'm really grateful for it but I'm halfway through a book and a TV treatment.
"I'm throwing my tiara in the ring for a few other shows as well. I just want to get back to my creative self."