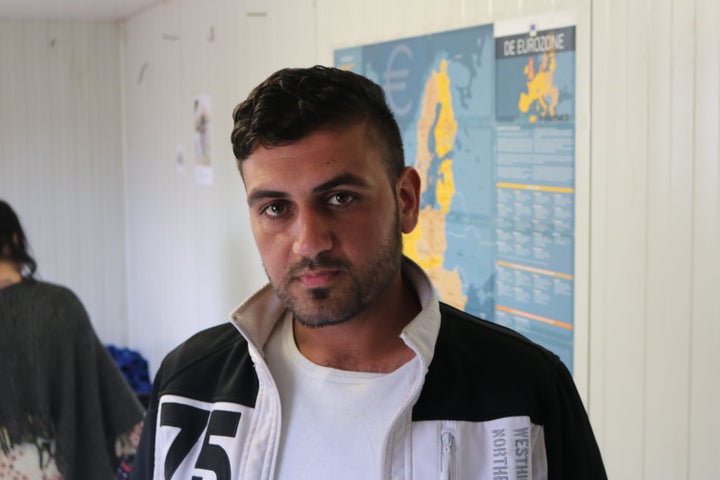 "I'm not terrorist. We hate terrorist," Hawree, a 28-year-old refugee, tells me. He has heard newspapers have reported so-called Islamic State fighters are hiding among those trying to escape war and poverty so they can launch terror attacks in Europe. Listening to his story in the Grande-Synthe refugee camp near Dunkirk, this claim feels particularly ironic.
Most of the people here are Kurdish. The Kurds are spread out across Syria and Iraq, where their Peshmerga soldiers are on the frontline in the war against IS, also known as Isis, Isil or Daesh. I'm told the father of one of the people here was beheaded by IS. Hawree adds: "Only Peshmerga forces now fighting Isis. Iraqi Army run away, Syrian army run away."
Mohammed was well known around the camp. "He was a good guy. He had a lot of dreams, a lot of hopes," says Besh, who seems to be the de-facto leader of the Kurds in the camp. He adds Mohammed's death has left them "bleeding inside and crying more" and notes with calm anger that the teenager died "not far from David Cameron's house".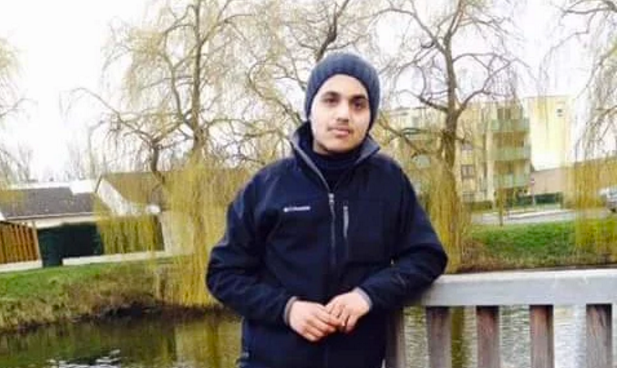 Besh talks to me in a room in the camp with two printouts of Mohammed's pictures on the wall, beneath messages appealing for help for the 1,300 people still in the camp. A 'room' is a grand description for where we are. We are sitting in the adapted shipping container that serves as the office for The Refugee Council of Grande Synthe, the 22-person body that tries to help and represent those stranded here.
The council formed in the old camp, which was a tent city nearby that was described as being even worse than its more famous counterpart down the road in Calais. The new camp was constructed by Medecins Sans Frontieres with the approval of the local mayor. People were bussed from the old camp to the new one in early March. With its wooden shelters, it is a much healthier place to live but it is still not a permanent solution for people are stranded here. Volunteers tell me the French authorities are threatening to shut it down.
According to Besh, there are around 1,200 Kurds here, the vast majority of people in the camp. The growth of the Kurdish community in Dunkirk made it a beacon to other Kurds, volunteers tell me. The Kurdish section of the Calais camp, which has now been demolished, suffered some of the worst police clampdowns of any part of it, they add, driving more Kurds from there to here.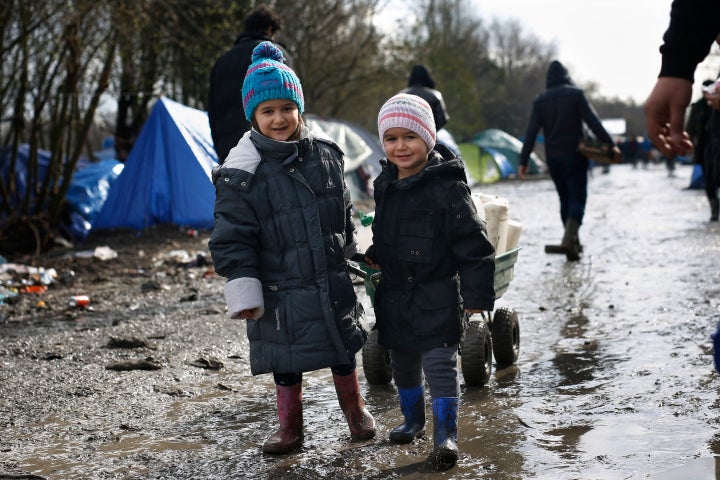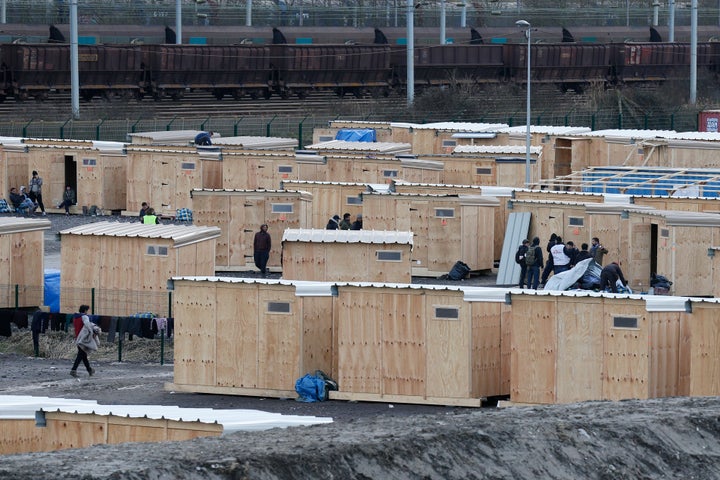 The council helps run many things in the camp - helping co-ordinate the distribution of supplies, fixing broken showers and spreading the message to the world that, in Besh's words: "We are here. We are not dangerous." This office, he tells me, only closes a few hours a day when the council members need to sleep.
For more than half an hour, Besh tells me and other members of the council about the plight of the camp's people and why Britain should let them in. He sits at the head of a long table. He makes a point that illustrates the absurdity of British politicians thinking Kurdish people are among IS' agents. "Isis is full of Scottish, English, French, German, Belgians, Netherlands, American... We are fighting all of them ... We are sick of fighting," he says. People here are "thirsty" to find somewhere they can resume the normal lives they have lost. Keeping refugees out makes them turn to smugglers, who don't care who they are trafficking as long as they are paid, Besh says.
He tells stories of people dying trying to stow away in trucks. Ten people died when they stowed away in a freezer lorry in Germany, he says before adding that, though people "cried" over the body of Alan Kurdi, the Kurdish toddler whose death triggered an outpouring of sympathy, "they are not crying for the people dying in Europe." He hits out at British politicians for not being "brave" enough to let refugees in. "Angela Merkel said 'all refugees welcome'. So easy. One million refugees came to Germany. Here we are 1,300," he says.
Besh brushes away my questions about his own past. He lists the former jobs of people sitting at this table: a carpenter, a geologist, a housing contractor, suggesting the media aren't interested in people's lives before they became refugees. "No one knows about Kurdish people," he sighs.
Hawree is among those who sit and listen as Besh speaks. He is also on the council. He comes from Kirkuk in what atlases say is northern Iraq but he disagrees. "We don't say Kirkuk is Iraq, we say Kirkuk is Kurdistan." Peshmerga forces have fought to keep the oil-rich city out of the hands of IS. This sounds a long way from the world from the former life Hawree describes. He studied geology and worked for an oil company, earning the equivalent of $3,000 a month. He doesn't say this to boast. He says: "I have a good job, I have house, I have BMW car. I tell you because most of the people in Europe think we are coming here for money or for job." He had "everything", he says, except safety.
He has left behind his father, uncle and brother in Kirkuk, where they are all fighting IS. Hawree would go with them and take propaganda pictures of the fighting to publish and post online. When I probe him, this turns out to mean taking photos of dead IS soldiers and putting them on Facebook. "Isis say 'we are very brave. Nobody can kill us'. But I say 'no, Peshmerga can kill you'."
He was not a soldier, preferring to "fight by media". But this and his strong family connection to the Peshmerga made him a prime target for IS. His father told him to go. When Hawree appealed for his father to go too, he responded he could not bring "shame" on himself, as a Peshmerga soldier, by fleeing.
Hawree made his way to Turkey where he stayed for two weeks, The crossing to Greece took him six attempts. The first time the boat capsized and the Turkish police went into the water to save them. The second time, the boat's motor failed shortly after they set off, forcing them to return. The third and fourth time, he was caught by police before he could begin the journey. The fifth time, a trafficker wanted to put 70 people in one small boat. Hawree and his three friends ran away.
Hawree does not speak French and does not want to stay there. He has a cousin in Birmingham and knows people in London. "In France we don't have anyone. In UK, I can find a lot of Kurdish people." When we spoke on April 16, it is just two weeks since Mohammed's death and Hawree acknowledges stowing away to get to Britain is "so danger". He has tried 20 times in his five months in the camp. It is a four to five-hour walk to a place where refugees can stow away on a parked lorry. One time, Hawree stowed away on one and slept in it for 10 hours. The truck then drove him most of the way to Lille, the opposite direction. His return to the camp included walking for eight hours. He once tried to hold on to truck's axle and, another time, got trapped in a refrigerated lorry and had to bang for the driver to stop before he froze to death.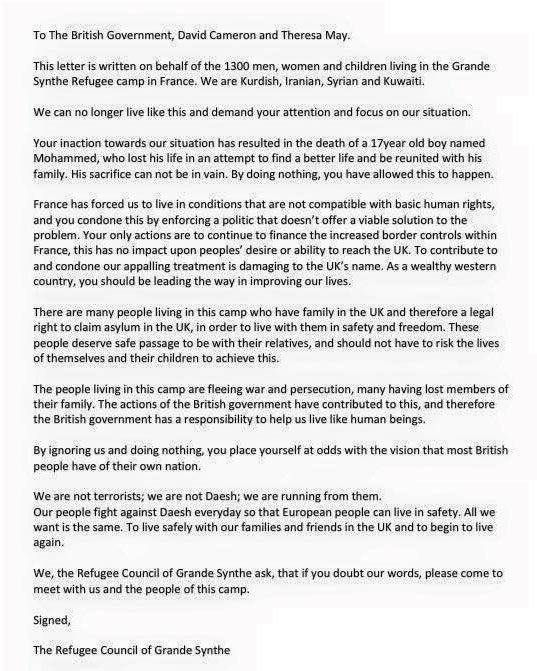 After Mohammed's death, the council collectively wrote a letter addressed to David Cameron and Theresa May, appealing for them to visit the camp if they doubted the people there were genuine refugees.
"We are Kurdish, Iranian, Syrian and Kuwaiti. We can no longer live like this ... We are not terrorists, we are not Daesh, we are running from them," it said. "Our people fight against Daesh everyday so that European people can live in safety. All we want is the same, to live safely with our families and friends in the UK and to begin to live again."
In a particularly cutting line, it reads: "By ignoring us and doing nothing, you place yourself at odds with the vision that most British people have of their own nation."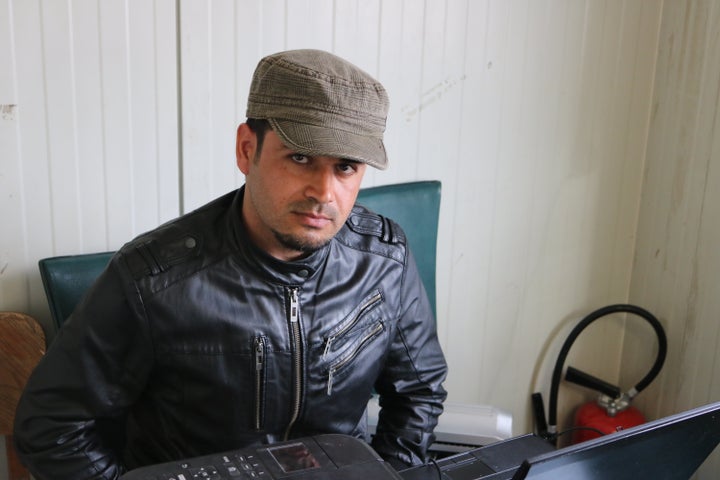 The fact Mohammed had an uncle in Manchester meant he was entitled to apply for asylum here under Dublin 3 regulations. This allows people in one EU state to apply for asylum in another. When I ask if Mohammed had applied for asylum in the UK - something that should be able legally have been able to do from France - I get short shrift. Maddie Harris, the Help Refugees volunteer who lives in the camp, says: "He didn't have a chance, he didn't off make it off the truck ... That [the Dublin 3 regulations] is being ignored ... Ignore, ignore, ignore. There is no other option for people who want to go to England currently, other than to get inside a truck." Josie Naughton, the co-founder of Help Refugees, adds: "He had a right to [apply for asylum] and he wasn't given that right ... There's no French government, no English government coming here saying. 'Hi, let me look at your rights'."
Besh says the council cannot stop people risking their lives trying to stow away. "We just try to explain, nothing else. To explain, if you want to go, you will die like this man," he says. "If you want to stay, wait like us." He gestures to others sitting at the table, saying: "Look at the faces. We all here get older." He removes his hat to show how much older than his age, 26, he looks.
When asked if he will try again to stow away, Hawree seems unsure. From the camp, he is still in daily contact with his family. The night before he speaks with me, the Peshmerga fought a "big war" against IS in the village of Bashir, just south of Kirkuk, Hawree says. Without soldiers like his family, IS could reach Kirkuk within 10 minutes, he adds.
He distils the essence of the council's letter into a mini-speech, delivered with a glare in his eye: "Maybe you hate Isis ... But we personally have problems with Isis because they killed our people. Isis kill us. Isis now near my city. If they came inside my city, they kill my father, they kill my brother, they take my sister. They kill my mother. Believe me, I hate Isis more than you. Believe me, you don't hate Isis like me."
HuffPost UK travelled to the Grande-Synthe refugee camp with Help Refugees, which raises money to support volunteers like Maddie who work in the camp.

To donate to them, click here.