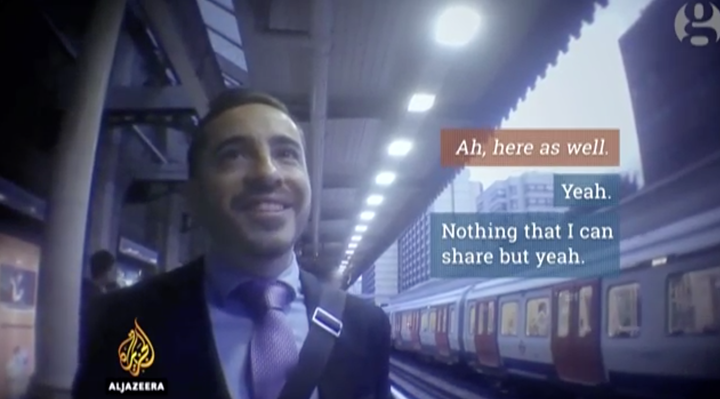 "Yeah, because there are things that, you know, happen, but it's good to leave those organisations independent. But we help them, actually"
At a meeting filmed last July, Masot describes how he had an idea to set up a Young Conservative Friends of Israel in 2015 and wanted to do the same for Labour, but was thwarted by party infighting at the time.
In clips released by Al Jazeera, he describes Corbyn as "a crazy leader" and his supporters as "weirdos" and "extremists" adding: "When I tried to do the same in Labour they had a crisis back then with Corbyn.
"So instead of that I took a delegation to Israel … I took a Fabians group to Israel."
Speaking of Labour MPs he took to Israel, he adds: "I would prefer that the party will not stay with Corbyn.
"Some of them are against Corbyn, so who knows?"
Masot then goes on to say a further £1m had been approved for future trips.
He encourages the reporter, known to him as Robin, to launch Young Labour Friends of Israel with a reception and email list.
He says: "Not a lot of young people want to be affiliated. For years, every MP that joined the parliament joined the LFI.
"They're not doing it any more in the Labour party. CFI, [Conservative Friends of Israel] they're doing it automatically.
"All the 14 new MPs who got elected in the last elections did it automatically. In the LFI it didn't happen.
"We need to get more people on board. It's a lot of work, actually."
During another encounter a month later, Masot suggests Robin should be chairman of the group but not to tell anyone it has been established by the Israeli embassy.
He adds: "LFI is an independent organisation. No one likes that someone is managing his organisation. That really is the first rule in politics."
In September, footage shows Masot introducing Robin as the "Young LFI chairman" at a social for a conference even in Liverpool.
Since Al Jazeera published the recordings, Masot has been sent back to Israel in disgrace and a civil servant and Conservative official filmed discussing how to discredit MPs has resigned.
Masot was also caught discussing how to "take down" a Sir Alan Duncan and describing Boris Johnson as an "idiot".
In the secretly-recorded conversation at the Aubaine restaurant, directly opposite the Israeli Embassy in Kensington, Masot suggested the Foreign Office Minister was causing "a lot of problems" but appeared to dismiss his boss.
Also present at the dinner in October 2016 was Maria Strizzolo, an aide to education minister Halfon, the former political director of Conservative Friends of Israel, reports the Press Association.
Masot asked her: "Can I give you some names of MPs that I would suggest you take down?"
Strizzolo replied that all MPs have "something they're trying to hide" and Masot responded by saying "I have some MPs", adding "she knows which MPs I want to take down" before specifying "the deputy foreign minister".
Sir Alan, who has been critical of Israel, was seen as more of a problem than Foreign Minister Johnson who was "basically good", according to Masot in a transcript of the conversation.
"He just doesn't care. He is an idiot but has become minister of foreign affairs without any responsibilities. If something real happened it won't be his fault... it will be Alan Duncan.
"Duncan is impossible to rebuff ... he has a lot of friends."
Labour MPs have already called for an investigation into "improper interference" in UK affairs and the latest revelations will only increase those calls.
Labour's Shadow Foreign Secretary, Emily Thornberry, said of the "taking down" of Sir Alan Duncan: "The exposure of an Israeli embassy official discussing how to bring down or discredit a government minister and other MPs because of their views on the Middle East is extremely disturbing.
"Improper interference in our democratic politics by other states is unacceptable whichever country is involved.
"It is simply not good enough for the Foreign Office to say the matter is closed. This is a national security issue.
"The embassy official involved should be withdrawn, and the Government should launch an immediate inquiry into the extent of this improper interference and demand from the Israeli government that it be brought to an end."