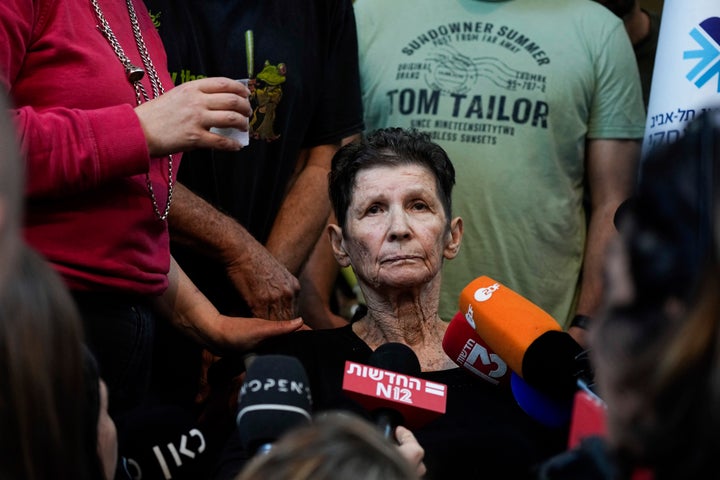 The Palestinian militants, Hamas, have now released four of the estimated 200 hostages they took more than two weeks ago – and one captive has revealed what really happened in that time.
Yocheved Lifshitz, 85, was released with Nurit Cooper, 79, on Monday.
She chose to address the media the following day from Tel Aviv's Ichilov Hospital – making her the first captive to speak out.
Speaking from a wheelchair, she began by describing her abduction from her kibbutz on October 7, amid the Hamas massacre where more than 1,400 people were killed in one day.
Hamas swarmed across communities, military bases and a desert rave, after breaking out of the electric border fence between Israel and Gaza.
The 85-year-old claimed she was pushed onto a motorcycle, had her watch and jewellery removed and was then beaten with sticks, bruising her ribs and making it difficult for her to breath.
She was then taken to a "spider web" of tunnels in Gaza. Lifshitz, who is a peace activist and used to transport Palestinians to hospitals in Israel for treatment, added: "They [Hamas] didn't care if they [the hostages] were young or old."
Lifshitz said the day was a "hell that we never knew before and never thought we would experience".
Following the events of October 7, Israel's government immediately declared war on Hamas, launched airstrikes at Gaza and put the Palestinian territory under siege.
More than 5,000 people have since been killed in the area, according to the Hamas-led Gaza Health Ministry.
Her husband Oded, 83, is still a hostage in the Gaza Strip.
However, when she was released last night, Lifshitz was seen on camera turning to shake the hand of one of her captor – and she later told journalists she did so because she was treated very nicely once in the tunnels.
She used the media conference with her daughter Sharone to describe how her captors treated her once she was in the tunnels.
She said the people who guarded her "told us they are people who believe in the Quran and wouldn't hurt us".
Sky News' translation claims she said: ″Each person had a guard watching him or her. They took care of all the needs.
"And if there were women here who know what feminine hygiene is, they make sure we get everything we needed.
"We talked about kinds of things, they were very friendly."
AP News reported that Lifshitz told journalists how the captors told Hamas "we don't want to talk about politics", but she suggested in the press conference that Israel should have acted sooner to prevent the outbreak of violence.
Lifshitz said: "We were the scapegoat of the government. They [Hamas] warned us three weeks before they taught us a lesson.
"A huge crowd arrived at the road. They burned fields. They sent incendiary balloons to burn the fields, and the army didn't take it seriously."
Hamas freed two Israeli-American women last Friday too, but they have not spoken to the media. Tel Aviv has repeatedly said returning hostages is the priority.