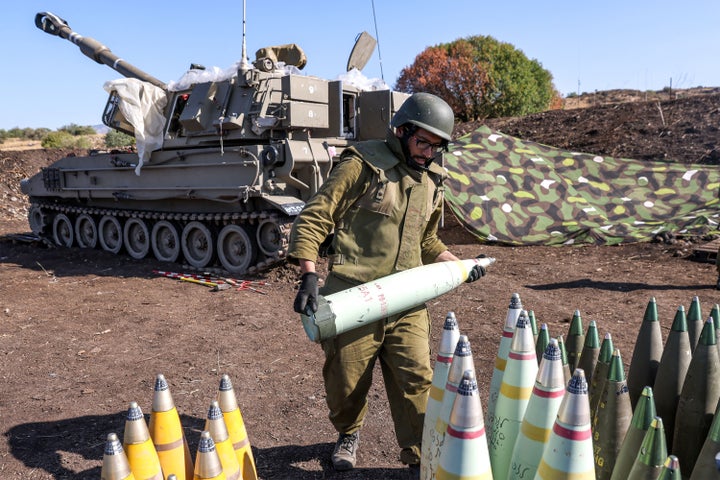 Reports that tens of thousands of artillery shells – specifically 155mm projectiles – previously earmarked for Ukraine, were being redirected to Israel started circulating last week.
The unnamed official told journalists that "prior to the October 7 Hamas terrorist attack, some 155[mm shells] had been withdrawn from the war reserve stockpile in Israel, to replenish US stocks in Europe".
The New York Times has previously reported that the US had been moving munitions, potentially up to 300,000 shells, from Israeli storage to Ukraine since 2022.
But, as the official noted, there's now been a U-turn in the Pentagon, following the outbreak of war in the Middle East.
They said: "Much of that has been redirected and provided to the Israel Defence Forces for their use."
The Pentagon had been keeping munitions in Israel as an emergency in case of war in the region or as a resource for other US allies.
The US does not formally need Israel's consent to move such items, but local officials confirmed they had it anyway – from then-prime minister Yair Lapid's –when looking to transport the munitions to Ukraine.
As Reuters noted in January, if such transfers had happened under current PM Benjamin Netanyahu's watch, it may have stretched his budding relationship with Russia.
Now, munitions have been redirected back to Israel – even though Ukraine still has more than 1,000km of active frontline to fight.
Ukraine's minister for strategic industries, Oleksandr Kamyshin, told POLITICO on Monday that the Israel-Hamas war showed the West needs to increase its arms production.
"The free world should be producing enough to protect itself. That's why we have to produce more and better weapons to stay safe," Kamyshin said.
Back in the US media briefing on Monday, journalists asked the Pentagon representative why weapons were going to Israel, even though the White House has regularly emphasised how much munition Ukraine needs.
The official said the US is "assessing US stocks globally and what can be made readily available to the needs of Israel as well as Ukraine", before adding: "Also the United States can walk and chew gum at the same time.
"So we're going to continue to ensure that Ukraine has what it needs to defend its territory. And at the same time we're ensuring that Israel has what it needs. Two very different operational environments with different levels of need and consultation. And we're continuing to prioritise both."
The change follows a domestic split in US politics about just how much funding and weaponry Washington DC should continue to send to Kyiv more than 18 months after Russia first invaded.
As Nikolay Kozhanov, a consulting fellow at the Russia and Eurasia Programme of think tank Chatham House told HuffPost UK, the conflict in the Middle East works to Russia's advantage as a means to distract the West from the Ukraine war.
The Kremlin spokesperson Dmitry Peskov claimed in his own press briefing on Tuesday that the West's ability to keep supplying Ukraine was limited, according to Sky News.
It's worth remembering that are some complicated international politics at play between the two wars, too.
Since the Hamas massacre on October 7 and the following war between Gaza and Israel, Ukraine has sided with Tel Aviv.
Meanwhile, Russia has reiterated its support for a Palestinian state, after years of trying to build a friendship with Israel. Moscow is openly calling for a ceasefire, too.
The Israel-Hamas war is threatening to spill into a regional conflict – a fight which began in the Gaza Strip, has already led to many deaths in West Bank – and the war in Ukraine is expected to continue for some time yet.