Italy has reported another sharp rise in deaths as a result of the coronavirus outbreak as the entire country goes into lockdown to stem the spread of the disease.
The death toll has jumped by 168 to 631, an increase of 36%, the Civil Protection Agency said on Tuesday,
It represents the largest rise in absolute numbers since the contagion came to light on February 21.
The total number of cases in Italy, the European country hardest hit by the virus, rose to 10,149 from a previous 9,172, an increase of 10.7%.
The country's government on Tuesday imposed unprecedented national restrictions on its 60 million people to control the virus.
The coronavirus death toll outside China has now passed 1,000, Agence-France Presse has reported on its Twitter feed.
Meanwhile, Slovenia has said it plans to close its border with Italy for non-commercial traffic to prevent the spread of coronavirus.
Earlier on Tuesday the foreign ministry advised all Slovenian citizens who are in Italy to return home.
The UK's Foreign Office later warned British residents against all but essential travel to Italy after the coronavirus quarantine measures were extended.
British Airways cancelled all its flights to and from Italy on Tuesday.
Meanwhile easyJet has grounded most of its flights to and from northern Italy but is continuing to serve locations such as Milan, Venice and Bologna.
Ryanair has announced it has cancelled all international flights to and from Italy from Saturday until April 9.
Italy's lockdown came amid reeling financial markets and rioting prisoners as the epidemic was extending its reach into all aspects of social and economic life.
The World Health Organisation has welcomed Italy's tough measures, noting that just four countries - China, South Korea, Italy and Iran - accounted for 93% of cases worldwide. Israel ordered anyone entering the country to self-quarantine for 14 days on Monday.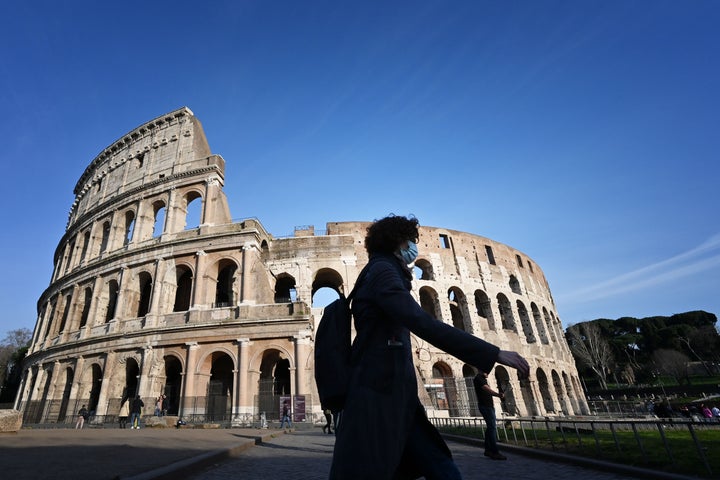 In the United States, which has reported over 600 cases and 26 deaths, the administration scrambled on Monday to assure Americans it was responding to the outbreak as stock markets plunged and top health officials urged some people to avoid cruise ships, air travel and big public gatherings.
US President Donald Trump, who continued to play down the threat posed by the flu-like virus, said he would announce economic measures on Tuesday and would discuss a payroll tax cut with Congress to bolster the economy.
Around the world, flights have been canceled, communities and cruise liners isolated, and concerts and trade fairs postponed.
While some countries, such as China and Italy, have turned to drastic measures to try to delay the spread of the virus, others remain in a "containment" phase, where individual cases can still be tracked.
In the UK, the latest official figures show 373 people have tested positive for the virus while six people – all with underlying health conditions – have died after contracting it.
Ireland has cancelled all parades planned for the national St Patrick's Day festival on March 17, including one in Dublin that draws more than 500,000 people from all over the world.
In Spain, schools were closed across the Madrid region and the Basque capital Vitoria for two weeks as cases topped 1,200 nationwide.