Cookery courses launched by Jamie Oliver have been scientifically proven to help people eat better.
An independent report found that those who took part in the chef's Ministry of Food courses ended up eating more fruit and vegetables. They also reduced their intake of snacks and became more confident about cooking.
Nutritionists said the findings showed that people will make healthier food choices if they are helped to improve their cooking skills and given greater knowledge surrounding food.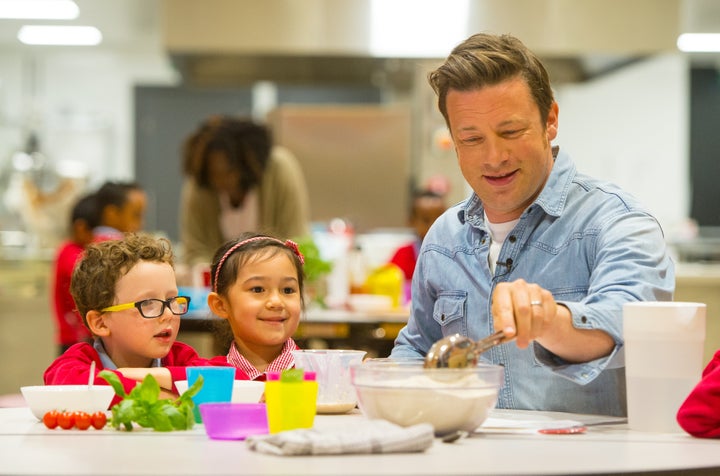 Jamie Oliver launched his Ministry of Food cookery courses in 2008. There are now four centres in the UK teaching the eight-week course.
For the new study, which was published in the Public Health Nutrition journal, researchers from the University of Leeds surveyed 800 people before and immediately after the course.
They then spoke to around 500 of those participants six months later.
The average number of fruit and vegetable portions eaten daily by participants increased from 2.7 before the programme to 3.4 immediately afterwards and to 4.1 after six months.

The amount of snacks eaten per day dropped from two before the course to 1.7 immediately afterwards and to 1.1 six months later.

Participants reported significant gains in their levels of cooking confidence, with men reporting a greater growth in confidence than the women who took part.
Janet Cade, professor of nutritional epidemiology at the University of Leeds' School of Food Science and Nutrition, concluded: "Our study shows that if you help people improve their cooking skills, using basic ingredients, and their confidence in these skills, then they might make healthier food choices."
Oliver said: "Ministry of Food, for me, has always been about empowering people and giving them the knowledge and the confidence to feed themselves and their families better.
"The beauty of it is that it's all about local people helping other local people to create delicious, fresh, nutritious food that doesn't cost a fortune.
"This important study shows that teaching people to cook really works and really does make a huge difference.
"If only more towns and cities had Ministry of Food Centres."
Earlier this month, Oliver guest edited The Huffington Post UK to kickstart its 'Thriving Families' month, which focuses on parent wellbeing, healthy eating, friendships and navigating the landscape of modern parenting beyond the 2.4.
Nearly a fifth (18%) of parents have lied about what they cook their children, with nearly one in 10 (8%) saying they lied because they knew they should be cooking healthier meals.
As part of his guest editorship, Oliver commissioned content for the site, which aimed to raise awareness around the importance of healthy living and children's diets.
He told parents that they are "all in this together" and said they need to stop feeling guilty about the food they cook for their children.
He said: "The fact that parents compare themselves and wish for more or review themselves every day, that holds them back. But it's normal.
"Progress in food involves new aspirations - often meaning more choices and more things for children to eat."