Jamie Oliver has said that he is "happy" with only being able to see his children a couple of nights a week due to his hectic work schedule.
The naked chef who has five children Poppy, 16, Daisy, 15, Petal, 9, Buddy, 7, and River Rocket, 2, with wife Jools Oliver, told Good Housekeeping magazine that he is "flat out" Monday to Friday so family time is limited.
In the interview, he said: "I will get to the key school events... and normally see the children a couple of nights during the week."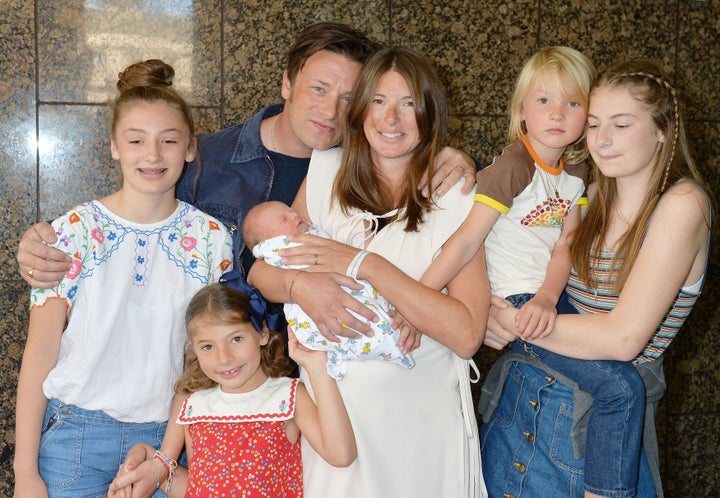 Described as a 'weekend parent', he says that he doesn't mind the arrangement and thinks his offspring are "fine" with the set up as well.
"It is chaos in our house. In a nice way. You have teenage emotions, you have nine-year-olds, you have babies in nappies," he said. "I am happy with that, I think they are fine with it."
The 43-year-old previously said he sometimes thinks his teenager daughters, Poppy and Daisy, are "better parents" than he is.
"Even with Buddy, Poppy and Daisy were incredible adult figures," he told Woman magazine. "Sometimes I think they're better parents than I am."
"I'm definitely good at the toddler bit and the baby bit, but you're just trying to duck and dive and learn what they need and what they do and don't like from parents," he explained.
The healthy-eating campaigner also mentioned the possibility of a sixth child to add to his brood.
He said: "Jools probably would like another child. I think we're done but you never know with Jools - she has a very powerful magic spell that can grow on you."
On New Years Eve 2017, Jools shared a picture to her Instagram page, drawn by one of her children, which included a sixth baby.
In the caption, she told her 544k followers: "Loving the additional extra!!!(absolutely not an announcement 🤣)!!!!"
The couple celebrated their 18th wedding anniversary in June of this year.