Oliver praised the impact of the current sugar tax, but suggested it could go further, while giving evidence alongside Hugh Fearnley-Whittingstall to MPs on the Health and Social Care Committee.
He stated that he didn't think the government should "overuse the tax whip" without rigorous data to support it but, he added: "I think there is some logic to opening it out to milk products".
The celebrity chefs then drew on the examples of Yazoo, which - according to calculations Oliver did with his son Buddy - contains nine teaspoons of sugar, and Mars Milk, which contains ten teaspoons in one bottle.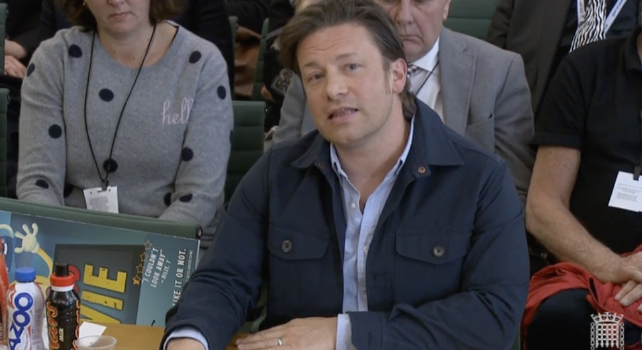 Fearnley-Whittingstall said the sugar tax "has been important because it has broken the taboo of mandatory legislation with consequences. It has brought home the staggering amount of sugar that was in our drinks - that is still in our drinks, but less of it.
"We can say we pulled that lever and it had that effect, what are the other levers we can pull? Let's go ahead and pull."
To illustrate the impact of the sugar tax, the two chefs held up a bottle of Ribena and 16 sugar packets and another with eight packets attached and Oliver added: "What we have seen is two out of three soft drinks companies reduce and reformulate."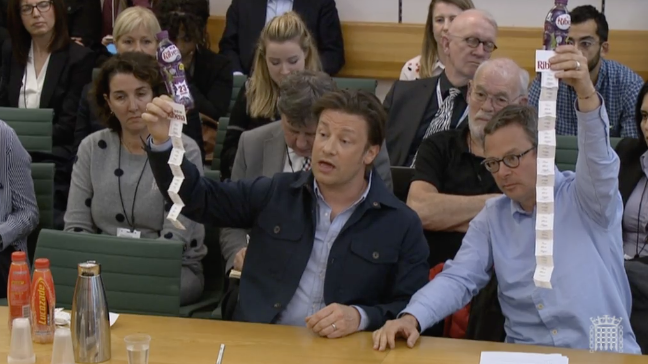 Oliver said he felt the current childhood obesity strategy "let British kids down and let British parent's down", but the sugar tax has had a positive impact just one week after being implemented.
As well as companies lowering the sugar content of their products he added: "We've already seen a lowering of consumption of these drinks. Win."
"That was one hell of a tax that made a difference straight away."
The other reason Oliver said he felt the tax was fantastic was because he "fought tooth and nail for the monies from the tax to be a tax for good," which means this money was ring fenced to go into schools for breakfast clubs and sports.
In response to Oliver's comments a Mars spokesperson said: "We are committed to supporting the health and wellbeing of our consumers. We have been at the forefront of our industry's efforts to encourage people to enjoy treats responsibly for over a decade and have been working closely with Public Health England in their commitment to reduce sugar in the nation's diet.
"The majority of our milk-based drinks have already been reformulated with no added sugar. We have made significant progress since 2011 and now over 50% of our milk-based drinks have no added sugar. We have an ambition that by mid-2019, 100% of our milk-based drinks portfolio will have no added sugar."
HuffPost UK has contacted Yazoo and will update this article upon their response.