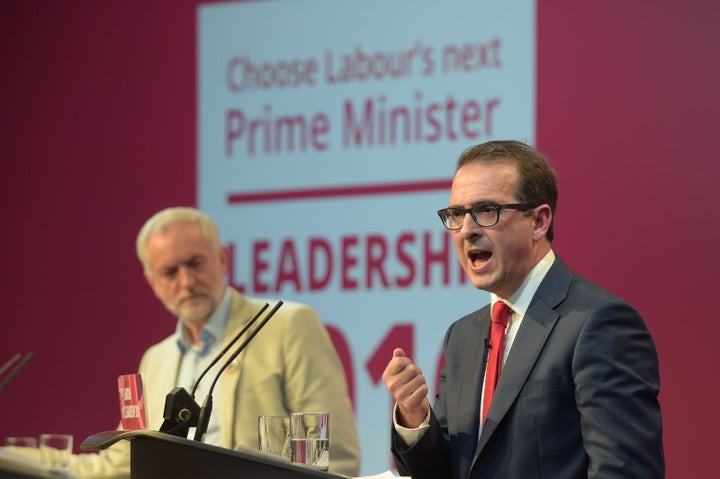 GMB is the only major union to ballot its members so far on whom it should endorse.
In a dig at Corbyn's electability, the union said its members could not "afford for Labour to be talking to itself in a bubble for the next five years while the Tories run riot through our rights at work, our public services and our communities".
Sky News' Sophy Ridge cited a Corbyn campaign source who blamed "certain rightwing political officers" within GMB for the way its members voted.
"This is not unexpected, we heard there had been a well funded and orchestrated effort from certain rightwing political officers close to Watson and Smith," the source told her.
"But we still have the majority of affiliated trade union support and we didn't have the GMB's nomination last year and we still won."
A total of 60% of the union's members who voted backed Smith. The union represents workers on the Trident nuclear weapons programme, which Corbyn vehemently opposes renewing.
GMB's general secretary Tim Roache said: "The Labour party is at a crossroads... I'm under no illusions that we're living through dangerous political times – the like of which I haven't seen during my three decades in our movement.
"GMB balloted our members because this kind of decision shouldn't be taken from up on high. We're a democratic organisation here to serve our members' interests. I was determined that our members would have their say. And they've had it."
He added: "I'll proudly campaign alongside Owen in the coming weeks and months to deliver on his pledges to end the public sector pay freeze, to support defence workers, to invest in health and industry, and to build an industrial strategy – these are bread and butter issues for the people I represent."
Smith said of the endorsement: "It's a great honour to receive GMB's nomination to be the next leader of the Labour Party after a consultation with its members.
"At the heart of my campaign are commitments to strengthening our trade unions, ending exploitation and delivering greater equality.
"I look forward to working with the GMB, its members and all in the labour movement to tackle inequality, invest in strong public services, and for Britain to have trade union and workers' rights that are the envy of the world."
In last year's Labour leadership contest, GMB did not back any of the four candidates.
The Guardian quoted a Smith campaign source, who said other unions that had backed Corbyn had not balloted numbers because it feared they would vote to back Smith.
The source said: "Our guess is that is why other unions are not doing it, at worst it would be a split and at best there would be backing for Owen."
Unite, Britain's biggest union, The Communication Workers' Union and Aslef are among the trade unions that have backed Corbyn.
Popular in the Community