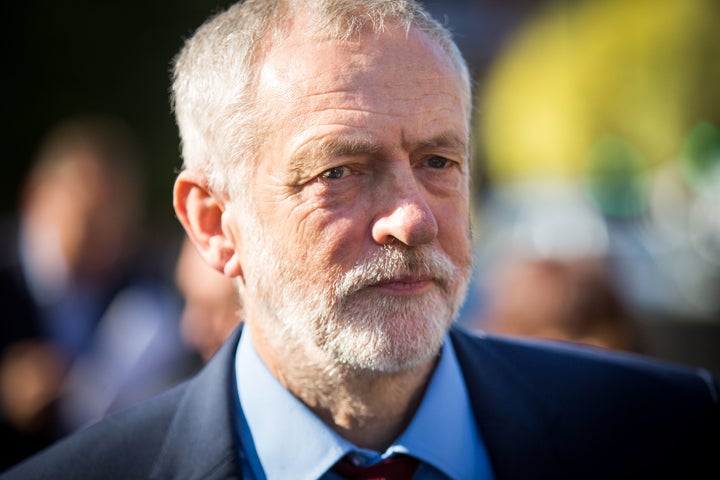 TIMELINE OF LABOUR'S CIVIL WAR

Sunday:

1am: Jeremy Corbyn sacks Shadow Foreign Secretary Hilary Benn from his Shadow Cabinet. The sacking comes just hours after the Observer front page claims Benn was organising a coup against the Labour leader.

8.30am: Shadow Health Secretary Heidi Alexander quits, telling Corbyn he does not have the "capacity to shape the answers the country is demanding".

10am: Shadow Chancellor John McDonnell tells Corbyn's critics to "calm down" and rules out ever standing for leader.

11.15am: Shadow Minister for Young People Gloria De Piero resigns. She tells Corbyn: "I do not believe you can deliver that victory at a general election, which may take place in a matter of months."

11.30am: Shadow Scotland Secretary Ian Murray quits. He later tells Sky News Labour are "barely ready for opposition, let alone an election."

12.45pm: Shadow Transport Secretary Lillian Greenwood resigns. She says Corbyn is not capable of presenting a "credible alternative Government".

12.56pm: Shadow Education Secretary Lucy Powell announces has resigned on Twitter. In her resignation letter she tells Corbyn he does not understand the concerns of "our traditional communities…sufficiently to re-engage" with them.

1.10pm: Shadow Environment Secretary Kerry McCarthy quits. McCarthy was seen as a Corbyn ally within the Shadow Cabinet, but told him today a "new leader is needed to take on the challenges ahead."

1.45pm: Shadow Chief Secretary to the Treasury Seema Malhotra resigns. She was John McDonnell's deputy in the Shadow Treasury team and earlier today he was forced to deny Malhotra had been phoning MPs canvassing support on his behalf. In her resignation letter she tells Corbyn that with him as leader, Labour will not be able to "build bridges" across the party or reach out into the country.

5pm: Vernon Coaker quits.

6pm: Shadow justice secretary Lord Faloner quits.

7pm: Shadow attorney general Karl Turner resigns "with a very heavy heart".

9.20pm: Chris Bryant resigns as shadow Commons leader, saying: "We need someone new to unite and lead Labour."
The Shadow Foreign Secretary was fired at 1am after it emerged that he was ready to take part in a coordinated attempt to tell the Labour leader he should stand down for the sake of the party.
In a coordinated series of announcements spread over several hours, Shadow Health Secretary Heidi Alexander, Shadow Chief Secretary Seema Malhotra and Shadow Education Secretary Lucy Powell all quit.
So too did Shadow Minister for Young People Gloria de Piero, Shadow Scottish Secretary Ian Murray, Shadow DEFRA Secretary Kerry McCarthy, Shadow Transport Secretary Lillian Greenwood, Shadow Northern Ireland Secretary Vernon Coaker, Shadow Justice Secretary Lord Falconer and Shadow Attorney General Karl Turner.
Alexander was the first to send her resignation letter just before 8.30am, stating "It is with a heavy heart that I have this morning resigned from the Shadow Cabinet".
She told ITV's Peston on Sunday: "If the Labour party is to form the next Government then I think a change of leadership is essential."
Labour MPs believe that Angela Eagle, Maria Eagle and Chris Bryant are also set to resign either today or tomorrow. Shadow Home Secretary Andy Burnham was not expected to join the revolt.
But the Labour leader's allies were determined to fight back and it is understood that there will be pro-Corbyn demonstrations in the constituencies of 12 anti-Corbyn MPs today.
Shadow Chancellor John McDonnell today ruled himself out of any contest to replace Corbyn, declaring on the BBC: "I will never stand for the leadership of the Labour party...I'm not standing and he's not going"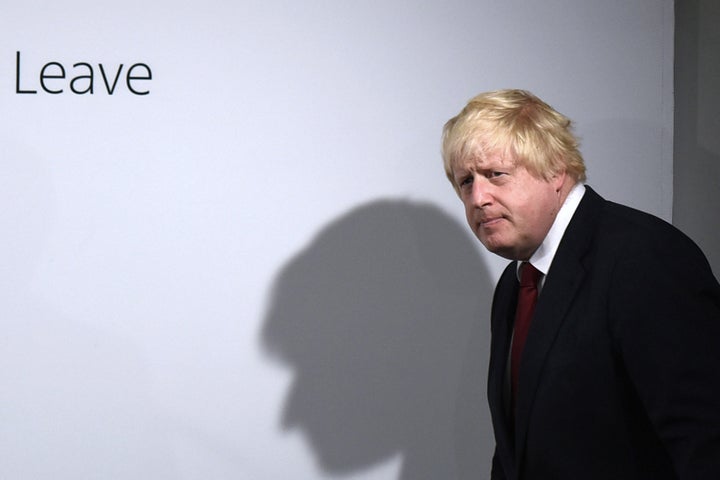 With a possible snap general election due this autumn, shadow ministers believe that there is no time to lose to get a new leader in place who is capable of putting up a fight against the Tories.
There was shock and anger within the party after the nation voted narrowly by 52% to 48% for the UK to leave the European Union.
The piece sparked fresh fury among Labour MPs and party members, including young supporters of Corbyn who were passionate about staying in the EU.
Both Corbyn and Shadow Chancellor John McDonnell didn't do enough to persuade Labour voters to back the Remain campaign, critics said.
It is unclear whether party rules would give Corbyn an automatic right to stand again as Labour leader without the required nominations of MPs, but he has huge support among party members.
Shadow Scottish Secretary Murray said: "The Labour Party cannot win a general election in its current state"
And Labour MPs Ann Coffey and Margaret Hodge issued a new letter to fellow MPs declaring:
"We owe it to the people that elected us to stand up and deliver a clear alternative agenda with the strong leadership they want. We need an effective leader who is capable of tackling the very difficult issues facing this country.
"We believe that Jeremy needs to consider his position."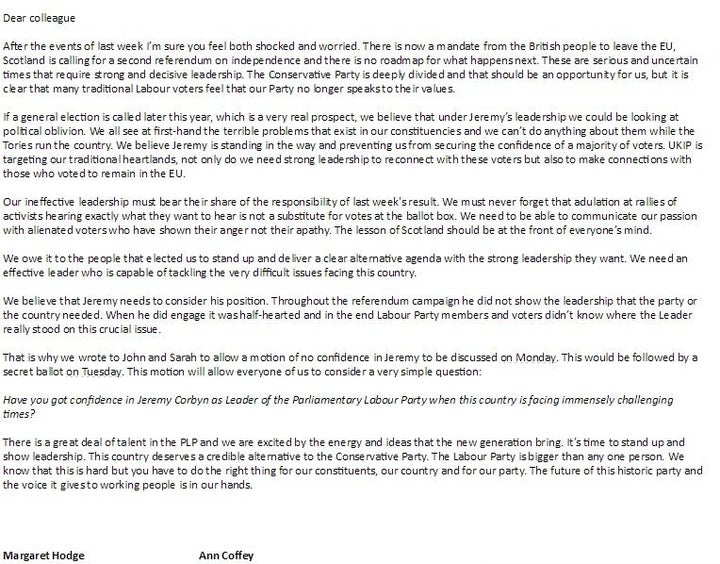 Several hours earlier, Benn was fired after the Observer newspaper revealed that he was set to lead a Shadow Cabinet revolt against Corbyn in a bid to get a new leader who could win a general election with a broader appeal to voters.
"There is no confidence in our ability to win the next election, which may come much sooner than expected, if Jeremy continues as leader," Benn said in a statement.
The Leeds Central MP, son of the late Tony Benn, added that he had told Corbyn over the phone that he had "lost confidence in his ability to lead the Party", before being dismissed.
But Corbyn's spokesperson retaliated, saying after news broke of the exchange: "Jeremy has lost confidence in him."
Shadow International Development Secretary Diane Abbott told Radio 4: "If MPs want a new leader what they have to do is find a candidate and unite behind that candidate and have a formal leadership challenge. This vote of no confidence will have not meaning.
"This coup has been planned for months. The membership support him still."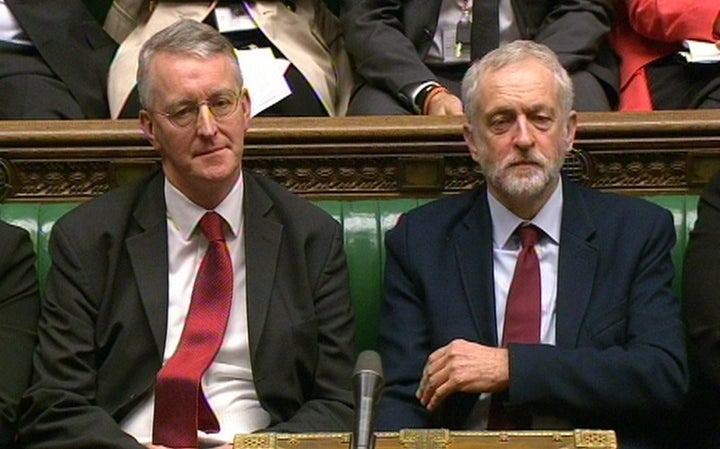 Tensions between Benn and Corbyn have continued ever since the Shadow Foreign Secretary made a speech giving his vigorous support for UK airstrikes against so-called Islamic State in Syria.
Corbyn was furious and Benn was close to being sacked in a reshuffle earlier this year when other Labour critics of the leadership were forced out or quit.
Benn decided that it was time to act after the Brexit vote revealed a disconnect between Labour and its heartlands, many of which had voted to Leave the EU last week.
With many in the party blaming Corbyn for undermining the Remain campaign, senior figures felt that it was time to get a new leader in place ahead of a possible snap general election that could be called this autumn.
The local election results in May also showed Labour was making little progress in key marginal seats it needed to win a general election, and in other areas was going backwards, Corbyn's critics claim.
Former Shadow Business Secretary Chuka Umunna came out early to make what looked like a call to arms for those who wanted the leader out.
And in a sign of the coordinated nature of the 'coup' attempt, one Labour MP Ian Lucas revealed that his local party had yesterday passed a motion of 'no confidence' in Corbyn.
Lucas was one of a group of Labour MPs who worked with Tom Watson in 2006 to help stage the 'coup' against Tony Blair.
Watson, Labour's deputy leader, released a statement Sunday evening, saying he was "deeply disappointed" with Benn's sacking, and stopped short of backing Corbyn:
Corbyn is due to face a motion of "no confidence" in his leadership on Monday evening, as the Parliamentary Labour Party (PLP) meets to discuss the way forward after the Brexit vote.
A secret ballot is expected to follow and more than 80% of MPs could vote to topple their leader.
Under party leadership rules, Corbyn can only face a leadership challenge if at least 51 MPs or MEPs write to general secretary Iain McNicol to say they want him to go.
It is understood the plotters have the numbers, but it is far from clear that party members who elected Corbyn by a landslide in 2015 will abandon him.
Among those who are touted as possible replacements for Corbyn are ex-Army major Dan Jarvis, former Director of Public Prosecutions Keir Starmer and Shadow Energy Secretary Lisa Nandy.
Corbyn has shown no inclination to quit but if he does Shadow Chancellor John McDonnell may become the left's candidate in a contest to replace him.