Jeremy Corbyn has joked to the BBC's Laura Kuenssberg that in her "heart of hearts" she will like some of Labour's manifesto policies.
The Labour leader made his remarks after the TV political editor said his message so far "hasn't cut it with ordinary voters".
He shot back that his new party manifesto policies could even appeal to Kuenssberg when they are revealed in full next week:
"I can't ask you what your own opinions are but I'm sure in your heart of hearts you'll like some of them."
Their exchange came at the end of an interview in which Corbyn failed five times to directly answer Kuenssberg's question as to whether Brexit would definitely happen if he was Prime Minister.
Aides later clarified that Labour would pull the UK out of the EU, after the party leader said only that "there was a clear vote in the [EU] referendum a year ago".
But Corbyn himself couldn't resist saying that the BBC journalist, who has faced vitriol from the party leader's supporters online, would be pleased with his full manifesto when it was published next week.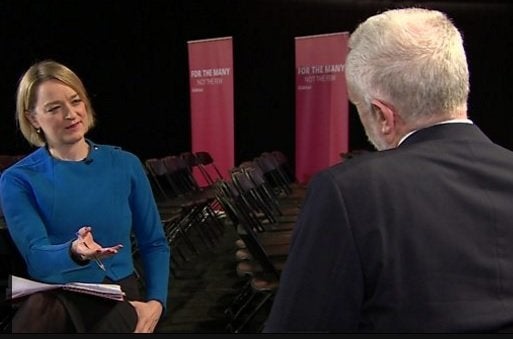 Corbyn had said that "politics is about" people putting their trust in party leaders and MPs, to which Kuenssberg replied:
"As you say Jeremy Corbyn that is what it's about. And the point is so far it hasn't cut it with ordinary voters."
He hit back: "What is getting across is the anger in our society about the injustice and inequality and what is coming across is the offer that Labour is putting in this election. And the next four weeks you're going to hear plenty about our policies.
"And I can't ask you what your own opinions are, but I'm sure in your heart of hearts you'll like some of them."
Kuenssberg replied: "We look forward very much to your manifesto."
So far, the party has unveiled a string of policies, from axeing NHS hospital car parking charges to free school meals for primary pupils, that are aimed at turning around the big Tory opinion poll lead.
Earlier, Corbyn refused to be drawn when asked repeatedly by the BBC journalist if he would commit as Prime Minister to pulling the UK out of Europe.
LK: Jeremy Corbyn let's start with Brexit because if you become prime minister it will be the biggest task in front of you. You said today Brexit is settled. Does that mean if you're prime minister, come hell or high water, whatever the deal on the table, we will be leaving the European Union?

JC: Look there's a clear vote in the referendum a year ago. But there is now the negotiations which have already begun. I sent a letter to President Elect Macron last night congratulating him on his election and also setting out in broad terms what our aims are in these negotiations: To have good relations with Europe of course, secondly to make sure there is a trade access, a tariff free trade access, to European markets. Thirdly, that we will of course protect the rights of EU nationals living in Britain which we will do straight away and that we will also ensure that the regulations that we got from the European Union such as Working Time Directive and employment conditions will be defended and maintained. It has to be put very clearly.

LK: That is what you would hope to achieve. But on that specific point if you say Brexit is settled whatever happens in the negotiations - however well or badly they go - we would be leaving if you were prime minister.

JC: We will go into the negotiations with the determination to achieve what I've just outlined. And it's not a one-off meeting, it's not a one-off discussion. It also involves relations with all the governments across Europe in every one of the member states as well as their parliaments and the European governments and the commission.

LK: But forgive me Jeremy Corbyn that's not quite my question. My question is if you're prime minister we will leave come hell or high water whatever is on the table at the end of the negotiations?

JC: We win the election we'll get the good deal with Europe. A good deal with Europe that will ensure that the very large number of manufacturing jobs in Britain that rely on trade with Europe won't suddenly find themselves under World Trade Organization rules where there'll be a tariff wall put up immediately around this country.

LK: But on that specific point Jeremy Corbyn few few can predict how the negotiations will go either for Theresa May...

JC: The specific point is we're negotiating to gain that market access to Europe.

LK: But you won't say then that we might potentially stay or we might... just to be completely clear because people will want to know this. If you're prime minister we will leave whatever happens?

JC: People know that there's been a referendum and a decision was made a year ago. We've set out very clear our terms for negotiations. Keir Starmer has built those relationships across Europe and that is what we'll be pursuing in the European Union. I don't know any more than you do exactly what is going to happen in the future on this, but I do know we are not approaching this from megaphone diplomacy. We're not approaching this from threats. We're not proposing to set up some kind of tax haven on the shores of the European Union. We're serious about these negotiations.

LK: But forgive me Jeremy Corbyn this is a very important point to lots of people. As you say, we don't know what will happen in the negotiations. If you are prime minister can you categorically say that we would definitely leave because if you won't there is a chink of a possibility that things could change and we might end up looking differently at our options.

JC: The danger is of the approach the Conservatives are taking in their megaphone diplomacy with Europe and approaching the whole thing as though what you've got to do is shout loud and be abusive to people across the Channel. Our view is you have to talk to them, negotiate with them and recognise there is actually quite a lot of common interest, particularly in manufacturing industry. That is the process we're following.

LK: So you won't you won't address that point specifically?

JC: We are negotiating a trade arrangement with Europe and protection of the things that we've gained from the European Union.
Meanwhile, amid speculation that Tony Blair could be ready to found a new party if Labour is heavily defeated in the general election, former Labour Cabinet Minister Peter Mandelson hinted he backed a new grouping.
Lord Mandelson, the architect of New Labour, told The Times that Emmanuel Macron's stunning victory in the French Presidential election came after he quit the socialist party - which came a poor fourth in the election.
Mandelson said that the "simple truth of Macron's victory is that he won by leaving his party, not despite doing so."
He added: "We have to understand just how fed up people are with traditional party structures."