Jeremy Corbyn unveiled his latest move to win over swinging voters in the upcoming leadership election to a surprised crowd on Friday.
The Labour leader had been speaking to supporters as part of his round-the-country leadership campaign tour when, in front of them all, he broke into a spontaneous boogie.
His track of choice was Working On A Building Of Love - a 1971 hit from band Chairmen of the Board.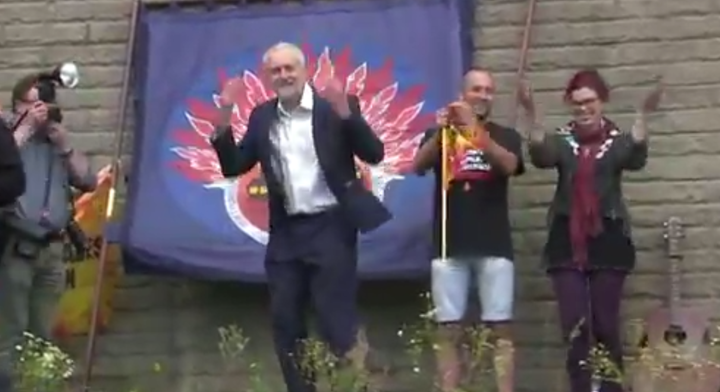 The Labour leader got into the groove by nodding in time to the music before busting out some bolder moves.
Such an up-beat song seems unusual for Corbyn, given the revelation he made last night that his favourite music to work to was that played on Classic FM.
He could also have been following in the lead of Ed Balls, who announced last week he would be appearing on the BBC's Strictly Come Dancing.
Despite suggestions from his wife, prominent Labour MP Yvette Cooper, that a semi-professional dancing Balls gracing the nation's television screens once a week would be "terrifying", many were thrilled with the news.
But it won't be the first time Balls will have swapped the green benches of the House of Commons for the glitzy realms of dance stardom.
Here are his five most memorable and fabulous performances:
1. Gangnam Style (Viral Balls)
Ed was filmed doing his very own rendition of South Korean pop-sensation Psy's Gangnam Style.
The viral song, which was the first to notch up over 1 billion hits on YouTube, was clearly a favourite of the former shadow chancellor's, as he was pictured dancing to it at a party conference knees up in Manchester in 2014.
2. Do You Love Me (Jiving Balls)
But the former Labour MP, ousted from his seat at the 2015 general election, has proved he can master a multitude of dancing styles.
At this event in Manchester in 2014 Balls was pictured getting jiving to his heart's content - a skill that will surely see him spurred towards the final in Strictly.
3. Down Louisiana Way (Line Dancing Balls)
But dancing isn't just for the late-night booze-ups, as he proved during the general election campaign last year.
Ed was filmed by ITV line dancing with pensioners at a community centre in Kilburn, north London, to a smooth US country classic.
It seems his ability to stay upright with all that swaying going on was slightly better than voters expected his ability to balance the books was.
4. Have I Got News For You Spoof (Fake Balls)
So famous became Ed Balls for his penchant for pirouettes that Have I Got News For You even parodied it once.
In this episode from 2013, presented by comedian Stephen Mangan, Balls is spoofed dancing on an island in the Mediterranean.
Mangan introduced the slip: "And in Cyprus after his meeting with the finance minister is cancelled, shadow chancellor Ed Balls has two hours to kill before his flight home."