Labour figures have turned their fire on Jeremy Corbyn as the party headed towards a historic and brutal defeat at the general election.
Recriminations over what went wrong for Labour are already under way, with the party expected to end up with 18 seats fewer than its post-war nadir.
The early results saw the Tories snatch seat-after-seat, with Labour losing Blyth Valley and Darlington in its heartlands in the north of England as the 'red wall' started to crumble.
The first big Labour scalp claimed by the Tories was shadow environment secretary Sue Hayman, who lost Workington on another 10% swing.
The typically working class 'Workington Man' voter was identified as a key target by a right wing think tank at the start of the election campaign.
To put into context, the seats lost included Leigh, which it had held in 1922, Blyth Valley since 1935, Wrexham since 1935, Darlington since 1992 and Blackpool South since 1997.
Alan Johnson, the former Labour home secretary, turned his anger on Jon Lansman, the founder of the Momentum campaign group that propelled Corbyn to power.
"Corbyn was a disaster on the doorstep," Johnson told Lansman on ITV News on Thursday night as results began to trickle in.
"Everyone knew that he couldn't lead the working class out of a paper bag. Now Jon's developed this Momentum group, this party within a party, aiming to keep the purity. The culture of betrayal goes on."
He concluded: "I want them out of the party. I want Momentum gone. Go back to your student politics and your little left wing."
Lansman said the decision on whether Labour should replace Corbyn as party leader did not need to be taken "until the new year".
He added Corbyn had "achieved a great deal" on issues such as austerity, and that the election was "incredibly polarised because of Brexit".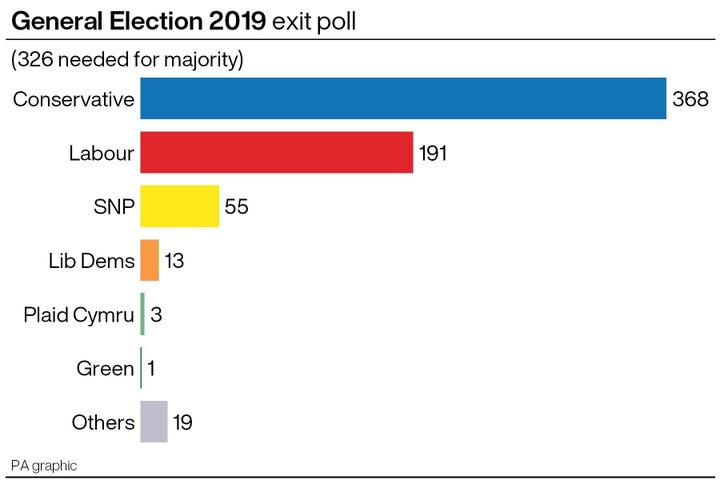 Phil Wilson, Labour's candidate in Tony Blair's old seat of Sedgefield, said Corbyn's leadership "went down like a lead balloon on the doorstep".
Ian Murray, Labour's Edinburgh South candidate, tweeted of the result: "Every door I knocked on, and my team and I spoke to 11,000 people, mentioned Corbyn. Not Brexit, but Corbyn. I've been saying this for years. The outcome is that we've let the country down and we must change course – and fast."
Labour's Gareth Snell predicted his own defeat ahead of the result in another former stronghold, Stoke-on-Trent Central, telling PA: "I'm going to lose badly and this is the start of 20 years of Tory rule."
Stoke Central has been Labour since 1950.
Ben Bradshaw, the candidate for Exeter, said during the campaign "among every voting group the overwhelming negative for us was the leadership".
Labour peer Stewart Wood, a former adviser to Gordon Brown, added: "The answer to persuading Britain not to opt for a Tory government was not Corbynism. But it isn't going back to 1997, either.
"The next successful Labour Party is one that rethinks how to be a party of the Left for the next 20 years – not one that harks back either to 1983 or 1994."
John McDonnell, the shadow chancellor and a close ally of Corbyn, said the public's desire to move on from Brexit had led to Labour's poor showing.
"If the electorate have decided this way, that's democracy – you have to respect it," he said.
The party took 209 seats in 1983 under Michael Foot. It had 243 MPs before the election was called.
By the next election, due in 2024, Labour is very likely to have had just one election-winning leader in 50 years.