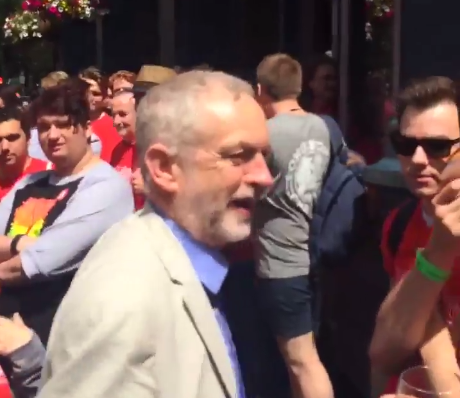 Jeremy Corbyn has been heckled by Labour members at the London Pride parade.
They told Corbyn this week's Brexit win was "your fault" as he talked to activists at the annual LGBT Pride celebrations.
Video of the event shows several angry party members accusing Corbyn of "not getting out the vote" in traditionally more Labour regions.
Tom Mauchline, one of those who addressed Corbyn today, asked him when he was going to resign.
A shadow foreign office minister and former general secretary of the Labour party Lord Collins reported that Corbyn soon after left the LGBT Labour pride contingent "without talking to members".
Lord Collins said he was left "dissapointed" by the move.
The Labour peer posted after, with a link to Mauchline's video, saying that people had "really wanted to talk".
He advised Corbyn: "Not the time to walk away."
Earlier in the day Corbyn had been delivering a speech on Brexit and the ramifications for Britain.
Asked today whether he would stand again, he said: "Yes, I'm here."
Popular in the Community