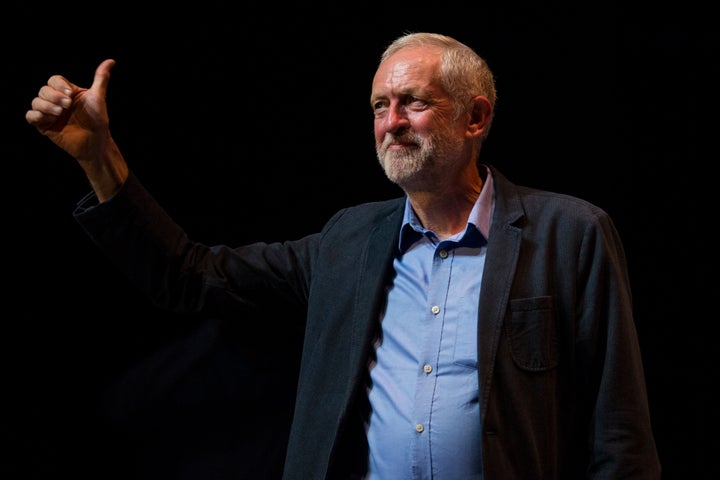 Jeremy Corbyn has said he "doesn't do personal abuse" as he launched his bid to be re-elected Labour leader in a campaign mired by threats and harassment.
Corbyn spoke to a packed audience at The Lowry in Salford, telling them he appreciated there was "anger" at the MPs trying to unseat him but said the campaign should have "no coups, no intimidation, no abuse".
After 44 of his female MPs wrote to him imploring to stamp out abuse from his supporters they face, he told the audience: "We have to be very disciplined.
"As I have made it very, very clear many times before, I don't do any personal abuse of anybody at any time. None of that has any place in our party or our movement.
"I know people are angry about actions that have been taken but where we have disagreement in our party we settle it through democratic means - no coups, no intimidation, no abuse."
In her letter signed by 43 of her colleagues, MP Paula Sherriff wrote of rape and death threats made against female MPs who opposed Corbyn's leadership.
She castigated him for voting against a secret ballot at a recent National Executive Committee meeting - something a female member requested, citing intimidation.
In a stinging sign-off, Sherriff wrote: "Jeremy, this is being done in your name."
Corbyn lost the support of 171 of his MPs, who voted against him in a Motion of No Confidence but the membership has swelled hugely under his leadership.
He told the Salford rally Labour was now a "mass party" and a "social movement".
He added: "You will be the ones who change politics and I wanted to make sure you are empowered to do that."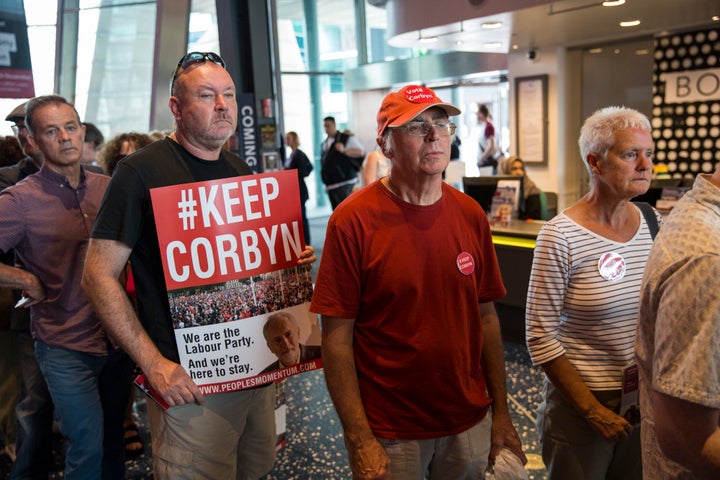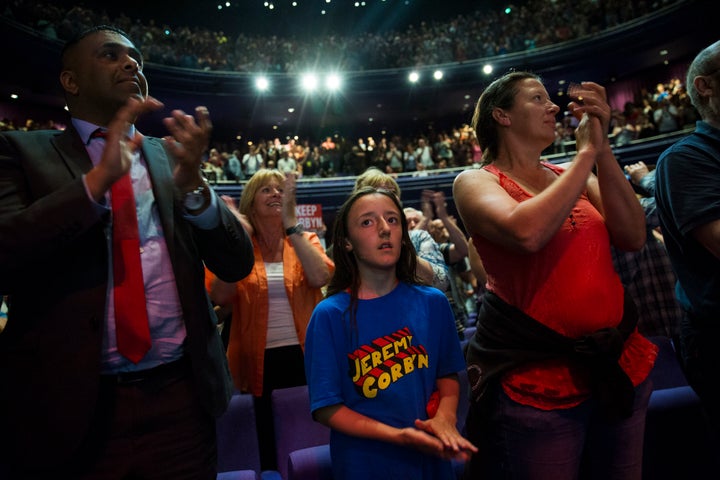 Corbyn now faces one opponent: Shadow Work and Pensions Secretary Owen Smith.
Corbyn ally Richard Burgon, who was hastily promoted as shadow justice secretary after the mass shadow cabinet resignations, told the crowd Corbyn's backers were being misrepresented.
He was cheered as he said: "I am not, and others are not, going to stand by and see every single one of you portrayed as the striking miners were, as thugs, brick-throwers, bullies and misogynists.
"It is vitally important that we respect each other with our different views, as we do. But I tell you this, MPs need to respect party members as well.
"MPs shouldn't be abused by members of the Labour Party or those who appear to be members of the Labour Party. But honest, decent Labour Party members - the people who made all of these other people MPs - should not be abused or badly treated by MPs."
Unite General Secretary Len McCluskey attracted derision when he claimed MI5 agents were behind some of the online abuse being doled to Corbyn's opponents.
He told The Guardian: "Do people believe for one second that the security forces are not involved in dark practices?
"Well I tell you what, anybody who thinks that that isn't happening doesn't live in the same world that I live in."
Related