The online and television media showed "clear and consistent bias" against Jeremy Corbyn at the start of the Labour leadership coup, according to new research, which also accuses the BBC of giving twice as much airtime to Corbyn's critics than to his supporters on some programmes during the crisis.
The exclusive study from The Media Reform Coalition and Birkbeck, University of London, analysed TV and online news during the 10 days after the wave of resignations from Corbyn's shadow cabinet following the Brexit vote in late June.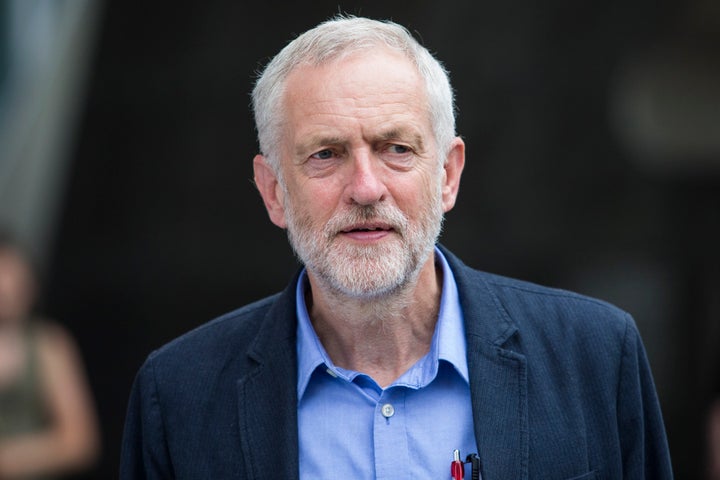 Measuring how much airtime and online coverage was focused on the embattled leader's allies and opponents, the research found "a marked and persistent imbalance in favour of sources critical of Jeremy Corbyn, the issues that they sought to highlight, and the arguments they advanced."
As Corbyn faced mass resignations, the report's authors accused the mainstream media of "imbalanced reporting" that could affect the democratic process, finding the BBC's flagship 6pm evening TV bulletins gave double the amount of airtime to Corbyn's political enemies than those still backing him.
In contrast, it found the ITV evening news bulletins, and the BBC's online news were "relatively balanced" in their reporting.
The research, which media commentator Roy Greenslade said confronted journalists, "and their editors, with the reality of their bias," claimed there was a "strong tendency within the main BBC evening news bulletins for reporters to use pejorative language when describing Jeremy Corbyn and his supporters, including words like 'hostile' and 'hard core'."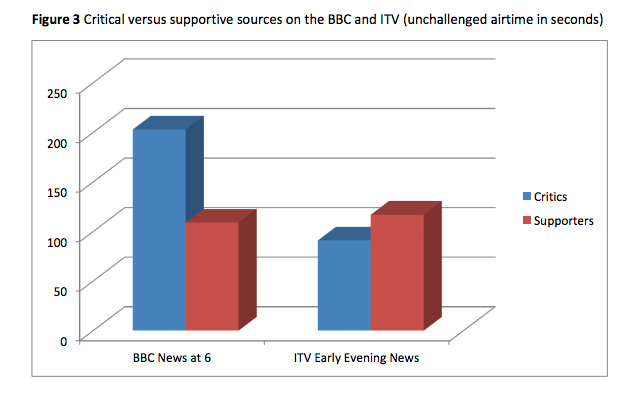 Looking at news websites including dailymail.co.uk, mirror.co.uk and The Huffington Post UK, it concluded that online news stories were almost twice as likely to be written by, or focus on sources critical of Corbyn compared to those that were supportive.
The report took in 40 prime time television news bulletins on BBC One and ITV during the period, and 465 online news articles from 8 websites, between 27 June and 6 July. It looked at stories around the Labour leadership crisis, the party's planned anti-semitism report and Corbyn's response to the Chilcot report.
Guardian columnist Greenslade told HuffPost UK: "I am surprised by the revelation of differences between the BBC and ITV coverage. But I am much less surprised by the finding that mainstream media coverage was biased towards the Labour 'establishment' point of view.
"That bias has always been a feature of media coverage, where inbuilt assumptions about the virtues of maintaining the status quo and sustaining the so-called 'centre ground' dominate the discourse."Greenslade added: "In such circumstances, reporters are often blind to their lack of balance. So the value of the Media Reform Coalition's research is in confronting them, and their editors, with the reality of their bias."
Report author Dr Justin Schlosberg said the research showed that bias in mainstream media coverage of the Labour Party crisis "was not inevitable or unavoidable given a minority of outlets that were relatively balanced.
"Amidst the social fracturing and polarisation of democratic life post-Brexit, the need for a more plural and inclusive mainstream news media has never been more urgent."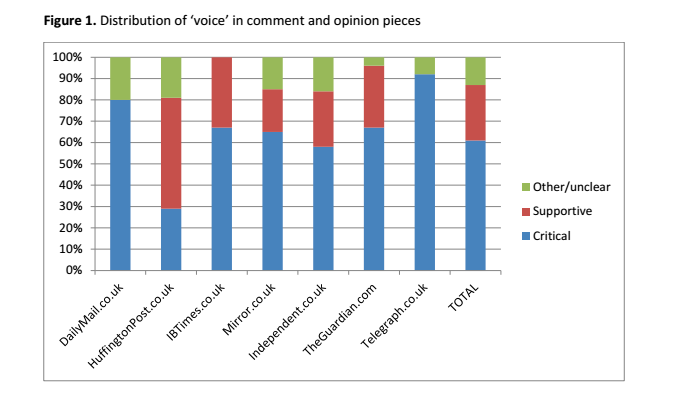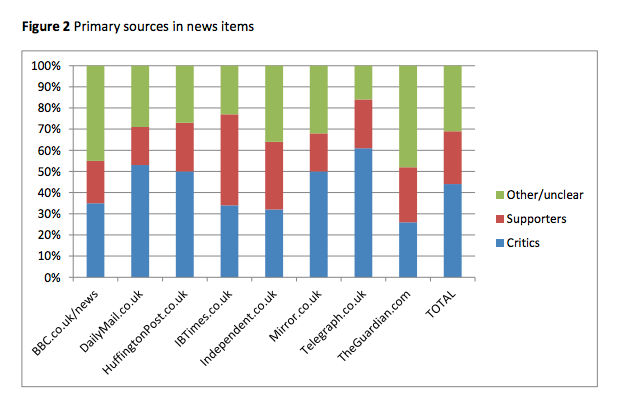 Dr Schlosberg added that "we hope that broadcasters and editors will respond positively to our call to consider the impact of imbalanced reporting on the democratic process."
The report claimed that the most "balanced" online outlets were those that were online only: the Independent, International Business Times and the Huffington Post UK.
For TV, the research measured how many seconds of 'unchallenged' airtime was given to critics and supporters of Corbyn respectively. It considered whether online opinion pieces were supportive or opposed to him, and whether the main source in a news piece, if unchallenged, was for or against the leader.
BBC evening news bulletins gave nearly twice as much unchallenged airtime to sources critical of Corbyn compared to those that supported him (an imbalance that was not matched by ITV, which gave considerably more equal attention to opposing voices). "
The Media Reform Coalition is not officially aligned with any political party, but has previously published studies that present Corbyn as under fire by the media. It published research in 2015 claiming Corbyn was 'systematically' attacked by British press in his first few weeks as Labour leader.
In today's report, called 'Should he stay or should he go?' it commented that it was "not surprising" that the country's conservative press did not support Corbyn, but said that the "trusted" medium of TV was governed by "strict rules" on impartiality.
"Even left-leaning titles have taken an ambiguous and, on balance, critical view of the Labour Party's new direction. But unlike newspapers, television news providers are subject to relatively strict rules on impartiality and balance.
"From the outset, Jeremy Corbyn's leadership presented a disruptive challenge to routine interpretations of journalistic balance in this sense. In particular, it marked a break from a long-established mainstream political consensus around issues ranging from welfare to war.
"Television news also has a uniquely wide reach across the more fragmented and partisan readership of the press. It remains not only by far the most widely consumed news medium but also, importantly, the most trusted.
"Flagship and prime time bulletins by public service broadcasters are especially important in this context, and play an overarching role in reflecting and reinforcing the mainstream news agenda. This in turn may have a potentially powerful influence in shaping the contours of public opinion and debate."
A BBC spokesperson told HuffPost UK: "BBC News adheres to its editorial guidelines to report with due impartiality. We are confident our coverage of Labour's unprecedented en masse frontbench resignation was impartial and we continue to air views from both sides of the party's ongoing divisions."
The spokesperson added that the Media Reform Coalition was a "vested interest group" and had only analysed some BBC programmes over ten days, acknowledging itself that the sample did not reflect the breadth of the BBC's news coverage.
However report author Schlosberg accused the BBC of being "a mouthpiece for the right wing press" after their statement.
"Just for record, the BBC's completely unsubstantiated charge of 'vested interests' smacks of tabloid speak," he said.
"The Media Reform Coalition was founded by world-renowned professors including James Curran and research carried out by academics at Birkbeck and Goldsmiths, University of London. Rather than engage constructively with that research, which is what we appealed for in the report, they chose to slander us.
"This is exactly the problem: the BBC has become a mouthpiece for the right wing press."
Related