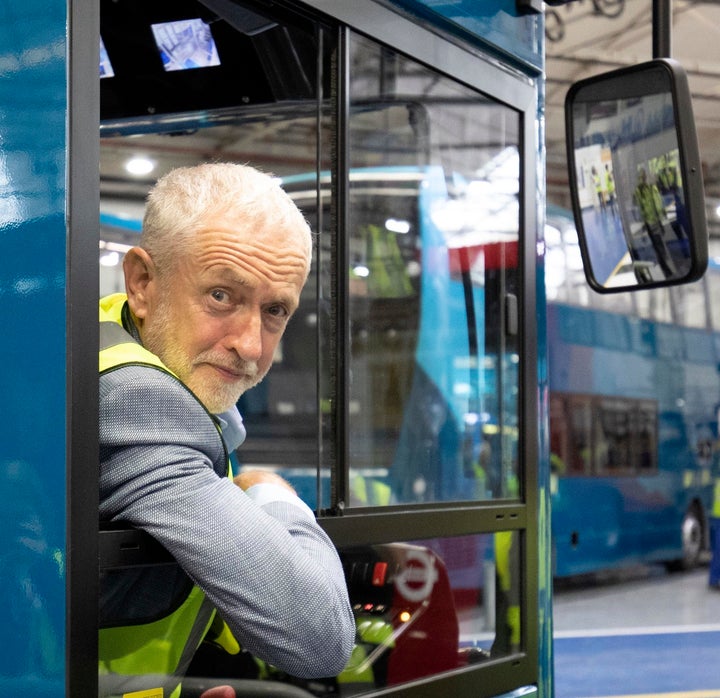 Cutbacks to thousands of much-missed bus routes will be reversed if Jeremy Corbyn's Labour Party wins power.
The leader will unveil the new £1.3bn-a-year policy - which will be funded by Vehicle Excise Duty (VED) cash - on the local elections campaign trail in Nottingham on Thursday.
Over the same period, council transport budgets have been cut by 45%.
As it stands car tax, which nets the Treasury around £7bn, is almost entirely dedicated to roads. But Labour has said it will borrow to invest in infrastructure so VED can be split.
In his speech, Corbyn will say bus services are a "lifeline" for communities.
Amid pressure on politicians to do more to tackle climate change, he will also underline that a full double decker bus can take as many as 75 cars off the road.
"Cuts have had disastrous consequences for our towns and city centres and for air pollution and the environment," he will say.
"Bus networks are essential for towns and cities and for tackling rural poverty and isolation, which is why Labour is committed to creating thriving bus networks under public ownership."
Marcus Jones, the Conservatives' vice chairman for local government, said Labour would be forced to "clobber motorists with tax hikes and slash funding for road repairs" to fund the policy.
He said: "Along with their plans to put politicians in Westminster in charge of running local bus services, their pledge to slash funding for roads and their calls to increase fuel duty, this just proves they are not on the side of hardworking families who rely on their vehicles.
The policy was welcomed by the Association of British Commuters, however.
Emily Yates, co-founder, said: "Public transport needs rebuilding from the ground up, and this means prioritising buses. Investment on this scale would lead to long-term social and economic benefits for the whole of the UK; paying dividends in terms of public health, social inclusion and transport poverty."
Department for Transport figures also show the number of local bus passenger journeys in England fell by 85 million or 1.9% to 4.36 billion in the year ending March 2018.
Free bus passes for off-peak travel are a legal entitlement for people aged over 65, or those with a disability.
Budgetary constraints mean councils are spending less on discretionary items such as free off-peak travel, post-school transport and supported rural services.
Nearly half of all bus routes in England receive partial or complete subsidies from councils.
The Local Government Association has warned these services are at risk as local authorities will struggle to maintain current levels of support unless they are given more funding.
A spokesman said: "As the number of post offices, pubs and village stores closing down continues to rise, communities across the countryside are becoming more and more reliant on local bus services. The fact that these have disappeared at rate just as fast as local shops and services over recent years has made rural life increasingly difficult for many people, particularly for those on low incomes.
"With proper funding in rural bus services, we have an opportunity to reconnect communities with the amenities that they depend on, reduce car dependency and carbon emissions, making our market towns, villages and countryside safer, cleaner and more attractive places to live, work and visit."