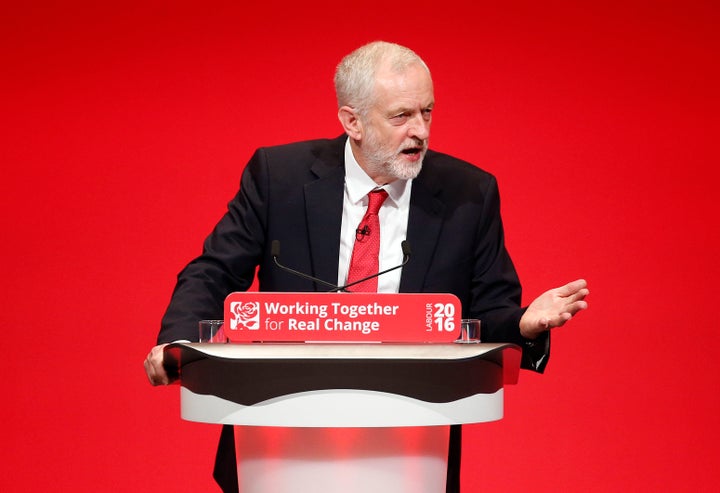 Jeremy Corbyn has said he has a "mountain to climb" before Labour can win a general election, which he said he as putting the party "on notice" he expected Theresa May to call in 2017.
The Labour leader used his speech to urge his MPs to unite behind him and told them the public would not support a "divided" party.
In his keynote speech to the Labour Party conference in Liverpool on Wednesday afternoon, Corbyn said his party needed to "win over the unconvinced to our vision".
"Last year, the votes we needed to win power went many different ways in all parts of our country while millions of our potential voters stayed at home. Many didn't believe we offered the alternative they wanted," he said.
"It's true there's an electoral mountain to climb. But if we focus everything on the needs and aspirations of middle and lower income voters, of ordinary families, if we demonstrate we've got a viable alternative to the government's failed economic policies. I'm convinced we can build the electoral support that can beat the Tories."
"And let's be frank, no one will be convinced of a vision, promoted by a divided party. We all agree on that."
He added: "So I ask each and every one of you, accept the decision of the members end the trench warfare and work together to take on the Tories. Anything else is a luxury that the millions of people who depend on Labour cannot afford."
Corbyn was interrupted numerous times by applause in the conference hall by supporters, having been re-elected leader on Sunday. However many Labour MPs who had wanted him to be ousted decided to leave Liverpool before his speech.
In a nod to the bitter leadership battle with Owen Smith that was dogged by claims to anti-Semitism, sexism and online bullying, Corbyn said the past few months had been "fraught". He said: "I hope we don't make a habit of it."
"I am honoured to have been re-elected by our party a second time with an even larger mandate. But we all have lessons to learn and a responsibility to do things better and work together more effectively.
"Labour is preparing for a general election in 2017"
"I will lead in learning those lessons and I'd like to thank Owen, for the campaign and his work as shadow work and pensions secretary."
But the Labour leader said the "upside" of the contest was the surge in party membership, which could be harnessed to help win the election.
"We could also face a general election next year," he told party members. "Whatever the prime minister says about snap elections, there is every chance that Theresa May, will cut and run, for an early election.
"So I put our party on notice today, Labour is preparing for a general election in 2017, we expect all our members to support our campaign and we will be ready for the challenge whenever it comes."
Corbyn also opened his speech with a joke at his own expense, a reference to so-called 'traingate' episode where he was accused of falsely claiming he could not find a seat on a train in order to make a political point.
"How brilliant it is to see the hall here in Liverpool, absolutely packed for the Labour conference," he said. "Well I say it's packed but Virgin Trains assure me there are 800 empty seats."
Popular in the Community