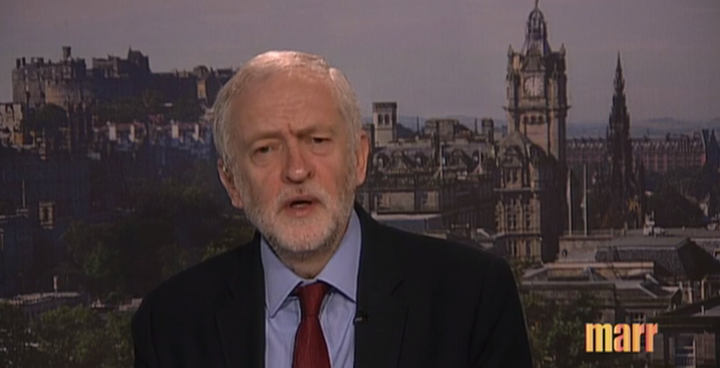 Jeremy Corbyn has said he is in favour of all MPs being forced to publish their tax returns.
The Labour leader also said on Sunday morning the rule should be extended to include political journalists.
Corbyn told the BBC's Andrew Marr programme this would allow voters to see what "what influences" there were on people in public life.
He was speaking after David Cameron took the unprecedented step to release his personal finance details in the wake of the revelation that he had money in an offshore fund run by his late father, Ian Cameron.
Cameron's tax records show he inherited £300,000 when his father died in 2010 but was also given two payments of £100,000 by his mother in May and July 2011.
Asked by Marr whether all people who stand for election as well as political journalists and newspaper editors should have to reveal their financial details, Corbyn said "money and politics have to be treated with the greatest sense of openness possible".
"I think we are moving in that direction, I think it's probably a good thing if we move generally in that direction so everybody knows what influences are at play," he said.
"I think we need to consider how far it goes, how far it goes to other people involved in public life."
Corbyn told Marr: "I mean you are involved in public life as a very important commentator on the BBC, as many others are. I think we need to know what influences are at work."
Conservative energy secretary Amber Rudd told the same programme she "wouldn't be offended" if she had to publish her own tax return and it was "worth looking into" asking all MPs to do it.
But she said it might not "necessarily the right way to go".
"MPs have a very transparent system, they have to disclose their funds, their income," she said. "We have to think very carefully about he balance between transparency and privacy."
The SNP's Angus Robertson has called for all members of the cabinet should "show transparency" and publish more in-depth financial details.
Speaking in London yesterday, the prime minister admitted it had "not been a great week" for him. He told the Conservative Spring Forum that he was to blame for how he handled the questions raised by the Panama Papers.
"I know there are lessons to learn and I will learn them. Don't blame Number 10 Downing Street or nameless advisers, blame me," he said.
He added: "I was very angry about what people were saying about my Dad. I love my Dad, I miss him every day. He was a wonderful father and I am very proud of everything he did."
Popular in the Community