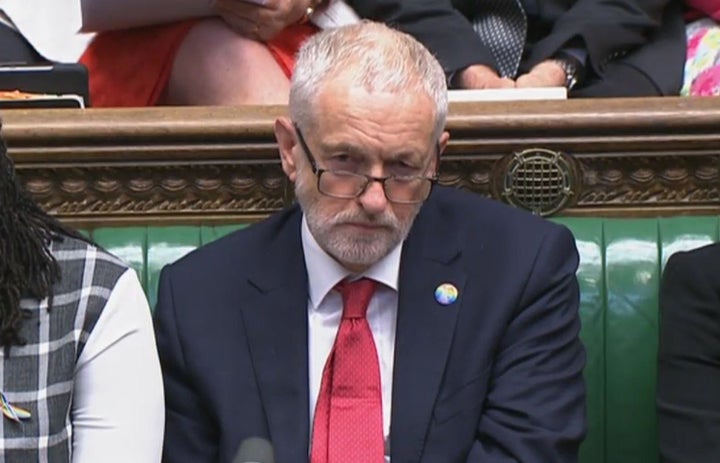 Jeremy Corbyn has been told he's "a fucking anti-semite" by a veteran Jewish MP after the party upheld controversial new guidelines on tackling anti-semitism, HuffPost UK has been told.
Furious former minister Margaret Hodge confronted the Labour leader after the crunch Commons votes on Brexit, telling him he didn't want people like her in the party any more.
Tempers flared behind the Speaker's chair, out of the range of TV cameras, as Hodge expressed her anger at the ruling National Executive Committee's (NEC) decision to endorse new rules on Jew-hatred and abuse.
After a heated three-hour debate, the NEC tried to take the sting out of the row by launching a new consultation on its plans.
But a raft of Jewish groups lined up to condemn the party as it refused to ditch a previous decision to amend an International Holocaust Remembrance Alliance (IHRA) definition of anti-semitism.
The new guidelines have been heavily criticised by the Chief Rabbi for appearing to allow the party to fudge certain forms of abuse, amid claims by Corbyn supporters that they don't want to stifle debate about Israel's treatment of Palestinians.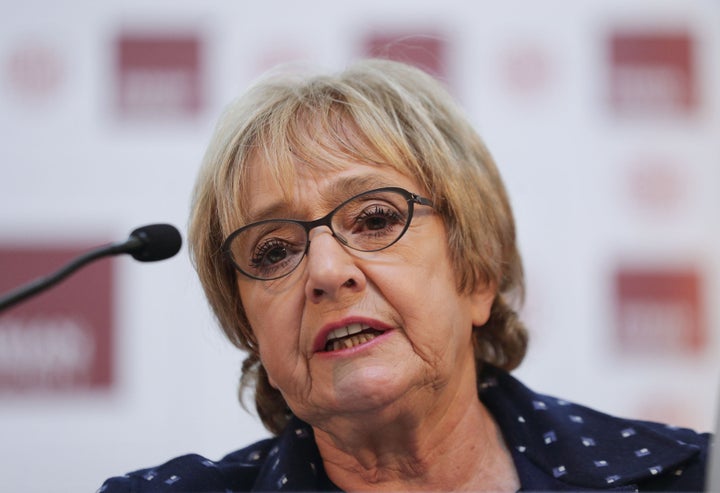 And Hodge decided to take the matter directly to Corbyn, remonstrating with him in the Commons once the key Brexit votes were over.
"You're a fucking anti-Semite and a racist," Hodge told him, according to a fellow MP. "You have proved you don't want people like me in the party".
Several witnesses in different parties witnessed the attack. One said that Corbyn replied: "I'm sorry you feel like that."
A party source confirmed to HuffPost that the account of the exchange was accurate.
"She was aggressive, Jeremy was calm. Other MPs who were there were upset by it," the source said.
A friend of Hodge later denied that she had sworn at Corbyn. "She said 'you are an anti-semitic racist'." When he protested, she said: 'It is not what you say but what you do and by your actions you have shown you are an anti-semitic racist'."
It is possible that Hodge will nevertheless be referred to the party whips for possible misconduct.
Corbyn is expected to want to invite Hodge to discuss the issue more calmly in a meeting, where he will explain the latest move to consult the Jewish community.
Hodge, a former chair of the Public Accounts Committee, has long criticised Corbyn's leadership and was among the two senior MPs who triggered a vote of no confidence in him in 2016.
She let rip on Tuesday evening after the NEC refused to allow a vote on its anti-semitism plans.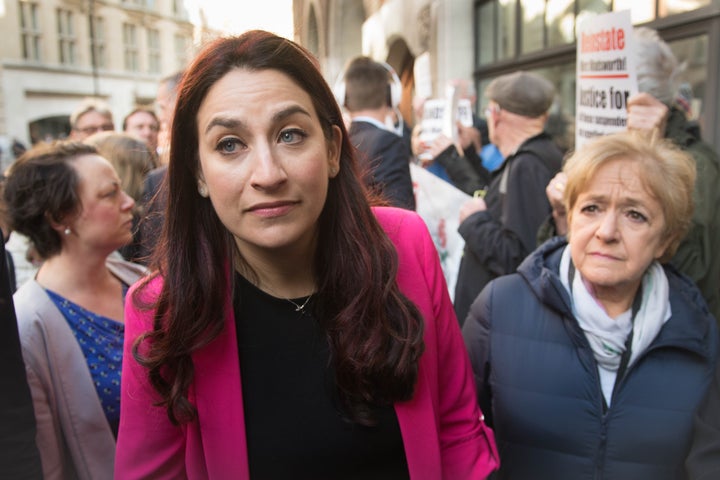 Labour MPs on Monday passed a motion, tabled by Luciana Berger and Alex Sobel, demanding that the party dump its code of conduct proposals.
Deputy leader Tom Watson was among several NEC members who argued to overturn the proposals approved by a sub-committee earlier this month.
But chair Andy Kerr refused to allow a vote and in a bid to defuse the row it was agreed that more consultation was needed and Jewish groups should be approached over the summer.
One source said that Momentum founder and NEC member Jon Lansman told the meeting: "The entire Jewish community, left and right, are against on this. We need to involve them more."
During the tense meeting, Watson was joined by fellow MPs George Howarth, Shabana Mahmood and Margaret Beckett, as well as Unison's rep Keith Birch.
Watson had told the meeting: "Are we serious about winning a general election? Are we serious about dealing with antisemitism?
"If so we need to grip this issue and close it down… the people who will judge us on this are the Jewish community and rightly so".
Beckett said: "The Jewish community has lost trust in the party. We need to act. It is not the NEC that needs to be convinced we're doing the right thing. It's the Jewish community."
Another NEC member, Eddie Izzard, spoke in favour of the full IHRA definition and stressed that 'perception is everything'.
Some 68 rabbis from across different wings of Judaism united on Monday to attack Labour's plans.
NEC member Pete Willsman is said to have told the meeting: "I've got something to say to those rabbis, where's your evidence! In 50 years of membership I've never seen antisemitism."
New Labour general secretary Jennie Formby said he was wrong and that she'd seen the cases and some of them were "appalling".
NEC member Rachel Garnham told the meeting that the international guidelines were deeply flawed because they conflated criticism of Israel with antisemitism.
Labour MPs passed a motion, tabled on Monday by Luciana Berger and Alex Sobel, demanding that the party dump its code of conduct proposals.
A Labour party spokesperson said: "The NEC upheld the adoption of the code of conduct on antisemitism, but in recognition of the serious concerns expressed, agreed to reopen the development of the code, in consultation with Jewish community organisations and groups, in order to better reflect their views."
The party insists that its proposed code of conduct does not include any new definition of antisemitism, adopts the IHRA definition but "expands and contextualises" its examples to produce legally robust guidelines for disciplinary cases.
But the chair of a Labour constituency party with a high concentration of Jewish voters was unimpressed.
Richard Angell, of the centrist group Progress, was scathing: "Jeremy Corbyn and the Momentum-dominated NEC have agreed to ignore the Jewish community, 68 rabbis, the Labour Jewish Movement and the Parliamentary Labour party.
"They endorsed a paper bounced through the last few minutes of a protracted sub committee meeting and offered a sop of a consultation on something that has now been agreed, twice."