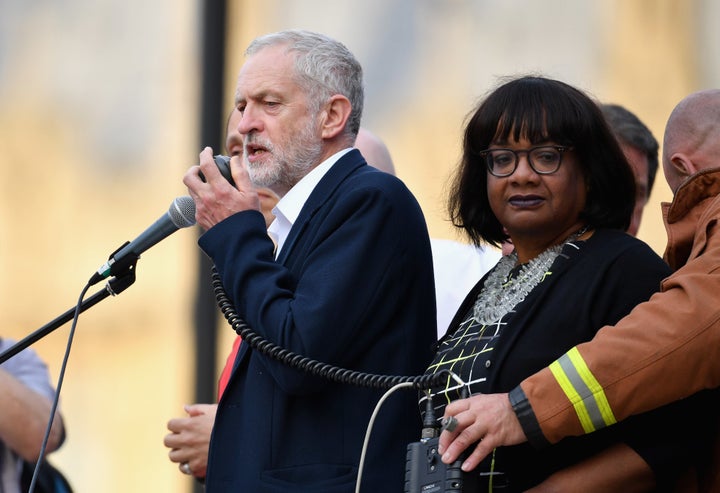 Diane Abbott has suggested Jeremy Corbyn would win the no confidence vote on his leadership planned for this afternoon if it was not a secret ballot.
The shadow health secretary was accused of wanting Labour MPs to be "bullied" into supporting Corbyn.
Around 4pm this result of a secret vote of no confidence in Corbyn will be revealed. It is expected an overwhelming majority of MPs will support it.
Asked BBC Radio 4's Today programme why so many Labour MPs would vote against Corbyn, Abbott said: "Because it's a secret ballot and because there's been no notice."
She added: "If if were a public ballot I think it would be a different result."
Labour MP Wes Streeting accused Abbott of wanting the vote to be public so Corbyn supporters in the party membership could target MPs that voted against the Labour leader.
Abbott was promoted from shadow international development secretary to shadow health secretary yesterday, as Corbyn suffered mass resignations from his frontbench.
"Party members are going to look dimly at people who've chosen to unleash this type of mayhem," she said.
"Labour MPs at Westminster do not choose the leader of the Labour party, the party does that. The way to resolve this is to have a leadership election.
"What we have to remember is this vote of no confidence doesn't exist in the rule book. It has no meaning."
Veteran Labour MP Margaret Hodge, who has tabled the no confidence motion, said Corbyn should "go with dignity".
"No one individual is greater than the party," she said. "I have had hundreds of emails from Labour party members and Labour supporters asking me to pursue what I'm doing."
She said: "The country needs strong opposition and a clear route forward were we to succeed coming back into government."
Last night, in an extraordinary meeting of the Parliamentary Labour Party (PLP), Corbyn came face to face with angry MPs as they demanded his resignation in the wake of the Brexit vote in the EU referendum.