The "missing £40,000" is listed on page four of the document under "public office" as it was classed as a benefit rather than salary with tax "paid at source", a spokesperson told The Huffington Post UK.
Corbyn released his tax return over the weekend in response to Chancellor Philip Hammond dismissing a challenge from Labour's Shadow Chancellor John McDonnell to publish his.
But he faced a backlash when it was suggested he had failed to declare the extra income of £69,000 pro rata he is entitled to as Labour leader since September 2015.
Page four of the tax return posted on his website shows a "public office" income of £27,192.22 of which £8,877.10 was deducted in tax.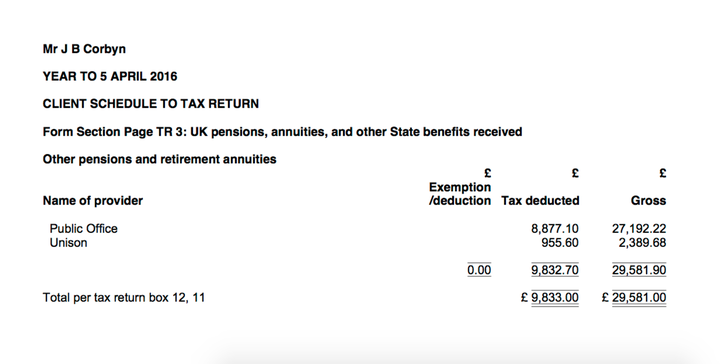 The Huffington Post UK has asked for clarification from Corbyn's team as to whether or not a "benefit" is taxed at the same rate as a salary, but are yet to receive a response.
Additionally, the amount in the tax return does not quite tally with figures released by the government.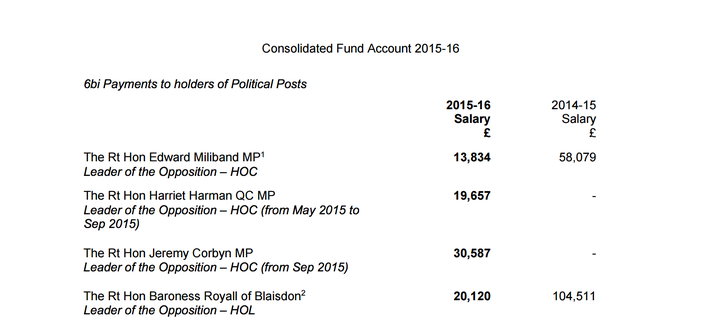 Corbyn's team could not initially account for the allegedly missing earnings but later released the following statement.
Corbyn's tax return showed he earned £77,019 from all employments, £36,045 from UK pensions and state benefits, £1,200 profit from self employment, and £78 in interest from UK bank and building societies during the period stated.
A spokesman for the Labour leader told The Telegraph the summary had been prepared by accountants after Corbyn published his tax return last year to exploit David Cameron's vulnerability over offshore investments - but he had to swallow a £100 fine for handing in the document late, and he also failed to declare three pensions incomes.
The move comes as Hammond has refused to publish details of his earnings ahead of this week's Budget.
Labour thinks anyone earning more than £1 million should make details of their earnings available to help combat tax avoidance.
Hammond is one of the UK's richest MPs, and reportedly had a net worth of £8.2million in 2014. He made his money principally through nursing home development.
On Sunday Hammond told the BBC: "No. I have no intention of [releasing my tax return].
"Just for the record my tax affairs are all perfectly regular and up to date.
"But I think this demonstration politics isn't helping the atmosphere in British politics."
McDonnell has already made his tax affairs public, saying people should be proud of their contributions to public services.
The shadow chancellor has said a Labour government will make everyone earning above £1 million make their tax records public if the party wins power.
A Labour source said Corbyn had used accountants to examine his tax situation, adding: "We are absolutely confident Jeremy has paid all his tax, because it is taxed at source."
EDITOR'S NOTE: This article has been updated to reflect further information released by Jeremy Corbyn's office.
Related