Jeremy Hunt was given a dressing down by the Speaker in the House of Commons on Wednesday for "ostentatiously fiddling" with his mobile phone during a debate on nurses bursaries.
During a discussion over cutting NHS bursaries for nurses, the health secretary and other politicians were scolded by John Bercow for being "discourteous".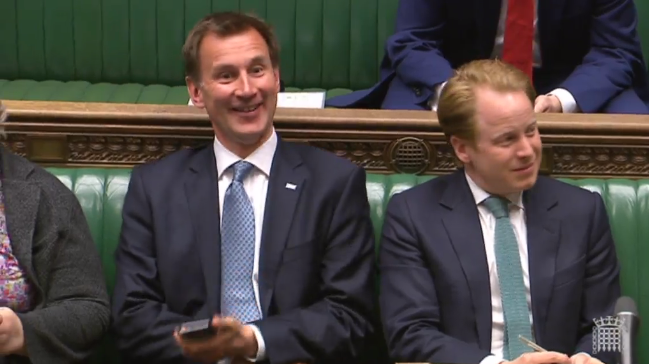 Speaker John Bercow told Hunt and others: "I do very gently say that to sit on the bench... fiddling ostentatiously with an electronic device defies the established convention of the house that such devices should be used without impairing parliamentary decorum. They are impairing parliamentary decorum.
He added: "It's a point so blindingly obvious that only an extraordinarily clever and sophisticated person could fail to grasp it."
Under parliamentary rules, phones are allowed in the Commons but must be on silent and used "in a way that does not impair decorum".
Bercow became increasingly irritated when Deputy Leader of the House Therese Coffey appeared to continue to play with her phone.
He shouted at her: ""Put the device away, and if you don't want to put it away, get out of the house.
"I'm telling her its discourteous to continue, a point most people would understand."
This is not the first time in recent weeks Hunt has been chastised in the chamber.