Thousands of pounds are pouring in for three charities that rescue people from extremism, loneliness and the violence in Syria, in honour of murdered MP Jo Cox.
The Labour MP was fatally shot on the steps of a library in her constituency before a surgery on Thursday afternoon, triggering an outpouring of mourning for the former aid worker and married mother-of-two.
She is survived by her husband and two children, aged three and five.
Her family, who set up the fund on Friday afternoon, has announced that Hope Not Hate, the Royal Voluntary Service And The White Helmets will receive the donations.
The target amount of £50k had been reached in less than two hours of the page being setting up, with just over 1,750 donations.
Hope Not Hate (HnH) has campaigned against extremism to defeat "the politics of hate... within local communities across Britain".
The group was founded in 2004 when the BNP began to win electoral success. Its members began speaking to people in areas where the far-right party was winning votes, identifying the wider issues of "alienation and hardship" that were driving people away from mainstream politicians.
Since 2010, HnH has worked to oppose groups like the English Defence League and nearly 50,000 people signed its letter opposing Islamophobia in the wake of Lee Rigby's murder.
A HnH spokesman told HuffPost UK: "We extremely humbled to be chosen for support in this way. Jo was a brave and principled woman, whose passion was clear.
"In life, she fought for the rights of of many, from her constituents to the plight of refugees.
"In her untimely death, a light has gone out, but we will strive to remember her in the many projects and work we carry out to combat hatred and forge unity between all our communities."
Witnesses to the attack on Cox reportedly said the man shouted "Britain first", or "put Britain first" before he shot and stabbed her.
A 52-year-old man, named locally as Tommy Mair, has been arrested in connection with the attack
The White Helmets, another charity the page is raising money for, is a group of unarmed, neutral firefighters who "have saved more than 51,000 lives from under the rubble and bring hope to the region," according to the fundraising page.
The White Helmets, also known as the Syrian Civil Defence refuse to align themselves with any one group or military faction in the country's war. Founding members of the White Helmets were trained by the Red Cross, and the Syria Campaign, a nonprofit registered in Britain, has helped coordinate fundraising efforts for the group.
Speaking in 2014, one member told The Huffington Post: "When we hear the sound of an airplane, we respond quickly. We ask civilians where the bombing took place. We ask the neighbors if they know if there is still anybody under the destruction... Sometimes we're able to rescue lives, when we have the proper equipment. And sometimes we can't."
Before her election as an MP in 2015, Cox was an aid worker in the world's war zones, including Syria, and passionately advocated Britain taking in refugees fleeing the war there.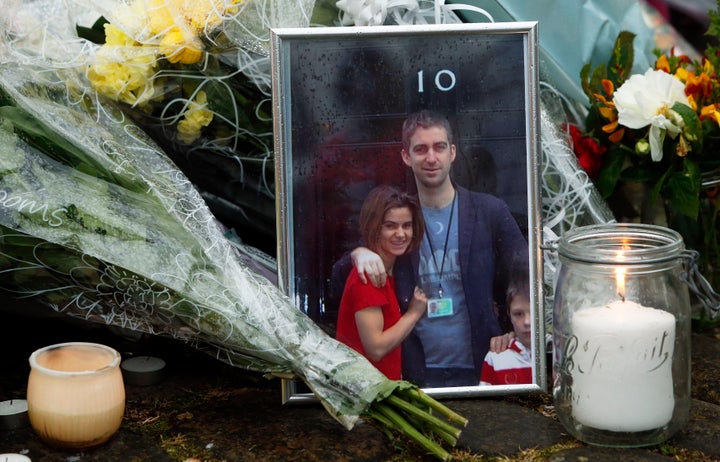 Lastly, it will raise money for the Batley and Spend branch of The Royal Voluntary Service, which works with lonely, isolated elderly people to help them get out more.
Its 35,000 volunteers visit older people in their homes and help them get out to socialise, as well as helping them carry out chores and erands and issues like hospital visits. The charity also campaigns to raise awareness of the issues older people face.
The page includes a quote from Cox's husband Brendan Cox, who said: "Jo believed in a better world and she fought for it every day of her life with an energy, and a zest for life that would exhaust most people. She would have wanted two things above all else to happen now, one that our precious children are bathed in love and two, that we all unite to fight against the hatred that killed her."
"Let's come together and give what we can to help create that better world," the page says.
Popular in the Community