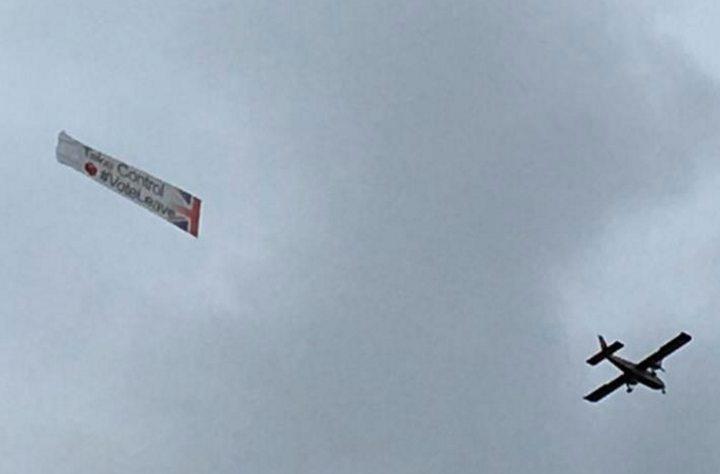 Politicians and other attendees have reacted with fury to a "beyond low" decision by Brexit campaigners to fly two planes carrying a 'Vote Leave' banner over a memorial for deceased MP Jo Cox.
Stella Creasy, a Labour MP who worked alongside Cox in the Commons, called on the campaign group to "have some self-respect and disappear", as reports from eyewitnesses claimed the sound of the planes' engines made it difficult to hear the speeches.
Pictures emerged of the scene in Trafalgar Square, where politicians and members of the public assembled on Wednesday to remember Cox and pay tribute to her legacy.
Others at the scene said the planes were "circling" over the event - which comes less than 24 hours before polls open for the EU referendum - with reports the aircraft passed over the event at least three times.
The Mirror's Kevin Maguire accused Leave campaigners of having "no shame" and claimed memorial-goers muttered "disgusting" as the aircraft flew overhead during Cox's widower Brendan's address.
The move was also derided by veteran Conservative MP Nicholas Soames, who called campaigners behind the decision "absolute shits".
The stunt was revealed to have been organised by aircraft manufacturers 'Britten-Norman', who arranged it as part of their own Brexit campaign.
A spokesperson for the group apologised to those offended by the accidental overlap of timings but added they were "very dissapointed" by the affair.
They said: "We understand that, during a pre-planned photo opportunity over Westminster today, we were visible from Trafalgar Square and that our flight coincided with an important service.
"We are clearly very dissapointed that the timing of the service and our flight have overlapped"
"The timing of our flight was determined by weather, air traffic control and the prior approval of the Diplomatic Protection Group and required the consent of he Metropolitan Police.
"We are clearly very dissapointed that the timing of the service and our flight have overlapped but there was no NOTAM [Notice To Airmen] requesting the avoidance and the coinciding of the timing could not have been known by the crew flying the sortie.
"Our sincere apologies to anyone present who has been offended by the overflight. We would also like to take the opportunity to advise that the flight was a private one and was not sanctioned by the official Vote Leave campaign."
A Vote Leave spokesman had earlier told The Huffington Post UK that the people behind the stunt were not endorsed by or part of the official campaign.
They had called on the pilots to stop circling over the event given its "sensitive" nature.
"This is nothing to do with the official Vote Leave campaign. Unfortunately, a lot of our merchandise is available to people," they said.