Coronavirus has changed everything. Make sense of it all with the Waugh Zone, our evening politics briefing. Sign up now.
Boris Johnson's plans to reopen schools from June 1 could be stopped in their tracks by city mayors, councils and individual headteachers, teaching unions have suggested.
Liverpool mayor Joe Anderson became the first local leader to declare that he would not allow his local schools to readmit pupils if he felt the safety of staff and youngsters would be put at risk.
Greater Manchester's metro mayor Andy Burnham was more cautious, but urged ministers to work with trade unions before ploughing ahead with proposals to open primaries to all pupils before the summer break.
With the coronavirus reproduction - or R - rate in the north west running at 0.73, nearly double that of London, both called for reassurance that their region would be allowed flexibility to timetable their local responses.
A letter from Liverpool Council's children's services chief Steve Reddy, seen by HuffPost UK, tells local headteachers that there will be a specific "Liverpool position" on the reopening of schools and "if it is not safe for schools to reopen, then they will not".
In his letter sent on Tuesday, Reddy added that "it will be for headteachers and governing body to decide what is best for their individual school".
Given the autonomous status of academies, which have been expanded by the Conservatives since 2010, it is also unclear whether education secretary Gavin Williamson would have the power to direct many schools to open their doors from next month.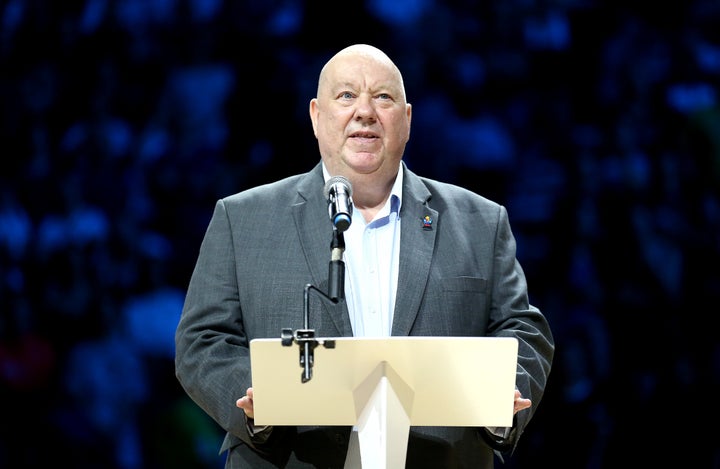 Williamson has hit out at "scaremongering" over his plans for a phased return of pupils, stressing that plans for class sizes of 15 and extra cleaning and other safeguards would help make classrooms safe.
But an alliance of education unions has urged the government to "step back" from its June 1 timetable, and demanded to see the scientific and medical modelling used to justify the move.
Meanwhile, the National Education Union has written to all its members to say they "should not yet actively discuss plans for any wider reopening of schools".
Advice to NEU members, seen by HuffPost, states: "Any request to meet with your head teacher to discuss wider opening from 1 June should be delayed until we have provided further union guidance".
On May 13, Liverpool had 1,515 confirmed cases of infection, equivalent to 306 in every 100,000 people according to government data, while as of May 1, 448 people had died with Covid-19.
Anderson tweeted his firm view that he would "resist allowing schools to reopen" if he felt it was not safe to do so.
Speaking to the BBC's Newsnight, he added: "Scientific advice is scientific advice, but if our levels of coronavirus infections are higher than anywhere else then I'm not about to take risks with children's lives or with staff and teaching professionals' lives.
"Only when we are convinced it's safe for children to return to school will we allow it, because we have a safeguarding responsibility."
Burnham told BBC Radio Manchester on Thursday that he wanted children to go back to school if possible but only with "a safety first approach".
"I would say of course you want to get children back into a situation where they are learning. It's often the kids in the poorest areas who suffer the most when the schools are not open," he said.
"There's a huge amount of issues to work through as to how you possibly do that. The older kids I think you can ask them to observe more distancing. But I'm not sure how possible that is with primary school children. There's a lot of issues there.
"I would say to the government please don't rush this, you have to think this through very carefully and work with the teaching unions rather than going into a big argument with them."
Burnham added that children about to make the transition to secondary school or who have got GSCEs looming next year should be the priority. "I think we should be working to get them back into school because their lives also could be massively damaged in a different way by this if we leave them out of school for too long," he said.
A spokesperson for the PM refused to comment directly on mayor Anderson's warning, but said the government remained committed to working with the teaching unions to find a safe means of enabling pupils to start returning to school in England from June.
NASUWT general secretary Dr Patrick Roach said: "This decision by the mayor reflects the fact the government has provided no evidence that opening schools next month will be safe for children or teachers.
"The government must now publish the scientific evidence it is relying on to claim that it will be safe for children to return to school. The NASUWT is clear that there is no requirement or obligation currently on any school to reopen to more pupils from 1st June."
Damien McNulty, an executive member of the union, added: "The NASUWT welcomes the clear and unambiguous commitment from Liverpool City Council to ensuring the health, safety and welfare of all its staff and children but not rushing headlong into making plans without the full and necessary information required to do so. We see this as the only option for employers up and down England."
A Department for Education spokesperson said: "We want children back in schools as soon as possible because being back with their teachers and friends is so important for their education and their wellbeing.
"Plans for a phased return of some year groups from 1 June, at the earliest, are based on the best scientific and medical advice. The welfare of children and staff has been at the heart of all decision making.
"We have engaged closely with the unions throughout the past seven weeks and will continue to do so, including to develop further guidance for the sector."