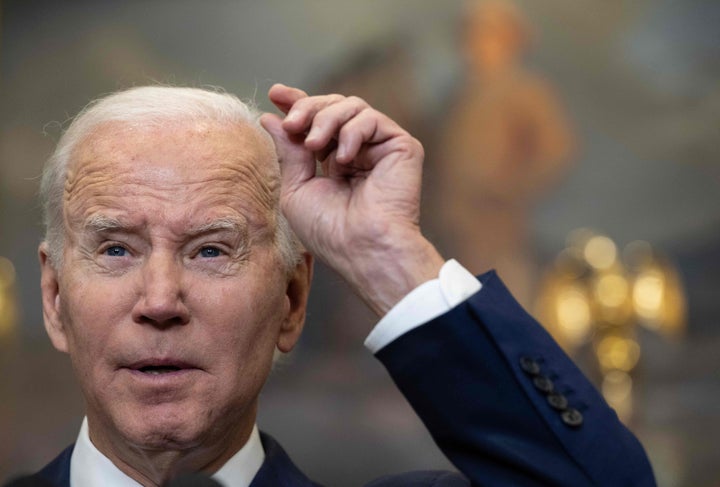 Joe Biden just mispronounced Rishi Sunak's name in a public announcement about united Western support for Ukraine.
He was declaring the US's decision to send 31 M1 Abrams tanks to Ukraine shortly after Germany confirmed it would provide the highly sought-after Leopard 2 tanks as well when he made the unfortunate mistake.
The US president said: "The United States and Europe are fully united.
"This morning I had a long conversation with our Nato allies – Mr Scholz, French president Macron, and prime minister Sanuk [instead of Sunak] and the Italian prime minister, uh, Meloni, to continue our close coordination and fully support of Ukraine."
And, credit to him, the slip-up did not disrupt the flow of his speech.
He quickly moved onto the idea that Russia wants Western alliances to weaken over their support for Ukraine, and talked about how presenting a united front is very important when it comes to the ongoing war.
The president does have an unfortunate record of tripping himself up during speeches and has acknowledged it in the past, having spoken openly about the stutter he had in his youth.
In October, Biden called to congratulate Sunak on his election as the Tory Party leader (and subsequently as PM), especially as the first UK prime minister of Asian descent but added a "d" to his first name.
And Sunak is not the only name Biden has slipped up on.
Biden previously called French president Emmanuel Macron 'President Macrone', and his own Vice President Kamala Harris as both "first lady" – the name reserved for the president's wife – and the "president" (his own title).
And on January 6, on the second anniversary of the US Capitol riots, Biden mistakenly said "July the 6th" instead, while awarding the presidential citizens medals.
Back in May 2022 though, Biden did defend himself, noting: "By the way, sometimes – the press is always fair with me, but once – every once in a while I make a mistake, not like, well, once a speech."