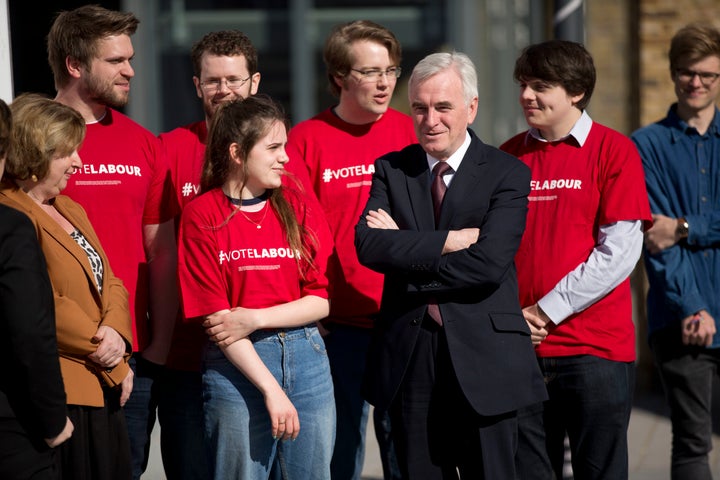 John McDonnell has insisted he is not positioning himself to take over from Jeremy Corbyn as Labour leader.
The shadow chancellor said on Sunday evening it was "ridiculous" to suggest he had his eyes on the top job.
Asked by BBC Radio 4's Westminster Hour if he ambitions to be leader, he said: "No of course not. I'm so pleased in the role I am playing at the moment."
McDonnell said The Daily Telegraph had run a "barmy story" that said he wanted to be leader.
"Jeremy is my closest friend in politics over thirty years. What do I have to do? Have a civil partnership with him or something? It's ridiculous," he told the BBC.
Asked if he was ruling out a leadership bid, he added: "Of course I am. I am so happy. I love the job I am doing. I am really enjoying it.
"I have waited most of political life for a socialist to be leader of the Labour Party and here he is and I am doing everything I can to support to him."
A Labour source told The Daily Telegraph in April that McDonnell "wants to take over from Jeremy before 2020 and he's just watching the leadership crumble".
"What do I have to do? Have a civil partnership with him or something?"
Last week's local election results, which saw Labour pushed into third place in Scotland but hold onto a large number of councils in the south of England, stopped any immediate coup against Corbyn in its tracks.
The results, while acknowledged by one Corbyn ally to be "nothing to shout about", we not as bad as some election analysts had predicted.
McDonnell was also involved in an argument with former Labour shadow cabinet minister Caroline Flint.
Flint told the BBC's Sunday Politics programme yesterday that McDonnell's pre-local election ambition that the party "hang on" was not good enough.
McDonnell disputed the claim.
McDonnell told the BBC it was "unacceptable" that Labour MPs had been briefing the media there would be a coup against Corbyn if the Labour result was not good enough for them.
But he said Corbyn would "unite the whole party" if he could. "Every one of those dissenters will be invited in to see Jeremy, they will offered roles in the campaign in the future and in our administration," he said.
Corbyn is expected to address Labour MPs this evening after being warned by Labour's new London mayor Sadiq Khan that he must appeal to voters beyond the party's core support